How to Auto Start Recording at Windows Startup [Available for Windows 10, 8 etc.]
Sometimes it's in dire need to capture screen for 24 hours even without stopping like testing software performance, mastering the trend of stock and capturing live streaming. A smart screen recorder with automatic recording function can prevent you from sitting in front of the computer all the time. As an auto screen recorder, RecMaster already builds in this feature.
How to Launch the Auto-start Recording Function of RecMaster on Your PC
If you use the Auto-start recording function of RecMaster, you can simply automatically start recording when Windows start up.
Step 1: Please choose one mode of RecMaster among Full screen/ Custom area/ Game mode/ Webcam/ Audio Only and then go to the Settings window.

Step 2: Then you need to check Auto-Start menu and click "Launch program at Windows startup" and "Start recording once program loads (Full Screen Mode)". The duration can be set up to 99 hours. Here you can set the recording duration like below: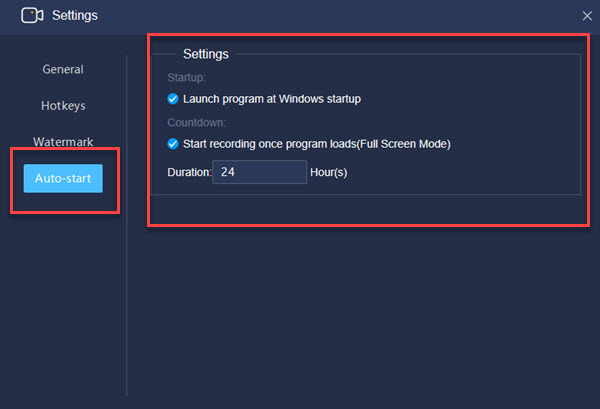 Step 3: Now go forth back to check the configuration. Make sure that the quality, format, frame rate and all the included parameters are the desired one. Note that auto-start recording can only be carried out in Full screen mode.

Step 4: Shut down this software. Once you restart your PC, RecMaster will automatically launch the recording when you log in.
Attention: You need to leave enough space for the long time recording. If there is limited storage space, the auto-start recording procedure will automatically stop.