How to Schedule Recording on PC/Mac?
RecMaster allows users to capture literally anything happening on their screen. But a very important premise is that all the operations have to be carried out by users. What if they are occupied and can't reach to their PC?
Schedule Recording is designed for this exact situation. With this feature, Users can achieve automatic recording.
The feature has different appearance on Mac and Windows though, let's see the instruction respectively.
How to Schedule Recording on Windows?
Before we make scheduled recording, there are some settings that have to be configured.
1. Download RecMaster.
2. Enter the setting interface to leverage the Task Schedule.

3. Once the entry is found, click "Task schedule" and jump to its operation interface.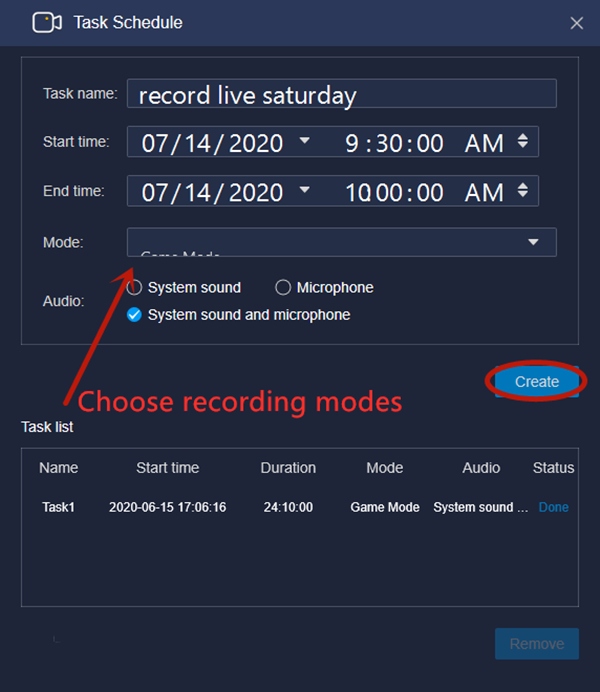 4. Create scheduling tasks, defining Task name, setting the start and end time.
5. Other Settings include the selection of recording modes and audio source.
6. Click 'Create' and you get a 'task' waiting to be executed.
How to Schedule Recording on Mac?
Mac Version RecMaster isn't equipped with the feature – Task Schedule. Instead there is another function serving as alternative to Task Schedule – Duration.
1. Open RecMaster and you will see the option for 'Duration' is at the bottom-right corner of the main interface.
2. Click it and a window will jump out asking you to set duration.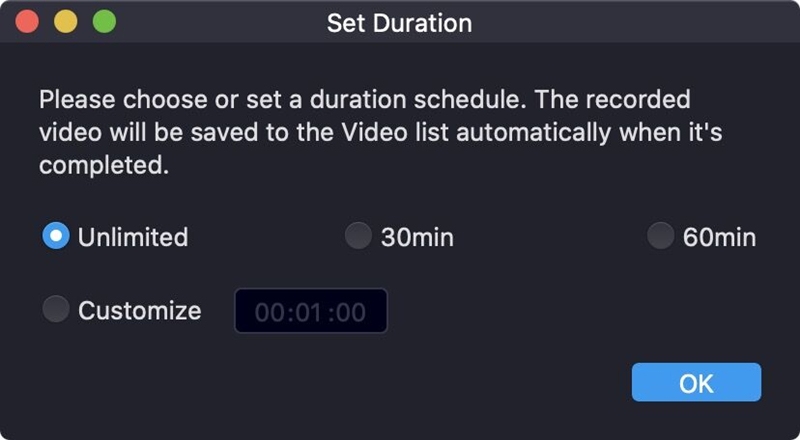 3. You can choose 30min, 60 min or customize a preferred duration and hit OK.
4. Start the recording and RecMaster will stop the capture automatically when time ends.
Precautions
Video formats, video quality, FPS and audio sources options can't be set up at the Task Schedule window. Users could configure these options at the setting interface. The Mode has to be consistent with the one you choose at the Task Schedule window.

Users are suggested to output MP4 video at high or original quality or MP3 audio format for better compatibility. Frame rate value doesn't matter too much unless you are going to capturing some high-paced moments like game.
Video formats, video quality and audio sources
Users have to pre-running their chosen program or projects and make sure their PC's conditions are unchanged, or RecMaster will capture something they don't
Users should avoid their tasks to be overlapped. RecMaster cannot carry out two recordings at the same time.
The task schedule needs RecMaster running in the background. Make sure it loads at Windows's booting up.
Ideal Occasions
Record on-coming live-streams, sports matches, podcasts.
Record Important online conference while you are occupied by other things.
Record on-coming online courses.
Task Schedule with webcam mode, and a virtual camera is made to monitor environment around your PC.