Summary: This is a guide providing 2 ways to screen record your Windows 10 computer with audio coming from system or microphone. Thus you can create a more engaging capture at your will.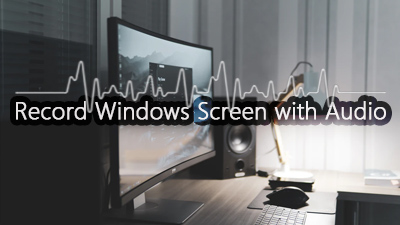 Your screen capture is going to be lifeless if there's no original sound or any voiceover. Think about what if your battle royal gameplay recording lost its dread yell sound, your home-made training video had no background explanation, or you only kept the images of streaming content, no audio at all… In most cases, it's necessary to do screen recording with sound. For personal guide or teaching video production, it's more convenient to do real-time explanation than dubbing afterwards.
So here in this article we will come to the topic of how to capture computer screen and sound at the same time. The sound source may come from the system itself, a browser, an application or the external microphone.
To begin with, since both macOS Catalina and Windows 10 have screen recording applications off the rack, we will give a place for them as the first way. And the other way falls on recording with a solid third-party screen and audio recorder. Since the tools and steps differ from systems, we will represent the Mac and Windows guides separately. You can directly jump into the section you need from the content navigation below:
Content Overview

How to Screen Record with Sound on Windows 10 Content:
Way 1 – Utilize the Built-in Game Bar App of Windows 10
Way 2 – Utilize a Feature-packed Screen and Audio Recorder RecMaster
Guide on How to Screen Record with Sound on Windows 10
* Way 1 – Utilize Game Bar Feature of Windows 10
Pros: No software downloads; Record most programs and games alone with audio
Cons: Limited recording capability / Unable to record webcam, desktop, file explorer and complicated operations
Windows 10 introduces new Game Bar feature for gamers to capture gameplay. And it can also be taken as one of the best screen recorder for Windows to record general programs' operations. So let's just go ahead to take a look at how to record the Windows 10 with audio with it.
Step 1. Go to Settings from start menu and navigate to Gaming window. Make sure the Game bar option "Record game clips, screenshots, and broadcast using Game bar" is turned on. Here you can also do some other settings regarding capture, such as keyboard shortcuts, saving folder of game clips, maximum recording length, video and audio quality, video frame rate and sound volumn. When you finish those preparation, just close the windows to move on.


Step 2. Press the shortcut "Win + G" (if you didn't change it in step 1) to pop Game Bar up.g
Step 3. Click to open the Settings windows, where you can define what audio to record under Capturing:
Game (Game + enabled mic) or All (Game, enabled mic, apps, system)
Step 4. After setting what audio to record, press the leftmost Capture button to display another dedicated panel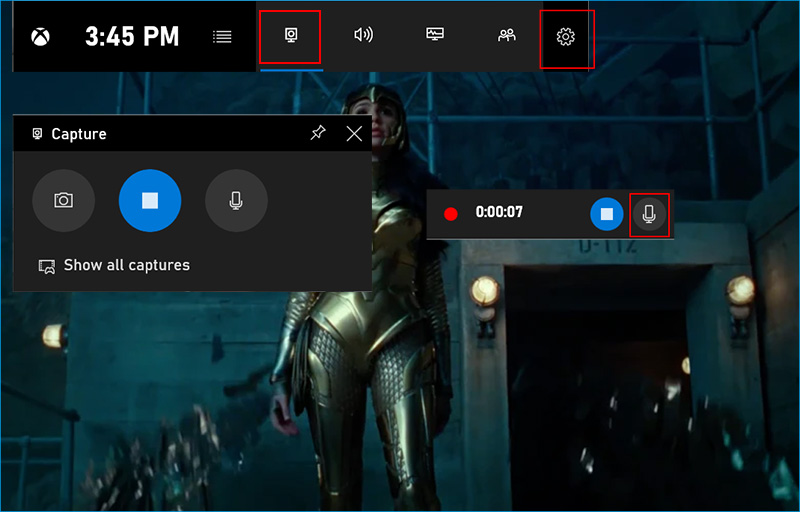 Step 5. Tap the third "Start recording" button or use hotkeys "Win + Alt + R" to begin the capture. Be aware that you can take an overall control of when to turn on or off the microphone sound with "Win + Alt + M".
Step 6. Stop the recording by clicking the blue button showing on the floating bar or shotcuts "Win + Alt + R". Then open and preview the video from Game bar directly.

It's fairly simple to record game or program with Game bar by taking the mic or system sound in. The drawback is that Game bar does not support recording Windows desktop, file explorer or activities involving more than one program. That's to say, basic screencasting for a single task is OK while any advanced recording may take your time to find some Game bar alternative.
Way 2 – Turn to RecMaster – An All-in-one Video and Audio Recorder for Windows 10
Pros: Record whatever screen actions with sound at will; Flexible output settings; Effects and edits available
Cons: Download and installation needed; Costly
It would be much more convenient to do recording with a handy screen and audio recorder. Certainly there are some freeware to standby, but honestly they are more suitable for those old soldiers or recruits who are willing to take time to tinker around the complicated stuff. If you are not the one, cheap and commercial recorder is your top choice.
RecMaster, as one of the best screen recorder for Windows, is lightweight but powerful recording software for Windows 10/8/7/XP. With five recording modes built in and various advanced settings, it gives users an over control on what to capture, when to capture and how to display the content in your own way. No more words, let's just check how RecMaster works on screen recording with audio.
Step 1. Download, install and open RecMaster
Free DOWNLOAD the RecMaster's exe package here and do the installation then. After that, launch it to go ahead.



Step 2. Choose capture mode and audio sources
Select one mode according to your actual need from the main interface. For example, if you plan to record gameplay then hit the Game Mode, the whole desktop hit the Full Screen, a specific region hit the Custom, your front camera hit the Webcam.

After that, select the audio source to record. Just click your mouse to decide whether to turn on system sound, microphone and adjust volume. Also, you are free to set video format, resolution and frame rate here. If you are using dual monitors, RecMaster permit you to do selection, too. By clicking the left bottom Settings icon, you can define your mouse effects, watermark and hotkeys according to your habits.
Step 3. Start Recording
When preparation is done, tap the red round button to begin the recording. During the recording, you are optional to make some annotations with the drawing board tool. When you end the recording, just preview from the recording list and RecMaster allows you to cut recording or upload online in one click. Note that RecMaster full version has no limit on recording length and empowers users to do scheduling recording.
Good screen recording idea and plan is just a beginning. And a solid screen recording program can make things easier. You don't have to waste your time creating more problems with an advanced complex tool, because the ones we've mentioned here are already optimal choices.