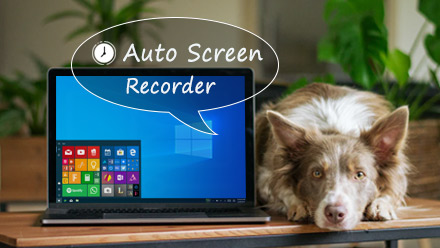 Surrounded with diversified smart gadgets and appliances, people are enjoying the benefits from forever changing tech space. When it comes to enable screen recording on computer smartly, that's still a piece of cake, because with a slick auto screen recorder like RecMaster, you can get whatever content (copy protected excluded) on your monitor captured and saved at your favored time and manner easily. Below is the way how RecMaster works for auto recording. Please click to free download its .exe package below and finish the setup by following the wizard.


● RecMaster Auto Screen Recorder Feature 1: Record Screen at Windows Startup
For this or that reason, you need to monitor the computer once it's booted up. But the fact is that it's possible for you to sit in front of the machine and manually start the screen recording every time. Also in some cases, you just prefer an auto background recording and only under this circumstance can you get the desired on-screen behavior saved for reference. All of these requirements can be fulfilled with the help of RecMaster's "Auto-start capture" feature.
Step 1 – Open RecMaster and choose either recording mode on the main UI to go ahead. There are 5 modes in total: Game Mode, Full Screen (recommended to pick), Custom Area, Webcam, and Audio Only.

Step 2 [IMPOARTANT]– Click Settings to pop up another Window and navigate to "Auto-start" section. Here, you should tick both "Launch program at Windows startup" and "Start recording once program loads (Full Screen Mode)" options to enable the auto capture. On the same panel, you are enabled to set for the auto recording duration. The default length is 3 hours, which is adjustable to recording 24-hour content or even up to 99 hours.

Note: You're suggested to have an overview on General settings located on the same window to know and decide whether to change them, for example the saving folder of recorded file, mouse effects, countdown, and floating toolbar. To initiate a secret hidden recording, you'd better to disable all obvious visual elements like mouse effects, countdown and floating bar.
Step 3 – Back to Full Screen main UI, check and ensure these video format, quality, frame rate, webcam and audio options are what you want. If not, alter them with the mouse.

Step 4 – Close the software. When your PC is shut down and re-start, RecMaster will automatically film the whole screen once the user logs in.

● RecMaster Auto Screen Recorder Feature 2: Record Screen at A Fixed Time
Besides auto background recording when Windows starts, there's another common auto-capture demand, and that's exactly making screen videos more flexibly at a specific time, for one time, daily, weekly, monthly or so. To help record a scheduled live event or other activity on computer, RecMaster builds Task schedule feature in. Let's see how RecMaster works for it.
Step 1 – Download, install and launch RecMaster and enter into your preferred recording mode panel by clicking the button from main interface.

Step 2 – Click "Task schedule" with a timer icon to showcase the Task Schedule dialogue box, where you can create recording mission of any kind at whatever start and end time. If you plan to do a customized-area capture, you need to manually select the region here.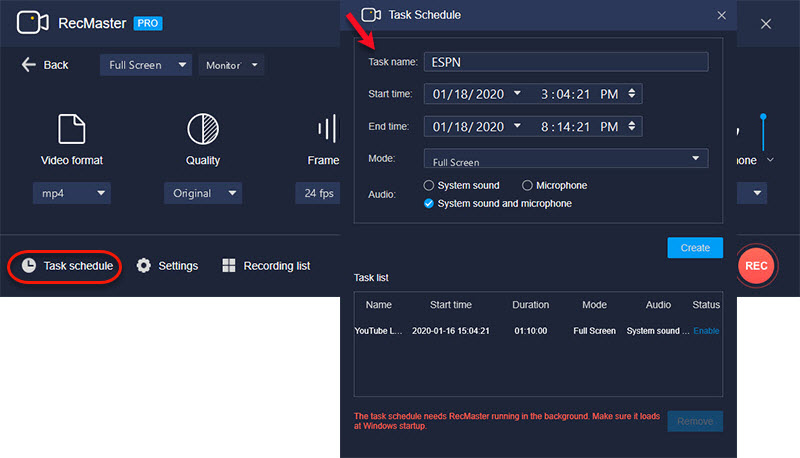 There's no limitation on task number as long as your free local storage is enough. Note that don't forget to enable the scheduled task before you quit this area.
Step 3 – After scheduled recording mission(s) is/are enabled, you can go over the related settings, such as format, quality, audio and that from Settings panel, to make sure they are all set as you need.
Step 4 – Since only when RecMaster is running in the background will the scheduled recording takes place by itself, in case you forget to launch it beforehand, you can have it launched at Windows startup under Settings -> Auto-start. Now leave RecMaster and wait for this auto screen recorder to work timely.
Overview on RecMaster Auto Screen Recorder's Auto-Capture Features
Game Mode
Full Screen
Custom Area
Wecbam
Audio Only
Time Limit
Auto-capture at Windows Startup
×
√
×
×
×
√ (99 hours at most)
Scheduled recording
√
√
√
√
√
×
Ending Marks
Many customers leverage auto screen recorder for collecting data, tracing on-screen operation, or just keeping a recording of any streaming content. RecMaster, as one of the best screen recorders for Windows, gives you two methods to make it happen as you like. Also, it delivers a stable background capture, with no task bar or desktop flashing error that some general screen recorders may have. If RecMaster is too basic for you, try any other top-ranked desktop app like AutoScreenRecorder.