Summary: You are just a beginner and searching for some suitable screen recorder software to record your Windows screen, but not so knowledgeable about this tech stuff… We here picked the top 5 programs out. Hopefully you can find a favored one to get your recording work started immediately.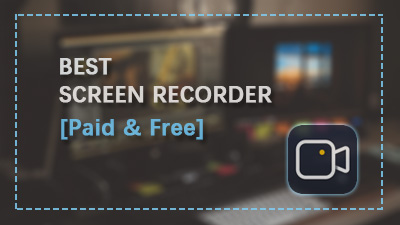 Screen Recording Is Not So Difficult As You Think
Maybe you're an educator who wants to record some teaching resources for students?
A blog/YouTube starter who'd like to create and upload some instructive clips online?
A game boy or girl who is willing to capture some gameplay moments for sharing with gaming friends?
Or just a business newbie who needs to promote the product with some basic how-to guides or bla bla bla?
…
If you happen to be a video aficionado and need to make some screen recordings with your computer running Windows or Mac, the 5 best screen recorder software for Windowslisted in this post can help you do whatever screen capture with clicks. To give you a hand on finding the most suitable one fast, we will pay more attention to the feature differences and mark the complexity level of each for your reference. Hope you can select the right one according to your budget and goals.
Well, before we start the journey together, you are suggested to think over several basic questions that may affect your final decision:
● What operation system are you using?
● What kind of recording do you need to do? A full-screen capture, a windowed one, or just a webcam one?
● What kind of software do you prefer, free or paid? If it's the paid one, what's your budget?
● Do you need to record audio from the system or microphone?
● Is annotation necessary during the recording? Or you need to do some easy edits with the recorder?
● What video format do you wish to record?
● If you prefer to upload the recording video online instantly with a click?
● Whether the cloud recording is necessary to save space?
● Do you need to do live streaming?
If you have the answers to these questions in your mind, let's begin to check the top list one by one.

2020 BEST FIVE SCREEN RECORDING SOFTWARE FOR WINDOWS COMPUTER AT A GLANCE:
#1 – OBS Studio | #2 – RecMaster | #3 – Evzid | #4 – Bandicam | #5 – ScreenApp.io



1. OBS Studio – The One That Stands out from Large Free Open Sources
Keywords: Free, no time limit/watermark, live stream + screen record, multi-platform, beginners need to take time to master
Complexity: ★★★★☆
It is no exaggeration to say that OBS Studio is the most powerful freeware for living broadcasting & screen recording. That's why many giant sponsors and backers are delivering contribution to it, twitch, NVIDIA GEFORCE RTX, Logitech, Xsplit, just to name a few. Why it's so welcomed then? On one hand, it's packed with many features and options that give end-users high customization of recording content and how to display them with overlays. On the other hand, OBS makes it possible to broadcast video directly to all mainstream streaming services like Twitch, YouTube gaming, Facebook Live, Twitter Periscope, Mixer and Restream.io FTL/RTMP.
As a versant screen recorder for Windows, Mac, as well as Linux, OBS Studio is able to capture screen from different sources like (full-screen or specific) Display, Window, Browser, Game, Media, Video Capture (webcam) Device, VLC, Image Slide Show and similar. The built-in "Audio Mixer" makes it easy to add system or microphone sound into recording video as one or multiple tracks. Moreover, it allows users to remux recordings after the shooting, which saves much time for users to re-convert the final capture with another video converter.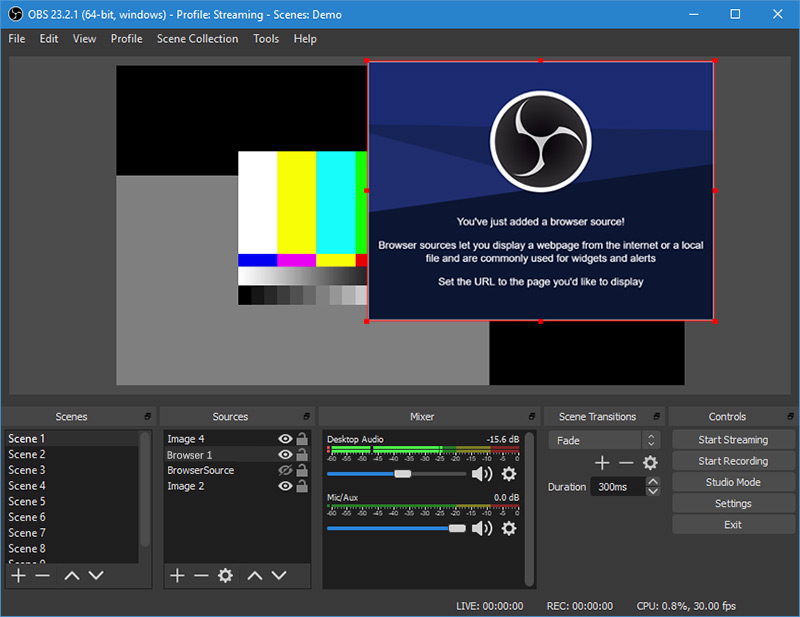 Where this is OBS Studio users, there is "learning curve" which they are used to mentioning. That's because OBS does offer many advanced setting options for output video/audio, hotkeys and streaming covering format (multi-track MKV/MP4 is concluded), bit rate, quality, encoder and CPU usage (for streaming).
In one word, OBS Studio may be a little complicated for a novice. But once the one has conquered the steep learning curve and gets an ultimate understanding of its workflow and elaborate settings, pro-level screen recording is just at his or her fingertips.
OBS Studio Overview
OS
Windows 7/8/8.1/10; macOS 10.11+; Linux
Type
Free open-sourced software with excellent recording & streaming feature
Time limit/Watermark
N
Download
https://obsproject.com/download
Full Display / Window Capture
Y
Game Capture
Y
Webcam Capture
Y
Image Capture
Y
Mix System Sound/Mic
Y (support outputting multi-track MKV/MP4 file)
Scheduled Recording
N
Record multiple monitors at once
Y
Audio Recording Only
Y
Annotation / Built-in Editor
N (But support converting output file from one format to another)
Video (encoder)
MKV, MP4, FLV, MOV, TS, M2U8 (software X.264, hardware QSV)
Hotkeys
Y
One-click upload to online sites
N
2. RecMaster – An Excellent Screen Recorder for Both Beginner and Advanced Users
Keywords: Cross-platform, full or custom screen recording, vertical recording for mobile, multiple-monitor recording, record audio/webcam only, built-in annotation tool & editor
Complexity: ★★☆☆☆
RecMaster is one of the typical commercial screen recording entities for desktop. Similar to popular Movavi Screen Recorder, ApowerREC, and Wondershare Filmora Scrn, it supports grabbing whatever activities happening on the desktop at will – choosing the whole or a specific region to record, enabling the computer or any microphone sound, overlaying the integrated or external camera picture or not, doing some annotation work with brush or sticker tools. Better still, it offers a task scheduler for creating any future capture, like live streaming recording.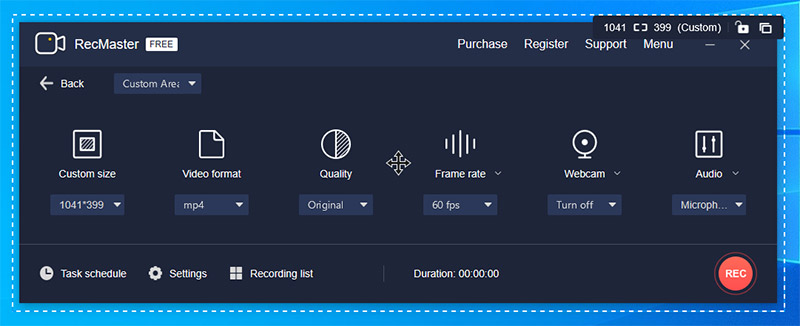 As to output video settings, RecMaster gives mainstream MP4, FLV and AVI three format options to choose enables users to record high-quality 1080p or even 4K video at up to 60 fps (if the monitor is a 4K one). Variable frame rate or constant frame rate is also optional to choose for balancing the video quality and file size. If the output is a little bit long, it's free to cut and merge with the internal editor. Better than other programs, it features recording dual monitors at once as long as you select them all before the recording.
RecMaster Overview
OS
Windows XP/7/8/8.1/10; macOS 10.7 and above
Free Download
Type
Commercial software and free trial allows 2-min recording
Price
Lifetime license at $49.95 for 2 PCs;
1 year license at $29.95 for 1 PC
Full Display / Window Capture
Y
Game Capture
Y
Webcam Capture
Y
Mix System Sound/Mic
Y
Scheduled Recording
Y
Record multiple monitors at once
Y
Audio Recording Only
Y
Mouse Effects / Countdown
Y
Annotation / Built-in Editor
Y
Video Format & Settings
MP4, FLV, AVI ( with frame rate and quality level adjustable)
Hotkeys
Y
One-click upload to online sites
Y
Image Capture
N
3. Ezvid – An Easy and Free Screen Recorder with Its Own Style
Keywords: Free, no watermark, synthesize speech, write title/desc, preloaded music, a 45-min limit at a stretch
Complexity: ★★★☆☆
Ezvid is handy freeware empowering users to capture on-screen actions at up to 45 minutes one time with sound/voice, background music or front camera video. Once the software is launched, you can see some of its features located on the straightforward interface, among which the ability to define video information (title, description and video category included), add existing background music and synthesize speed are Ezvid-style functionalities. Other advanced screen capture options such as Microphone Capture, Select Capture Area and Webcam Capture can only be set by clicking featureless "capture screen" button shaped in a PC icon -> use advanced settings. Ezvid allows users to draw annotations and add stickers during recording, too. After the recording, it's also free to add watermark, intro/outro text, and external video into the project line, control the video playback speed of each clip.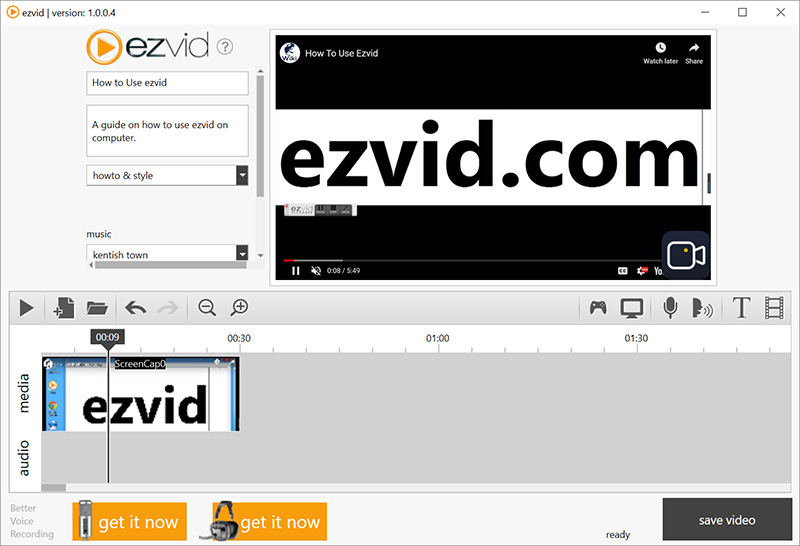 However, there's no way to adjust output media location, file format or size, because the software has fixed the video file to (VC-1) WMV at 23.976fps, the audio stream to WMA, and the file saving path in This PC -> Documents -> ezvid, all of which are unavailable to alter. Also, there's no hotkey operation. Sometimes it's only a black screen when capturing a gameplay segment, and the official troubleshooting tip is to run the game in windowed mode.
Ezvid Overview
OS
Windows XP3, 7, 8, and 10
Type
Free open-sourced software with microphone and handset selling access
Time limit
Y to some degree (45 minutes at a stretch)
Download
https://www.ezvid.com/ezvid_for_windows
Full or Custom Recording
Y
Gameplay Recording
Y
Webcam Recording
Y
Mix System Sound/Mic
Y
Scheduled Recording
N
Record multiple monitors at once
N
Audio Recording Only
N
Built-in Editor
Y
Video
WMV (VC-1)
Hotkeys
N
Capture Image
N
4. BandiCam – An Awsome Screen Recorder to Capture Desktop and External Devices
Keywords: Device recording, output AVI/MP4 at up to 144fps
Complexity: ★★★☆☆
BandiCam is another commercial program that's able to screen record anything on the screen seamlessly. As the description above hints, the main difference between BandiCam and other software is that it allows users to do external device recording. Specifically, with a capture card here and an external device connected to PC via MHL/HDMI cable, for instance, iPhone, Android, Xbox/PS, and IPTV/Apple TV, you can record its screen with BandiCam easily.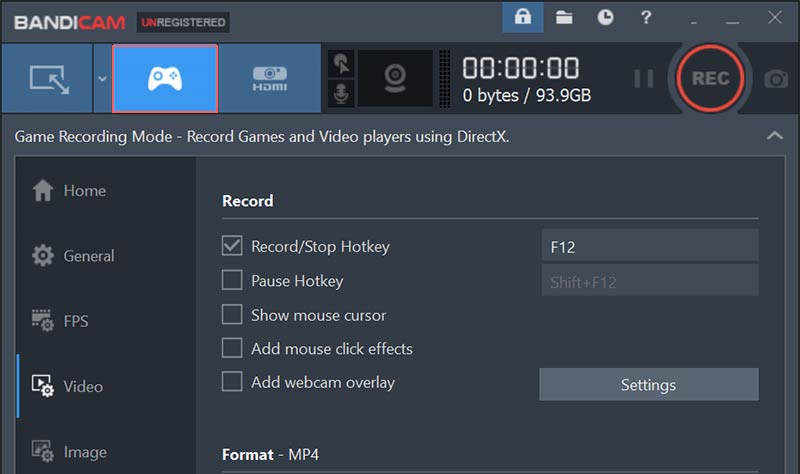 BandiCam is able to customize video recording by adding (chroma key) webcam overlay, mixing system/microphone voice, outlining screen, adjusting rich video and audio parameters, even some presets are ready-made like HEVC/H.264 60fps (Intel QSV) video, 1080p YouTube/Twitter video, and PowerPoint video. Unfortunately, it's only available for Windows PC, and if you need to capture more than one monitor at the same time, you must copy and paste the software folder and run two BandiCam instances simultaneously, not so convenient.
BandiCam Overview
OS
Windows XP, Vista, 7/8/10 (Support for 32/64-bit)
Type
Commercial software and free trial allows 10-min recording
Download
https://www.bandicam.com/downloads/
Price
Lifetime purchase at $39 for 1 PC, $59 for 2 PC, $137 for 5 PC, $254 for 10 PC…
Full or Custom Recording
Y
Gameplay Recording
Y
Webcam Recording
Y
Mix System Sound/Mic
Y
Scheduled Recording
Y
Record multiple monitors at once
N
Audio Recording Only
N
Built-in Editor
N
Video Format
AVI, MP4
Video Codec
HEVC/H.264 (Inted QSV), H.264, MPEG4 For MP4;
H.264 (Inted QSV), H.264, Xvid, MPEG1 etc. for AVI
Capture Image
Y
5. ScreenApp.io – A Browser-based and Real Online Screen Recorder Without Downloads
Keywords: Instant recording on full desktop or specific window, No installer downloads, Chrome/Firefox/Opera only, Internet connection required
Complexity: ★☆☆☆☆
Online screen recorders are scattering here and there. Known by you or not, browser tools like online video downloaders, converters and editors help users do related work 100% on the web, without downloading any installer or launcher. You probably think you can use those web screen recorders to record in the same way without download. Well, it's just a game of luck. 95% online screen recorders are not "true online tools", because they can only work when an external installer or launcher is downloaded and installed beforehand. Movavi Free Online Screen Recorder, Apowersoft Online Screen Recorder, ShowMore web recorder all work in the same way.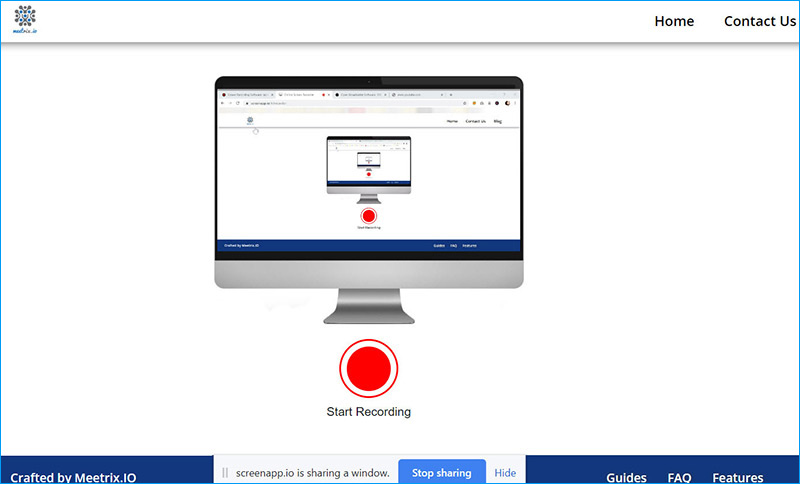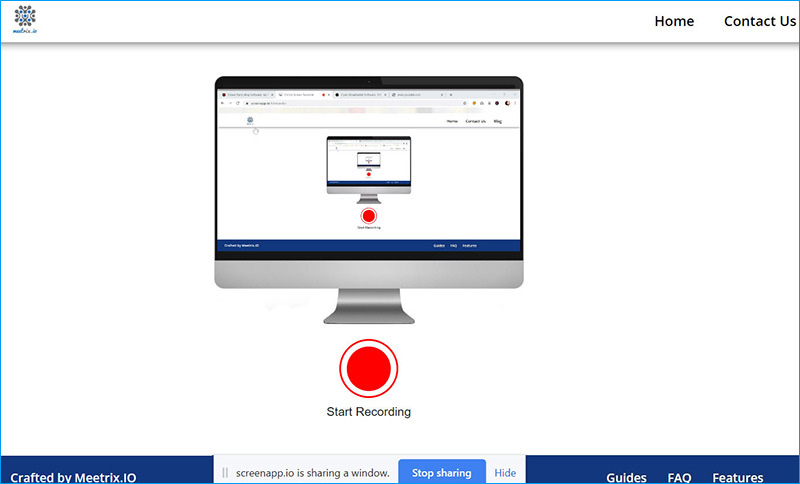 ScreenApp.io, a 100% free online screen recorder without downloading setup package or extension, is a model worker. But compared to desktop software, it's less functional for it can only take the screen video of the whole screen, a certain application window or a browser tab at an unchangeable video format (VP8 WebM here), with microphone/browser audio or not. Once you stop the recording, you need to manually download the capture file stored in the cloud. However, every coin has two sides, you can share the moment to social or friends with only a URL.
ScreenApp.io Online Screen Recorder Overview
OS
Any OS running Firefox, Chrome or Opera browser
Type
Freeware
Address
https://screenapp.io/
Full or Custom Recording
Y (Unavailable to custom the region manually)
Gameplay Recording
Y
Webcam Recording
N
Sound sources to mix
Only Browser or Microphone audio
Scheduled Recording
N
Record multiple monitors at once
N
Audio Recording Only
N
Built-in Editor
N
Video Format
WebM (VP8)
Video Settings
N
Capture Image
N
The Final Words on Windows Screen Recorder
Speaking of the most important life-altering creations in the last 30 years, the Internet is undoubtedly the top spot. Thanks to the advent of the Internet, more and more things become possible and easier. How could the people living in 20th century imagine that they can show themselves and connect with the whole world with just a phone or a computer near in the future! Video, as one of the modern and pop media formats nowadays, explains things more clearly and delivers better consumer engagement than text and image. When you have a plan to screencast a teaching video, operation instruction, live streaming, game sessions, slide video, webcam video or any other, a handy screen recording software can work it out.
In short, the five best screen recorder for Windows 10/8/7 picks listed above can meet all general screen recording needs. We can't tell anyone to be the best of all for beginners, because either has its pros and cons of different degrees. So our advice is – you figure your recording purpose and requirements out first and then choose the most appropriate one or two programs to put your hand to video production as a green hand. When you make yourself master of basic recording skills with these tools, you can move on to some advanced and expensive software like Adobe Presenter and Camtasia.