Screencast has become an indispensable activity in our daily life. Nowadays, screen recorder can be used not only as a screencast tool but also the tool for surveillance purpose. Along with the popularity, people's requirement for recording length increases from a few minutes to record screen for 24 hours.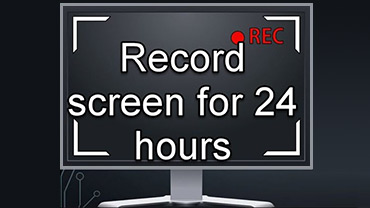 However, it may be a headache for you to select a suitable one since not all of screen recorders support recording without stopping due to the size/time limitation. Besides, the compatibility and performance also need to be considered before you make the final decision. No need to worry anymore! Keep on reading and this post will tell you how to record computer screen for 24 hours with an excellent screen recorder.
Why we need to record screen for 24 hours?
For the public: Most of users apply this function to record live streaming and other onscreen activities when the system runs.
For programmer: Programmers need to constantly test a new project to assess its performance. By unstopping recording, programmers can monitor the project without sitting in front of the computer all the time.
For employer: Employer can use screen recording for surveillance purpose to check whether employees follow the company's policy and promote work efficiency.
For financier: Financier can master the latest trend of stocks, bonds and record how price fluctuates almost every second.
For employees: Employees can easily find mistakes or defects of your products by recording computer screen.
How to select a suitable screen recorder with 24 hours recording function?
Budget is the first factor since money determines what type of screen recorders you can choose. Secondly, features of screen recorder are equally important. Multiple formats, flexible setting options and diverse recording functions will all influence your recording experience. Finally, the operation requirement affects your time and energy pouring into the recording process. Here RecMaster is our recommendation for the moderate price and versatile features yet easy operation.
RecMaster, a HD screen recorder, is able to record all the onscreen activities in original quality. It empowers you to record PC games (LOL, Overwatch), online meeting (Zoom, GoToMeeting), online course (Udemy, Thinkific) and other social media resource without stopping. For screen recording, it offers personalized options like video format, quality, audio source and storage path. Additionally, its task schedule function can automatically record screen for long time capture. Now let's see how to record screen for 24 hours with RecMaster.
How to capture screen for 24 hours with RecMaster
1. Please download this application and finish installation.
2. Determine recording mode.
RecMaster provides five recording modes: Game Mode (Windows only), Full screen, Custom area, Webcam and Audio only. The following part will explain differences in detail.

Game mode:It is aimed to capture movement of gameplay, supporting high quality game recording up to 60 fps.
Full screen mode: These modes are for whole desktop capture. If you capture the live streaming, television show, the large screen recording is more suitable.
Custom area: You can adjust the recording region in this mode. Simply enlarge or narrow the circle to the desired place.
Webcam: It empowers you to produce video from camera.
Audio Only: Easily to record internal and external audio simultaneously or separately without recording screen.
3. Configure parameter
Make configuration of related parameter. Determine the video format, quality and audio source to be recorded. The higher parameter is, the larger size you will get. For auto-start with system running, simply go to Settings>> Auto-start>>startup.

4. Launch recording and end
You can click REC to start or relatively press Alt+1 for Windows user. Annotation function appears along with the time bar, which contributes to mark up key points. To end recording, directly press the red Stop button or Alt+2.
Essential tips about unstopping screen recording
Tip 1: How to make recording smooth
Shut down all the unnecessary applications and clean out your space to leave enough room for the project. Remember to keep computer running all the time.

File size reference on video capture:
Settings: Full screen, mp4, high quality, 30fps, system sound
Duration: one minute
File size: 3.6 MB
So you're suggested to guarantee at least 5.1 GB space for 24 continuous recording for the same parameter.
Tip 2: How to automatically launch 24 hours recording
Re-confirm that you've permitted the auto-start function of RecMaster. Then use the Task schedule function and set the recording duration as 24 hours. In this case, you don't need to manually start and end the project.
Tip 3: How to cut parts of the video quickly without damaging the original quickly
To remove unwanted clips from the recorded video, apply the built-in editor to trim video by cutting and merging.
Tip 4: How to record multiple monitors at recording
During the recording process, you may need to switch among different windows or screens.
Under Game Mode and Full Screen, you can select any single monitor to capture as you like.
Under Custom Area, you are free to select all screens to record together or any specific region to capture as you want.
Conclusion
Recording screen for 24 hours with RecMaster is an easy job. Come and enjoy the benefit from RecMaster!