This article will show you how to record teaching materials on your computer easily.
If you're an educator, or you're preparing to become a teacher, then you can learn to make educational videos that your students will love. It's easy and wonderful, and you don't have to spend a fortune to make the idea a reality.
Recording teaching materials can make your classes more interesting and enriching, and keep students more focused through presentations such as audio and video. In addition to this, it can also help students who are unable to participate in the course to learn online.
Now let's follow this guide and learn about how to record teaching materials on a computer conveniently.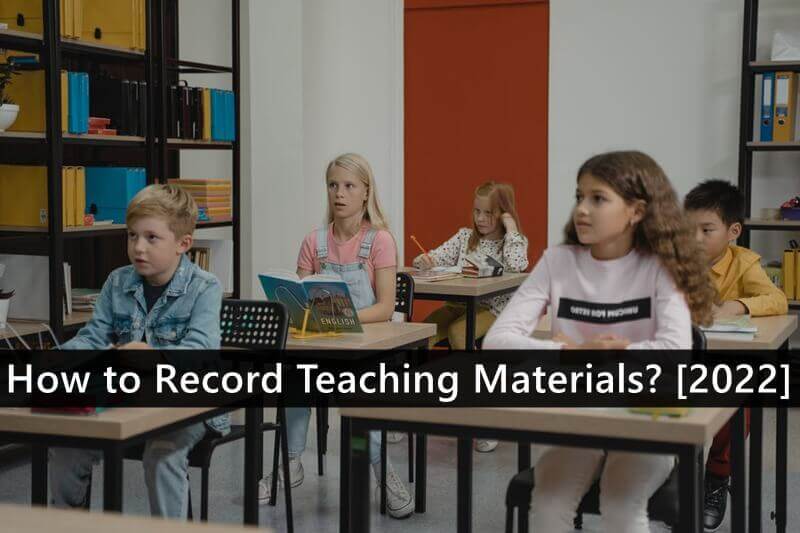 Why do we need to record teaching materials?
There are many benefits to creating instructional videos for your students, and it's worth the time and effort you put into it; the debriefing is lucrative.
Make your classroom fun. If you are struggling with low student concentration, low classroom atmosphere, and unmotivated students. Then you should really try some attractive teaching materials, such as videos and music. A boring textbook and your constant tone of voice tend to make students feel sleepy. Showing some great learning videos related to the course content can make them much more refreshed.
Save your time. When you pick and record a teaching material, you have an invaluable resource. You can use this resource over and over again, in every class you teach. The valuable time saved can be spent on other things such as developing new classroom ideas, communicating with students about the discussion, etc.
Let absent students learn online. If you have a student who can't come to school for some reason, what about making sure he keeps up with the learning process? You can make sure every student is on the same page by sending a video link to the absent student for online learning.
Free teaching resources for recording
Before you start learning how to record teaching materials, you need to find some teaching resources. Here are several sources for free teacher resources.
Amazon Ignite: Amazon Ignite is an open, collaborative service that is free to join and allows K-12 teachers to easily discover, collect, and share quality educational content with their communities. You can sell your original teaching resources as digital downloads, such as materials, classroom games, and more.
Teach Starter: It offers many free teaching resources for teachers, such as unit and lesson plans, PowerPoint presentations, and more. You can register an account for free and download or record some classroom materials for free. If you want to view the premium resources, you will need to purchase a premium plan to download them.
Arts Edge: If you teach in an arts-related field, this will be a good fit for you. Art Edge is sponsored by the Kennedy Center and provides arts learning resources for K-12. You can record teaching materials on it.
Education World: Education World is a complete online resource platform for teachers, administrators, and school staff looking for high-quality, original content. You can find more than 1,000 free lessons here.
How to record teaching materials with the best screen recorder?
Now you've learned about some great educational resources. Some of these platforms allow you to download their templates or videos directly, but some do not offer a download button. Don't worry, you can use the best screen recorder to get these free teaching resources.
RecMaster is one of the most popular and user-friendly screen recording software. It allows you to record teaching and learning resources easily and conveniently.
You can use it to record your computer screen, your own voice, and webcam at the same time. This nice video capturing tool also enables you to add real-time annotations during the recording, which helps your recorded video be more detailed and professional.
Key features:
Record the entire desktop or part of the screen flexibly
Record screen, system sound, microphone, and webcam simultaneously or separately
Show real-time keystrokes and mouse clicks
Add annotations during the recording
A built-in basic video editor to edit recorded videos
Step 1: Choose a recording mode. When you launch the best video recording software, you will find several recording modes in the interface. We recommend you to use the Full-Screen mode or the Custom Area mode to record teaching materials. If you only need to record the audio materials, you can choose the Audio Only mode.

Step 2: Choose what you want to record. The next step is to confirm the settings before recording teaching materials. For example, in the Full-Screen mode, RecMaster allows you to record your system sound, microphone, and camera. If you want to add your own explanations to the teaching materials, you can enable the mic.

Step 3: Start the video/audio recording. When you're ready for the capturing, you can start to play the video you want to record for your students and click on the red REC button to start to record teaching materials. During it, you can add some annotations to your recordings such as brush, highlight, text, numbers, and so on. You just need to press the Alt key + h to pop up the Paintbrush tool.
Step 4: Pause/stop the recording. When you are satisfied with your recorded teaching-learning materials, you can click on the Stop button to end it. If you only need to record part of a video, you have the flexibility to use the Pause button. You will easily find your recordings saved in the recording list.

Conclusion
In this guide, we have shown you some free teaching resources and how to use a screen recorder to record teaching materials. Recording video or audio for teaching can help you save time and make your students more attentive in class. RecMaster is a reliable helper for educators.
It has many advanced features waiting for you to explore such as auto-recording, segmented recording, and so on. Let's download it and have a try!
Related guides
How to Record Online Courses for Udemy?
How to Create Online Courses with Screen Recording Tool?