This guide is about how to record online meetings on Join.Me easily.
Join.Me is a popular online meeting platform that also supports screen sharing and team collaboration. You can create a link for hosting online meetings, and you can easily participate in video conferences on this platform. Online meetings are convenient for company leaders as well as employees. You don't need to go to the office to join a meeting on your phone or computer. Join.Me thoughtfully provides you with a built-in recorder. So you can watch back the video of the meeting and take notes after the online meeting. But only the Join.Me PRO and BUSINESS subscribers can record their online meetings. Don't worry, in this guide, we will show you simple ways to record on Join.Me. You can use a powerful third-party screen recording tool to do this.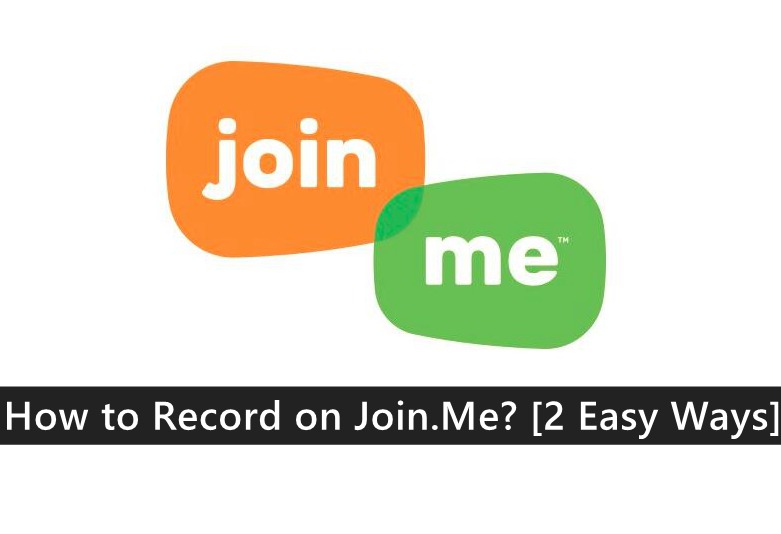 Table of Contents:
[Way 1] How to Record a Meeting on Join.Me?
[Way 2] How to Record on Join.Me with a Screen Recorder?
FAQs
[Way 1] How to Record a Meeting on Join.Me?
Join.Me is an outstanding online video conferencing service that enables hosts to record an online meeting. The recordings will be saved as MP4 files. Let's learn how to record on Join.Me as a host.
Step 1: First, sign up and log in to your join.me PRO or BUSINESS account. Then, you can start an online meeting by creating an URL. You can invite your company colleagues or partners to join this video conference conveniently.
Step 2: Start the recording. You can find several buttons on the top of the conference page. Click "More", and you will find the "Record" icon.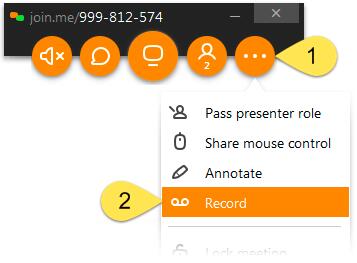 Step 3: To stop the Join.Me recording, you can click on "…">> Stop recording. To find the recordings, you can just click the Recordings link in the notification. Because of network delays or other problems, it usually takes a few minutes or more to process the recorded video.
[Way 2] How to Record on Join.Me with a Screen Recorder?
How do you record a video conference if you are just a Join.Me meeting attendee? All you need is a reliable third-party screen recorder. This screen recording software allows you to record on Join.Me easily. You can choose to record your entire computer screen or just part of your desktop. You can even set a timer to automatically record and capture only one fixed window without being disturbed by other pop-ups. With its help, you will not miss the important content of any meeting and review the online meeting video as you wish.
Key features of the best online meeting recorder:
7 recording modes: Full Screen, Custom Area, Program Window, etc.
Add real-time annotations such as text, number, arrow, and more
Auto recording, segmented recording, and scheduled recording
A built-in video editor to edit recorded videos
Support for record Zoom meeting, GoTo meeting, BlueJeans meeting, and more.
Step 1: Open the recording software and select a recording mode.
Download this screen recorder on your computer. And then, you will find several different recording modes in the main interface. Several of these modes are suitable for recording Join.Me sessions.
Full Screen: This recording mode helps you to capture your entire screen on your PC.
Custom Area: By using this mode, you are allowed to select any part of your screen. You can choose to record only video conferences.
Program Window: When you use this mode, you can select the Join.Me window. This way even if there are dialogs or other windows open at the top of this page. The recording will not be disturbed either.

Step 2: Modify screen recording settings.
The next step is to confirm the settings. RecMaster enables you to record system sound, microphone sound, and webcam simultaneously or separately. If you only need to record the sound from the webinar, you can disable your mic and camera.

Step 3: Start to record on Join.Me
Now, you can launch Join.Me and join the meeting. To start the recording, just click on the REC button and the recording will start after the three-second countdown.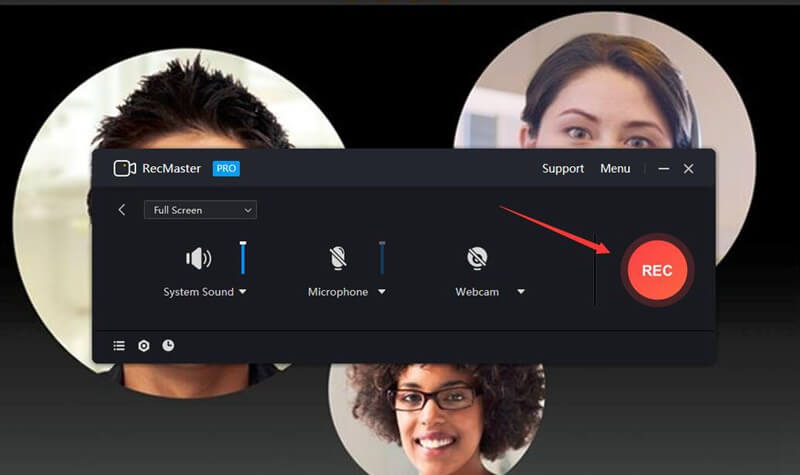 Step 4: Pause and stop the recording.
During the capturing, if you only need to record part of the meeting process, you can click on the Pause button or type the hotkeys the Alt key + 1 to pause the recording. When your online meeting is over, just press the Stop button or click on the Alt key + 2. If you find it too cumbersome and distracting to do it manually, you can try the auto-recording feature in the feature. Jump to know more about how to auto-record on your computer.

Step 5: Rewatch and share the recordings.
The recorded video will be saved automatically and you can easily find it in the recording list. You don't have to wait to watch it right back. This feature-rich screen recorder also has a built-in video editor that helps you to do some basic editing. If you want to share the video with your partners, you can click on the Upload button and share via YouTube or Google Drive.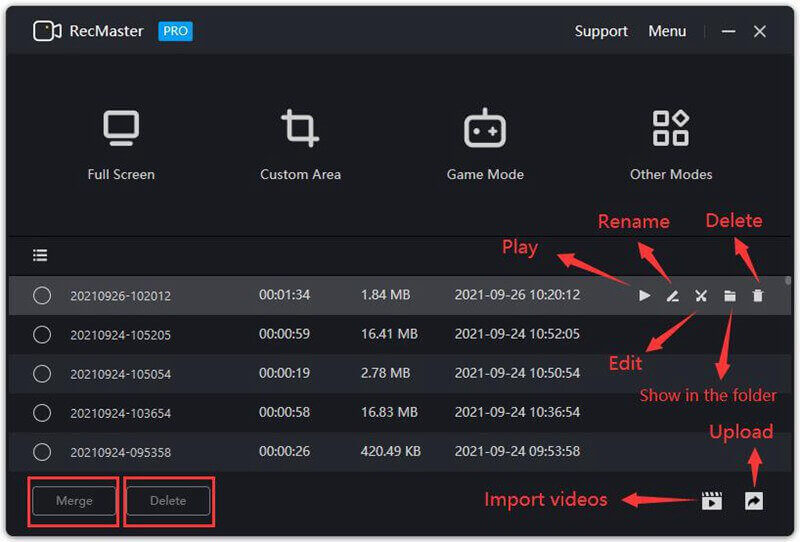 Conclusion
In this guide, we have shown you 2 easy ways to record online meetings on Join.Me. Recording an online meeting is really important, it helps you to record all the details that are easy to overlook. RecMaster is an all-in-one screen recorder and video editor. With this reliable tool, you can record meetings, gameplay, and how-to guides conveniently.
FAQs
(1) Can I use join.me for free?
YES, anyone can join the conference as a participant for free, but only paying customers will have access to hosting capabilities and features.
(2) What is the format of the video recorded with Join.Me?
The recordings of join.me are saved as mp4 files. If you wish to save the video in another format, you can use third-party screen recording software RecMaster. It enables you to save the video in different formats such as MP4, AVI, FLV, and GIF.
(3) How do I set up automatic recording in Join.Me?
This platform does not offer automatic recording, you need to start and end recording manually. But in RecMaster, you can set to auto-recording, scheduled recording, and segmented recording.
Editor's Recommendation
How to Record Stock Trades on Your Computer?