No matter what reason you need to screen record your computer screen, what OS your computer runs, the best MP4 screen recorder of 2020 we picked below will help make screencasting a snap.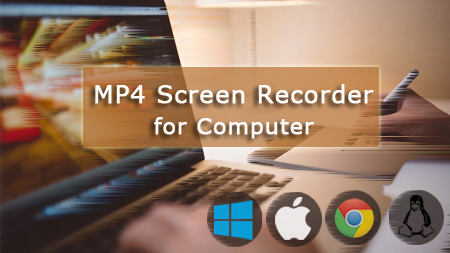 MP4 is everywhere! As a container format that has better hardware & software compatibility and a higher compression ratio that keeps a good balance between file size and quality, it's become and will be the most ubiquitous video format for a long time. So for screen recording customers like you, MP4 is still the top choice for target video. In this way, you can play the recorded MP4 file directly on any devices, input it to whatever video editor for postproduction, or upload it straightforward to hot online sites like YouTube without annoying transcoding at all.
So what's the best MP4 screen recorder for your computer? Is there any free MP4 screen recorder to recommend? Is the best recording software friendly with your niche system – Linux/Chrome OS? What if you're a beginner and not so familiar with recording stuff?
Given the different user needs, we here summarize 3 representatives MP4 screen recording programs for different computer systems, along with some tips on desktop capture.
Content Overview:
1. Best MP4 Screen Recorder for Windows/macOS
2. Best MP4 Screen Recorder for Linux
3. Best MP4 Screen Recorder for Chrome OS

1 – Best MP4 Screen Recorder for Windows/macOS – RecMaster
Since Windows and macOS are two mainstream computer systems, a broad range of desktop screen recorders have two versions for them, including the top software here – RecMaster. Then what makes RecMaster your go-to pick for screencasting MP4 file? There are briefly multiple reasons:
● It can help you record any content on your screen into MP4, including but not limited to gameplay, streaming media on the web, browser, software, file explorer and desktop operations.
● Full screen or customized resolution and aspect ratio, you decide where to grab.
● You are free to define the video quality and frame rate.
● You can mix the system sound & microphone simultaneously.
● One-click add webcam overlay into screen video for picture-in-picture video.
● Annotation tool and mouse cursor effects to keep viewers' attention.
● A built-in scheduler enables the software to catch any streaming events automatically.
● Easy edits and YouTube/Google Drive uploading after recording;
● Low CPU usage.
● No watermark or time limitation for full users.
From the list above, we can see that RecMaster is feature-rich software. Absolutely it is.
Different from other common software, RecMaster sorts all recording needs into five types and that's the five recording modes come in on the main interface. The left ones – Game Mode (Mac version will add this mode soon), Full Screen, Custom Area, and Webcam – are used for MP4 video recording. Only after you choose the capture mode can you see and set for output. Compared to many similar products with somewhat bewildering UI, like too much setting items consolidate in one window, the super-intuitive RecMaster will not take you much time on wondering "what should I do", especially for the first time recording.

By choosing either of the video recording modes, you will access another window to set MP4 quality, frame rate and cursor/watermark effects for output MP4. Task schedule is the place to create and enable any future recording, which is such a great tool to keep the once-only live streaming when there's a clash of date.

For most beginner users, the top concerns for selecting a handy MP4 screen recorder should lie in ease-of-use, multi-function but little influence on machine's performance and high-quality output of course. RecMaster meets all of these. And as a piece of software that just starts its life at version 1.0, it must bring about lots of shining points in the near future.
A word of notice: RecMaster for Mac now has a little difference with Windows version. If you wish a 1:1 Mac recorder with RecMaster for Windows, you can get back to check our update or turn to some best alternatives like OBS Studio or ScreenFlow. Besides RecMaster, there are many solid MP4 screen recording tools for Windows and Mac, including OBS Studio, Movavi Screen Recorder, Wondershare Filmora Scrn, and ApowerREC.
2 – Best MP4 Screen Recorder for Linux – OBS Studio
Compared to elder brother Windows and Mac, Linux, although with less user base, is gradually becoming one of the mainstream systems. Many tech companies are using the open-source and lightweight Linux in their data centers like Oracle, Google, Novell, IBM, Facebook, and Microsoft (yes, you didn't hear it wrong). In view of its open-source nature, we here come up with an open-source MP4 screen recorder for Linux crowds, too. Its name is OBS Studio, the abbreviation of Open Broadcast Software (Studio).
OBS Studio is a freebie for recording and live streaming, which is notably sought after Twitch gaming streamers. Shortly before in September 2019, OBS owner JIM officially released a blog – "Twitch Becomes Premiere Sponsor of the OBS Project"- to confirm the relationship between them before and for the time to come.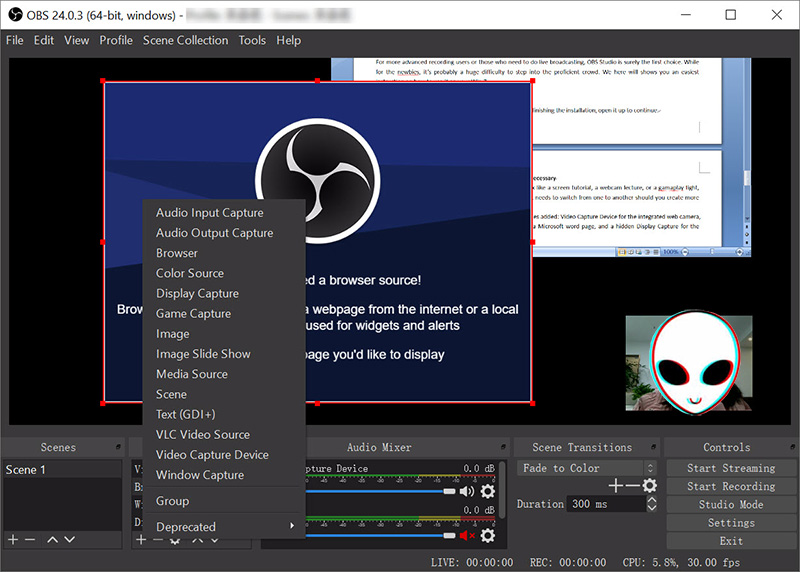 OBS Studio is regarded as the most powerful recording freeware. And you can find its name anywhere people asking for recorder recommendation. When you take it as an MP4 screen recorder on your Linux, it can:
● Real-time capture any screen sources at an unlimited number – Window Capture, Browser, Display Capture, Game Capture, Image (Slide Show), Media Source, Text, Video Capture Device (e.g webcam), Audio Input/Output Capture and so on.
● Unlimited scenes, too. You can switch from one to anyone else with a transition effect.
● Mix audio from desktop, microphone or any external devices you deploy beforehand.
● Output (QuickSync H.264 or x264) MP4 recording with multiple (up to 6) audio tracks.
● Flexible control on MP4 resolution, bit rate, frame rate, video color etc.
● An option for automatically remuxing (video) to MP4 if the output video format is not MP4.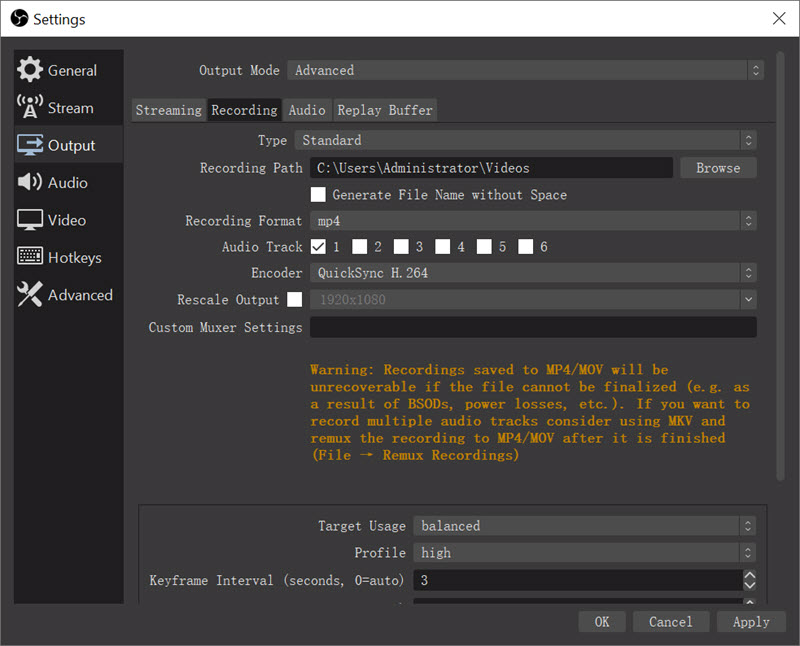 Common OBS Studio reviews usually come up with the steep learning curve of OBS. However, for most Linux geeks, it's not a big deal. Maybe one or two YouTube tutorials are enough for the quick start of OBS Studio.
For those who are not so into OBS, there are a few easy alternatives to recommend: Kazam, Peek, ScreenStudio, SimpleScreenRecorder, VLC, etc.
3 – Best MP4 Screen Recorder for Chrome OS
This Linux kernel-based system developed by Google is used in all Chromebook devices. If you are a Chromebook owner or just turned your old computer into "a Chromebook" by installing the Chromium OS yourself, you can create an MP4 screen recording of it with this good bet for the web – Screencastify.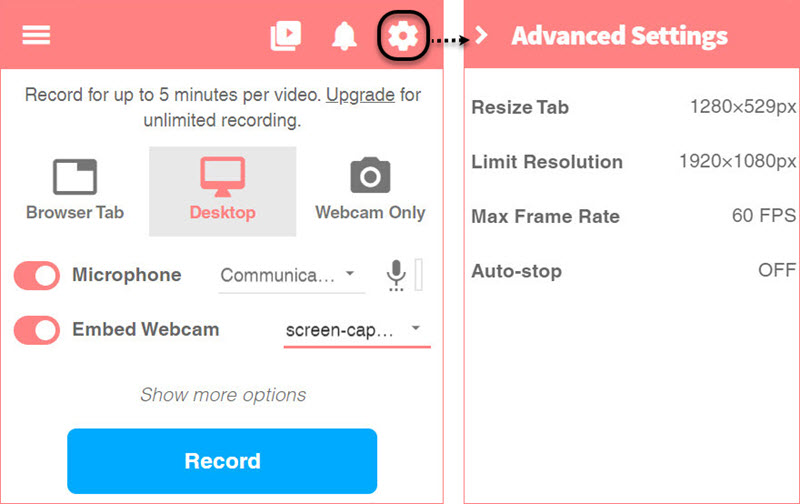 It is a screen recording plug-in for Chrome. After downloading and installing it on the browser, you can create AVC MP4 screen recording by:
● Recording any webpage, application window or the entire desktop screen;
● Embedding webcam on the browser, app or full desktop shooting;
● Recording your webcam only;
● Enabling the microphone audio into the MP4 video;
● Setting resolution at up to 1080p HD and adjusting frame rate to 60fps;
● Recording and saving the file into disk or Google drive.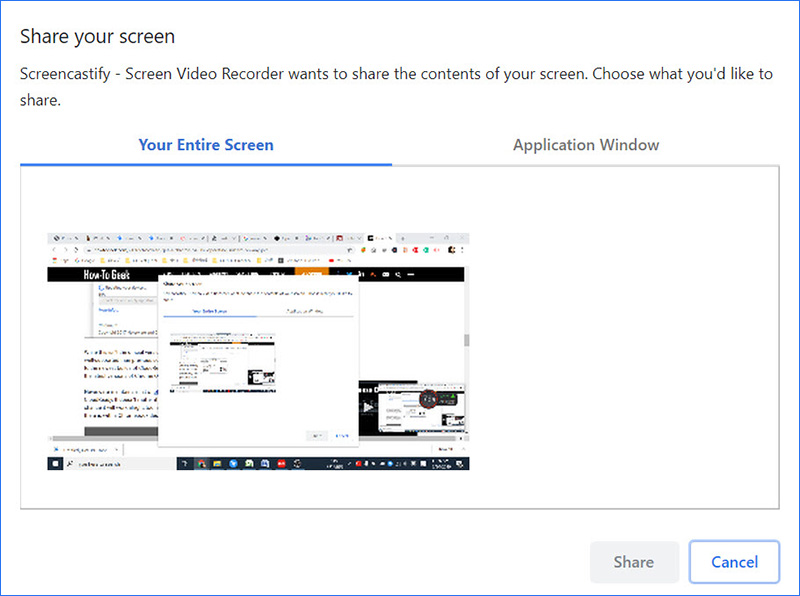 Undoubtedly, extension tools are not as powerful and convenient as desktop software. If you are not satisfied with these web-centric services, and willing to run certain non-Chrome software here, you can run a Linux screen recorder on Chrome OS in developer mode, take advantage of remote control or install a virtual machine to utilize MP4 screen recorder for Windows.
Many other Chrome-based tools are also worth your try, such as Loom, Hippo Video, Nimbus, Screen Recorder and ShowMore.
IN CLOSING
Amateurish or professional, you must have a slick MP4 screen recorder if you come across some content on your computer you want to capture, or your goal is to step into the online education/vlog field. In this article, we only list the cherry-picked ones. If you encounter any better software we didn't mention here, please let us know in the comment.