Online screen recorder vs desktop screen recorder, you are in a dilemma on which one to choose? Get a deeper look at their differences from this post…
Internet sources indicate that a common adult makes over 35,000 decisions each day. Then when it comes to choosing a proper screen recorder to grab computer screen, how many questions, decisions and consequences you would ask, make and carry? Well, it depends on the actual requirement and environment.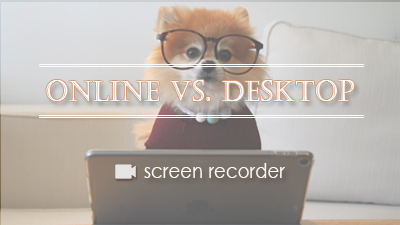 Many consumer multi-media applications have both online and desktop types, so does screen recording facility. Regardless of your computing skill and knowledge, if you starve for a screen video capture tool, you must more or less do some sort of comparison between web-based and desktop-based recorders.
Briefly speaking, an online screen recorder is a browser program that can be accessed, launched and used by user totally on the web with internet connection. In contrast to that, a desktop screen recorder is only available after you have finished the download and install locally.
Probably the theoretical definition sentence is vague and general as usual so that you can't figure any potential pros and cons, hence several main differences of them are summed up in details in the following part.
Recommendation on Easy and Feature-laden Screen Recorder
If you are an inexperience user, RecMaster – the one-click desktop screen recorder for Windows an Mac – can help you quickly produce a desired screencast with high quality. Its super intuitive interface and multiple screen recording modes let you enjoy a no-brainer capture process.
Key features of RecMaster:
PC game recording, full screen recording, custom area recording, webcam recording, audio recording,
scheduled/auto recording, picture-in-picture recording, 1080p/4K @60fps
draw pen for annotation, mouse cursor /watermark effects, built-in editor, direct YouTube sharing.
01. Online vs. Desktop Screen Recorder, the Way to Get Started
In short, online screen recorder offers a much easier and faster solution than desktop one. No download or installation needed, no restriction of access, you can truly get your capture mission started on any computer in clicks with web browser and internet connection.
However, some may force you to complete a sign up for free usage like Loom, and some also ask you to install a mini launcher for a flexible area selecting, for instance top-ranked Screencast-O-Matic and Apowersoft Free Online Screen Recorder.
Different from standalone software installation, this launcher setup is only available at one time. Once you close it, next time you enter into the recorder page, you should download it again.
To run and work with a desktop screen recorder, you have to firstly get its .exe or .dmg package file online according to your system and set it up on your machine, whose file size may be any from a few to tens of MBs.
As long as you place it on your PC, you can start up screen capture at any time without browser or internet connection at all.
As a rule, a desktop screen recorder usually has a minimum system requirement for normal and efficient operation. While for online tool, except browser and internet, nothing else is a must-have, be it hardware, system or similar. So most web screen recorders have wider compatibility and also accept niche desktop (e.g. Chromebook) or even mobile devices.
Winner of easy-of-use: online screen recorder
02. Recording Functionality & Performance
Online screen recorder is more convenient, how about its feature and performance? Does convenience bring about other inferiority? No 100% exact answer but the average capability of desktop recorders have the advantages.
On one hand, they are commonly equipped with more setting options for format/codec/quality and advanced functions like annotating, scheduled recording, and internal editor for quick tailoring. On the other hand, their standalone in nature guarantees a quicker and more stable video processing, which is superior to online service who relies significantly on bandwidth speed.
In a word, if online screen recorder enhances the pleasure of quick screen capture and online communication, desktop offline screen recorder achieves the ultimate of high-quality or customized capture on personal or work PC.
Winner of recording performance: desktop screen recorder
03. Data Management & Security
These two kinds of recorders handle and save recording data in different ways. One puts the final screencast content in their online databases while the other one keeps it into local hard disc.
The benefit of cloud storage is that it offers the simplest way to share recorded content at will: you can simply send the visual source to your coworker, customer, students, family or friend in chat box, email or so with a web link. Still, you can download and save it to your own storage.
The processing server and saving place of recorded data matter more on the security issue.
Therefore, online screen recording software seems to pose a risk on privacy control and data leakage, because on the remote shared server that holds your data, you can't physically access it and know exactly the safely level. From Apple iCloud to Google Dropbox, there are more infamous cloud security beaches than you think. (See how to save YouTube to Dropbox)
Desktop screen recorder doesn't store the filmed video online, but to local space by default, even some provide the free cloud storage like Snagit. That being said, you have the 100% control on where and how to keep your data safely.
This issue should be seriously considered by workers or say companies who will create crucial documentation and so forth media files regarding business.
Winner of recording performance and security: desktop screen recorder (to some degree)
04. Upgrade and Price
Online vs. desktop screen recorder, the former one always ensures the newest version to citizens while the latter one asks for users themselves to do software upgrade manually.
Price is a big topic that's affected greatly by feature, brand and cloud storage (if there is). From zero-cost freebie to dozens-of-dollar advanced screen recorder and editor, you can always find the one at your budget. Keep an eye on the feature distinction such as available formats, encoding methods, hardware accelerated video processing, as well as effects library.
Winner of upgrade and price: tie maybe
Online vs. Desktop Screen Recorder, Who's Better?
There are lots of such online and desktop screen recorders floating around in the market.
As to which one is even better, drawing from the brief comparison above, some customers must argue that web apps surpass traditional ones for its easy-of-use, quickness and absolutely "portable". Some users may argue that desktop utilities reign supreme for its full-fledged feature combination. Even a large number of people might come up with – why not use both of them to meet diversified capture demands?
Here the advice is: since either of they two screen recorder categories has its clear advantage, pick the one that suits your requirements and personal taste at most. However, it doesn't make sense to make a firm decision. If neither of them is perfect, make a combination of them and keep some flexibility, so that you can switch from one to another later on easily for the daily usage.
Related Top Lists:
Best Screen Recorders for Windows (Free or Paid, Online or Desktop)
8 Totally Free Screen Recorder for Windows 9 (Online or Desktop)
Top Screen Recorder for Chrome