Summary: If you are beating your brain looking for a program or method to record live stream from YouTube Live, Facebook Live, Twitch, Periscope or similar on your Windows or Mac desktop/laptop, you will get what you want by following this capture guide.
Live-streaming is going big in recent years! From entertainment to social media platforms, the giants have joined into the contest of live streaming one after another. In the past 2019, they were playing all their cards in the war of talents. For instance, months ago in November, 2019, Facebook and YouTube cut deal with a major pre-Twitch game streamer (Jeremy "DisguisedToast" Wang & Jack "CouRage" Dunlop ) respectively, which will certainly bring about a lot of traffic and benefits to Facebook and YouTube live channel in the future.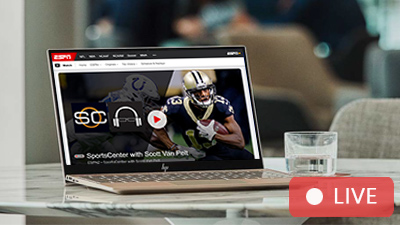 Now due to the COVID-19 breakout, more and more live streams take place everyday. From music concert to sports event, online course to other similar things, there are always something you, as an audience or a participant, want to keep locally by yourself. Actually it's not difficult as long as you have handy and high quality screen recorder software…
Online users love live streaming. Compared to regular non-live media formats like video-on-demand videos, live streaming videos, by virtue of the born magic power, attract audiences to spend more time and interact more with it. However, since live streaming content only lives once, and most of them are unavailable to download or the full movie may be deleted according to author or platform's willing, when you want keep it for further viewing or personal usage, you will have to record the stream video or audio by utilizing a live stream screen recorder.
Generally, there are many ways to capture live streaming video, among which using standalone desktop recording software is the easiest one. Now check out more details in the following how-to. Note that this method is only workable for capturing unprotected live streaming. For recording DRM-locked live streams from large-scale platforms like Netflix, Hulu, and Amazon Video, you should seek help from DVR services or DVR-enabled recorders.

How to Record Live Stream on Windows PC or Mac (Laptop Included)?
The most efficient way to do live streaming capture is to find a slick live stream screen recorder, the one that can record, encode and output a high quality file at one go. RecMaster is just one of such seasoned screen recording software. It not only supports record living streaming from any online sites like YouTube Live, Facebook Live, Periscope (web), Mixer, Twitch, YouNow, ESPN live and Vimeo live, but also gives you a flexible control on recording size, format, quality and audio. Now leave out those theoretical words, let's see how RecMaster works below.
Step 1 – Download and Install RecMaster
Download RecMaster for Windows or Mac below and install it on your computer, be it a desktop PC or a portable laptop. After finishing the installation, launch the program.
Step 2 – Set for Live Streaming Recording
RecMaster has several recording modes.
For live video capture, you can choose Full Screen or Custom Area mode according to your watching habits (full screen or windowed). The only difference between them is Full Screen grabs the whole computer screen while Custom Area empowers you to select the specific region to record manually.
For live audio capture, choose Audio Only capture mode to save any online audios into MP3 or WAV easily.


When it comes to live streaming video capture, you are free to define output video format (to MP4/AVI/FLV), quality level (to Standard/High/Original), frame rate (to VFR/CFR, 20-60fps), adjust system sound volume, as well as whether or not to show your webcam or microphone sound. Some other settings like watermark or cursor effects are unnecessary if your goal is to do 1:1 capture.


[Task Schedule – A Recommended Feature You Shouldn't Miss]
In case some sports/gaming/concert/awards living streaming events occur at an improper or say bad time, RecMaster is equipped with Task schedule functionality to do auto-recording. With it, you can create and enable any recording mission by setting a precise start and end time, choosing full screen or custom area recording mode, selecting what audio source to capture.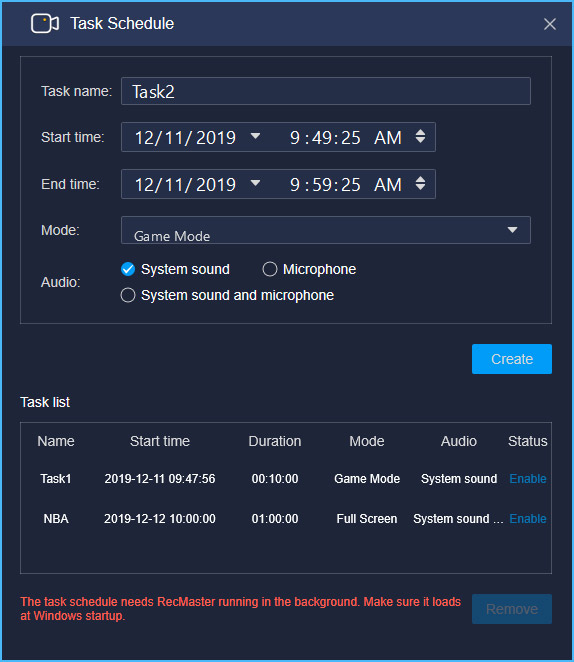 Do remember to run RecMaster in advance. If not, even you enable the live stream capture task, it won't take go into operation. If you are not in front of computer near before the recording, you can auto-start the software by checking "Launch program at Windows startup" under Settings.
Step 3 – Start and End Recording
If you are recording the living streaming while watching before computer, tap the red button or use hotkeys (Alt+1/Alt+2) to start and end the screencasting when the broadcast begins and goes over. If you're not here and use Task schedule, the recording will happen automatically. But make sure RecMaster recorder is running in the background and you've set the right capture time before your leaving.
When the live streaming capture is over, you can do easy edits with this twitch/FB/YouTube screen recorder or simply leave it on the hard drive for enjoying on someday in the future. Don't share or transmit the content without the permission of copyright owners. If you are not sure about it, check through the platform's terms of use and copyright law of your country.
As a versatile screencasting app, RecMaster also supports capturing live online meetings, app conversations, and any other online streaming sources in clicks.