We need to keep a record of the computer screen from time to time. Therefore, the good-to-use screen capture software is badly needed for making out an excellent screenshot (image screen capture) or screencast (which means video screen capture).
Life is a struggle because we are always facing challenges of different kinds in our lives – the college paper, love-hate romance, kids' education, manager promotion, or maybe the missing out of a favored broadcast event on YouTube… But like Peter McWilliams said "Life is not a struggle. It's a wiggle." We can achieve more and realize self-growth through these hard times. So take it easy on the little screen capture thing (the topic of this post), especially with the help of our best screen capture software list.
Screen Capture, What You Should Know!
First off, you must know that screen capture is actually a generic term that may refer to screen screenshot or screencast. Screenshot, as many users know, is a picture file that shows the computer display. And screencast is a video recording file that shows desktop movements during a period of time, usually with audio. Therefore, this top software list will contain both screenshot and screencasting software, some of which are all-in-one tool with the two functions.
Top 5 Screen Capture Software:
#1 Snagit | #2 RecMaster | #3 Snipping Tool | #4 FastStone Capture | #5 LightShot
Best Screen Capture Software in 2020
#1 Snagit – Powerful Screen Capture Software for Taking Image or Video Capture
TechSmith provides a series of computer screen capture and editing solutions, and we here picked Snagit out simply because it's an easy yet proficient tool that's available for both new starters and advanced users. By offering Image & Video capture modes and a bundled editor, Snagit enables you to capture whatever screen content (scrolling panoramic content included) quickly and mark it up with a dozen of ready-made explanation effects in toolbar. Those effects may be an annotation, steps icons, stamp icons, text callouts, and many more. Plus the pre-loaded templates, everyone with Snagit could make quite instructive tutorials, training sources and similar things effortlessly. After editing, Snagit also gives share options for YouTube, Dropbox (check YouTube to Dropbox guide), Google Drive, FTP, Email, office suites, and screencast.com (a free online storage from TechSmith).
Download Link: https://www.techsmith.com/screen-capture.html
Related Guide: How to Record Training Video
#2 RecMaster – The Easiest Video Capture Software for Computer
RecMaster is a piece of solid screen recording software. To help PC video gamers, YouTubers, teachers and general public shoot on-screen activities with audio, or maybe also with webcam too, RecMaster gives multiple recording modes for you to choose. Game Mode, Full Screen, Custom Area, Webcam and Audio Only – all of these modes are able to capture mainstream video or audio in high quality.

With more settings and tools standby, such as 60fps support, webcam-in-screen support, annotation/cursor/watermark effects, Task schedule, and video editor, you can work out whatever screen recordings at will. Better than other capture tool, it supports one-click grabbing audio only, but not extracting the track from video capture afterwards.



Related Guide: Two best screen recorder for training video making
#3 Snipping – The Most Convenient Screen Capture Tool for Windows
Snipping Tool is a screen image capture utility going along with Windows 7 and above, with which you can take any still snapshot from part or all of your computer screen as a free-form, rectangular, window or full-screen snip. Four snips types are four capture modes actually.
Type Snipping at search bar, you can find and open Snippting Tool and do real-time shooting as you wish. After the capture thing, you are empowered to annotate it with touch writing, use ruler to measure its size, and crop it to a desired one. Recently, Microsoft places a "Snipping Tool is moving" message on the main windows of Snipping and indicates that Snipping Toll is going to move to its new home – Snip & Sketch. The shourtcut to open it is Win icon + Shift + S, which is as easy as Game Bar – a video capture tool of Windows 10.
#4 FastStone Capture – A Lightweight Screen Image and Video Capture Application
FastStone is a super handy yet versatile screen capture tool for Windows. Making printscreen files is the leading feature of it, so you can do hassle-free screen capture on any application window (scrolling window included), object, rectangular/freehand region, and full screen. After capture, you can leverage its editor to apply annotation like texts, lines, highlights to image and customize the size, edge effects etc., then share the work to email, print or word.
As of screen recording, FastStone is able to produce WMV recordings at up to 30fps. It gives the similar options as that of screenshot to define the target capture region, except one more "Full Screen Without Taskbar". Both system sound and microphone are available to take alongside. What's more, you are free to adjust FPS/video quality, and decide whether to show mouse and highlight it or not. After recording, you can use the video editor to draw, zoom, cut and convert it to Gif. (Check out Free GIF Recorders to Record GIF on Windows, Mac, and Chrome)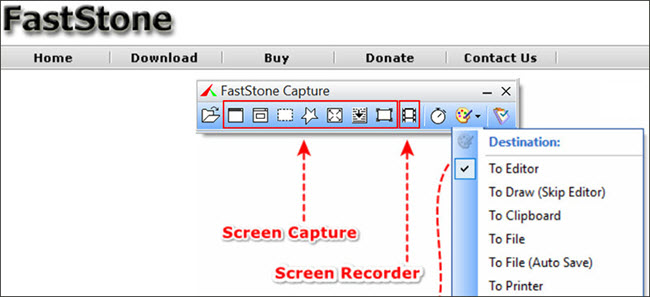 Download link: https://www.faststone.org/download.htm
#5 LightShot – A Lightweight Screen Capture Tool for Quick Photography
As the name suggests, LightShot is a real light tool that gives you the fastest way to take screen picture on Mac or PC. By simply pressing "PrtSc" on the keyboard, you can select the area you'd like to capture and then mark it, save it or upload it online. An interesting and unique functionality of LightShot is that you can one-click search the similar images of your screenshot from Google.
Download Link: https://app.prntscr.com/en/download.html
Frequently Asked Questions on Screen Capture Software
Can I capture screen without downloading on computer?
It depends. If your computer system has internal screen capture tool like Snipping (for screenshot on Windows) and Game bar (for video recording on Windows 10), or capture-enabled software like QuickTime Player, VLC Media Player, you can take advantage of them and create easy capture image or video. But usually, they only offer the most basic capture function, with no advanced features.
What's the best screen capture software for computer?
Every time when coming up with the "best" choice, there's no fixed answer. That's because best thing always varies from persons and situations. Only the one that can meet your requirements is the best. So, take time on what you care most, including capture ability, attached features, cost and surely the ease-of-use. The best screen capture software listed above is only for your reference from the perspective from programs themselves.
Freeware vs premium screen capture software, which one is better?
Each one has its own merits. Freeware is certainly more attractive to those who are unwilling to pay for the software. But generally speaking, premium software is more friendly to users thanks to its better-designed UI, regular upgrade/bug fixes and free tech support.
More related:
Online vs. Desktop Screen Recorder, What's the Difference?
Desktop Screen Recorder App vs. Browser Extension, Who's Better?