Summary: Look for webinar recorder to record your important meetings on your Windows or Mac computer? Here are two different types of options to help you capture live webinars with ease.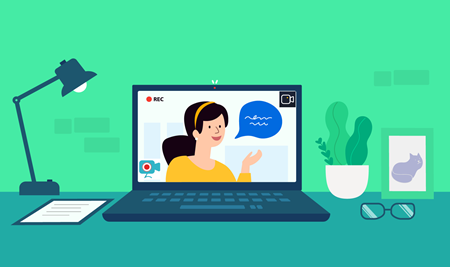 Webinar is also known as webcast, online seminar, web conferencing or web meeting. It's a live web-based video conference form that allows people to host a meeting coming in handy through internet connection. Thanks to its high efficiency and convenience, millions of online webinars are conducted everyday around the world to maintain effective communication during the lockdown duration.
However, the biggest dropdown of this tool is that once a webinar is completed, there's no way to review the webinar content again while this requirement is in desire need especially for the absent. Although webinar hosting programs like Zoom, Webex and Skypedo have live recording features for the initiator to record webinar, it still contains avoidable problems like common participants don't have the privilege to record meeting, the sharing problem of recorded meeting and so on.
Therefore, many people turn around to third-party webinar recorders to record online meetings. There are a lot of webinar recording applications for you but not all of them cater your recording needs. For example, some webinar recording programs can't record for more than an hour whereas a webinar usually takes one or two hours for each session. No worries! Here we include two reliable webinar recording applications for Windows (10) and Mac (11) users to save webinar effortlessly.
Easiest and Most User-friendly Webinar Recording Software for Windows and Mac [Recommendation]
RecMaster is our suggestion to record webinar without effort. Firstly, it's highly compatible with versatile webinar hosting platforms such as GoToMeeting, Zoom meeting and Microsoft Teams meetings. Once you can launch the webinar, RecMaster can instantly record the whole meeting. Besides, it has a full set of useful features: record webinar screen up to 24 hours without stopping, auto-split function to save meetings as fixed duration or file size (Mac only), task schedule to automatically grab any scheduled meetings (Windows only), and created-in editor to cut out any unwanted clips. Lastly, you can save webinar as video or audio format with different settings. Now let's see how it works to record webinar events.
How to record webinar on Windows and Mac with RecMaster
Step 1: Download RecMaster from links below and then follow the guidance to finish installation process.
Step 2: Pick proper recording mode. For video meeting recording, Full screen and Custom area are two suitable solutions. When it comes to capture conference calls, you can utilize Audio only mode to meet your goals.

Step 3: Navigate to Settings interface and make configuration. Make adjustments on file format, quality, and audio source one by one. If you're going to produce fluid yet high-compatibility video file, MP4 @30fps with both external and internal audio is enough for your requirement.

If you do need any fixed-time recording procedure, you can take advantage of Task schedule (Windows) or Auto-split function to make it available.
Step 4: Initiate the recording process with REC. During the recording process, you can add notes and annotations to the recording if you want to.
Step 5: When you want to end this webinar recording, simply press the Stop icon. Now you can choose to edit or directly upload files to YouTube/ Google Drive.
Best Online Free Webinar Recording Software for Windows and Mac User
If you prefer one piece of free webinar recording software without local installation, now this free online screen recorder released by Apowersoft is your best bet. This program grants you the capability for recording any part of your screen as well as webcam capture. More than that, it also enables you to choose output format and mouse click effect as well. Before you using this tool, you need to download a simple launcher to record webinar. To know how to leverage this online webinar recorder, follow the step-by-step instruction below.
How to record Webinar session with Apowersoft free online screen recorder
Step 1: Go to the official website and click Start Recording button to enable the launcher installation. With the launcher successfully enabled, you will see the new interface covering a few widgets and recording options.
Step 2: Start up GoTowebinar or any desired hosting platforms and adjust the recording window. You can drag the crosshair to any wanted specific location and size. Then select the audio source among System sound, Microphone and System sound & Mic. Tab the More icon to make further settings on video format, basic recording settings and other advanced changes. Once done, press REC button to start.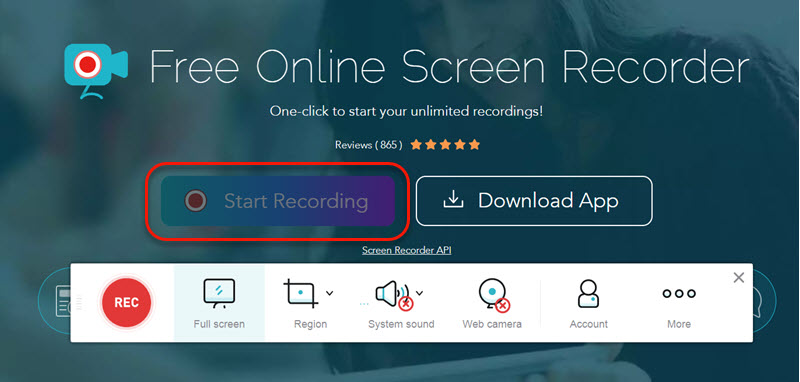 Step 3: Hit the stop recording button when the meeting is over. Then a preview window will pop up, which enables you to conduct saving, sharing and upload actions.
Final Word
This post introduces two webinar recorders to record meetings with ease. Even if you can optionally record webinars like Zoom as a participant without notification or limit, you should inform all the attendees in advance to make this webinar screen recording legal. Hope this article solve your webinar recording problems.
Meetings related post:
How to record BlueJeans Meeting?
How to record Zoom Meeting?
How to record VoIP phone calls?