Summary: Here we make a brief introduction on the internal recording function of GoToMeeting and offers two popular GoToMeeting recorders as alternatives to record GoToMeeting sessions.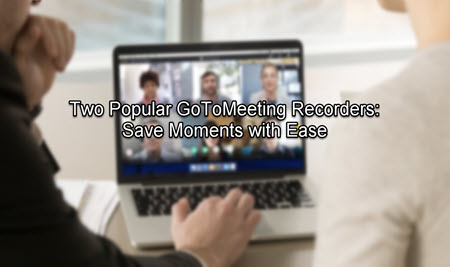 GoToMeeting, as an effective remote work application, is widely used by giant companies and school staffs to maintain real-time communication. No matter where you are, with an internet-connected device and installed GoToMeeting package you can share your productive ideas with other people at anytime.
GoToMeeting provides a highly efficient way to keep instant communication, but how to record GoToMeeting and GoToWebinar from the same company for the absent becomes the booming headache for many users. Although GoToMeeting comes with the internal recording approach like other competitors (Zoom meeting, Webex meeting etc.), many people are looking for other workable alternatives to record without limitations. That's why we write this post to recommend two popular GoToMeeting recorders for you so that you can record and share with ease.
Brief Introduction of the Internal Recording Method
GoToMeeting offers two solutions to record online meeting and webinar from it. One is the cloud recording method and the rest is local recording approach. Note that the precondition to leverage these ways is to become the organizer or co-organizer of the GoToMeeting session (co-organizer is unable to employ the cloud recording method). Here we list a functional summary list for you to view the differences between the two ways.
| | | |
| --- | --- | --- |
| | Cloud recording | Local recording |
| Recording rights | Only organizer can record by virtue of Clouding recording method | Organizer and any attendee promoted to be co-organizer have the rights to record meetings |
| Storage resolution | The Meeting History tab of your online account | Saved to your local hard drive |
| Sharing method | User can share recorded files by links | Convert the recorded file into a download format with Recording Manager then share with ease |
| Available version | Premium | Free, Premium |
| Maximum recording length | 2 hours | 2 hours |
Besides what listed above, both methods contain shortcomings as below.
1. Once you start a recording process, all the participants will see a recording notification.
2. You need to guarantee that at least 5 GB available space in the Recording folder.
3. No matter the cloud recording or local recording approach is a little time-consuming and complicated.
Under such circumstance you're promoted to use a third-party GoToMeeting recorder to assist your recording process and here we list two.
The Easiest GoToMeeting Recorder for Mac and Windows – RecMaster
RecMaster is the most stable and easiest solution to record online meetings including Zoom, Webex, Skype etc. The biggest strength of RecMaster is that all the participants can record GoToMeeting sessions without permission and notification bothering. Moreover, it allows you to record with flexible settings on format, quality, audio source and frame rate. With the help of RecMaster, you can record and share with ease.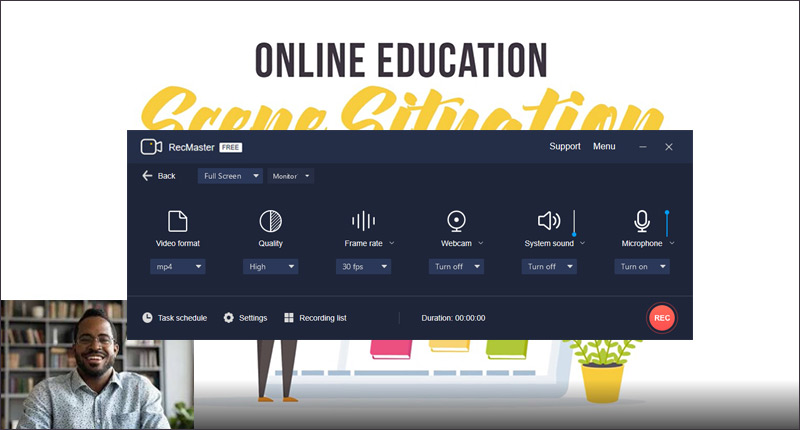 Key Features of RecMaster as a GoToMeeting Recorder:
1. Able to capture GoToMeeting session either in whole screen or designated area of your computer screen.
2. You can record meetings with audio producing by your computer or microphone at the same time with webcam display.
3. It's competent to produce HD meeting videos like recording screen at 1080p with high quality.
4. Advanced tools to simplify your recording process: task schedule tool, mouse cursor and annotation tool, in-built editor.
5. Record without time limit and support instant file sharing to YouTube, Google Drive and manually sending function.
Compatible device: Windows (7/8/8.1/10) and Mac (MacOS X 10.11 or above)
Download links:


Workflow: Download and install RecMaster on your computer >> Choose one recording mode and Full screen is normally used to capture online meeting >> Make configuration of recording parameter >> Start recording and stop the process >> Edit and share at will.
The Online Screen Recorder for GoToMeeting Session – Loom
As one of the powerful Chrome extensions, Loom is the preferred choice for many desktop users to record onscreen activities. With a simple sign-in, you can capture GoToMeeting sessions in a quick solution. It supports the entire screen recording combining with webcam at the same time provides basic editing and sharing path. Thanks to its unlimited recording length and no-installation requirement, it's regarded as one of the best free screen recorders to conduct quick screencasting.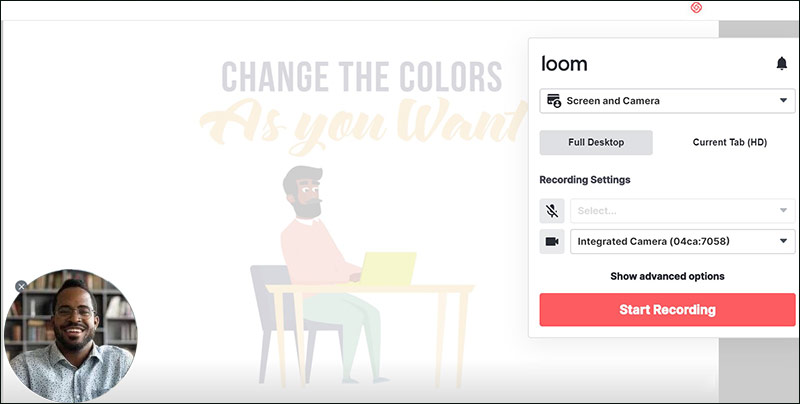 Key Features of Loom as a GoToMeeting Recorder:
1. No download and installation requirement to launch a GoToMeeting recording movement.
2. It provides three recording solutions: Screen & Cam, Screen Only and Cam Only.
3. You can choose either record system sound or capture audio from your microphone.
4. It supports links for instant sharing and password inviting service.
5. You can use the Flip Camera toggle to remove the mirror effect.
Compatible device: As long as you're accessible to Chrome you can use this tool.
Download link: https://www.loom.com/download (Sign-in is a must-do)
Workflow: Add Loom to your chrome toolbar with an account sign-in >> Select one recording mode to capture Full Desktop (if you use the web version of GoToMeeting, you can use Current Tab to capture) >> Choose the audio source and then start recording >> Stop recording and share with links.
Conclusion
This post talks about GoToMeeting recorders for generally saving demands. For basic recording needs, you can use the internal recording function of GoToMeeting. Additionally, if you want to get rid of the inconvenience caused by the built-in way, you can turn to RecMaster or Loom for better performance.
See also:
Best Webex screen recorder for Windows and Mac
How to record Microsoft Teams meetings on computer