This is a serious instruction on how to record Zoom meeting on your Windows or Mac computer with no limit.
Zoom is acquainted and used by more officers, students, distant families & friends as a piece of remote work software to keep in touch amid the annoying cononavirus. Consequently, the stock of this online video conferencing company has been up more than 110% in the recent months. Even it got a fall after Trump's suggestion on reopening business around Easter festival, I believe customers who get used to making the most of Zoom for holding virtual meeting, course, party or event would not abandon it in the long run.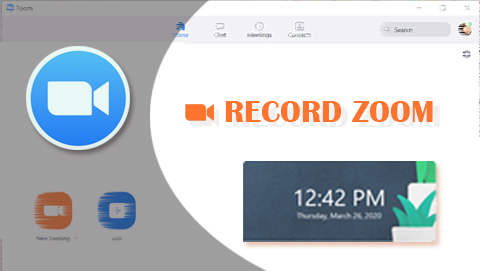 Great moments should be recorded for further usage or taste. Then how to record Zoom meeting or call on computer? Briefly you have two ways to go: use the built-in recording feature or leverage a third-party Zoom recorder. You may ask which is more suitable for you, well, it really depends. Please go through the following content before you make the final wise decision.
Convent Overview:
Can I Record a Zoom Meeting on Zoom APP, Without External Tool?
Is There Limitation on Zoom App Recording?
Zoom App Recording vs Third-Party Recording, What's the Defference?
How to Record Zoom Meeting/Call with Recording Software?
Can I Record a Zoom Meeting on Zoom APP, Without External Tool?
Yes, you can if you are the meeting host or attendee with recording permission.
Zoom has embedded the recording function in its program. By default, when you start up or join a Zoom (video/voice) meeting via URL, you will see a Record button located in the right bottom tool bar. By manually clicking this button and choose a recording mode (for paid subscribers only, free user won't have this mode selecting step), you can start the real-time capture, pause and end it as you like. The file will be converted and available to watch when the meeting ends.
When coming up with recording mode, Zoom only gives free users (with 40-min allotment) the local recording option while provides paid users another cloud recording choice, because all premium plan users – Pro, Business, Education and Zoom Rooms – are given some free could space, 0.5 or 1GB, to make cloud recording possible. Of course, the cloud storage is available to purchase and increase. And the price details for additional storage are listed below:
$40/month for 100 GB, with additional at $1.5/GB
$100/month for 500 GB, with additional at $0.5/GB
$500/month for 3 TB, with additional at $0.1/GB
According to the official data from Zoom – "Screen sharing recording uses about 20 MB of storage per hour while video recording uses about 200 MB of storage an hour", you can calculate the potential cloud space your team may need roughly.

Back to the point, for both local and cloud recording, you can also enable the automatic recording by signing in the web portal of Zoom and do related setting under Account Settings -> Recording section. In this way, every time the conference starts, the capture will be on by default.
Is There Any Limitation or Shortcoming of Zoom App Recording?
Everything on the planet has its pros and cons, therefore when you take Zoom recording with its bundled recording functionality, there are something you'd better make clear in advance.
1. Since any meeting includes two characters, host and attendee, the host is surely born with more powers to decide whether to allow the meeting recording, whether to give each single attendee the privilege to record, and the capability to auto-record. In other words, the participants may be limited to create Zoom recording.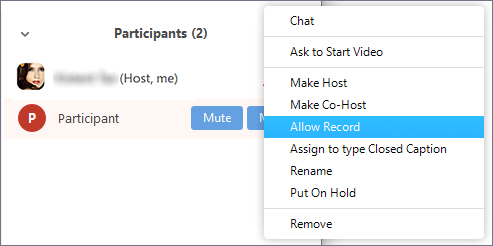 2. For local recording, only PC users could enjoy the benefit, which means if you are using Zoom on mobile, you are forced to turn to cloud recording or any standalone recording app. When conducting local recording on desktop, you'd better keep the file location on local drive but not to a cloud syncing folder from external places, because some converting or saving error may appear during cloud syncing.
3. For paid users, Zoom enables cloud recording automatically, so take a note on the available cloud storage. If the recorded file exceeds the maximum size, only after you pay for the piece of video or audio can you obtain and watch it.
4. Another risk of Zoom recording is that if the meeting is suddenly ended for internet or whatever reason, the recording on the going will be corrupted and unable to recovery.
Zoom App Recording vs Third-Party Recording, What' s the Difference?
They two recording methods both have their own strengths and weaknesses. Below are some typical differences.
| | | |
| --- | --- | --- |
| | Zoom's Built-in Recorder | Third-party Zoom Meeting Recorder |
| Recording Permission | The hosts are free to record while the attendees may be prohibited to record. | Anyone joining the meeting could take a screencast. |
| Recording Modes | Free users can only enjoy local recording while licensed people are offered both local and cloud recording modes. | Only supports local recording |
| Recording Length | No limit for local recording while it's restricted by the cloud storage. | No time limit. |
| Recording Formats | MP4 for video recording, M4A for audio recording and M3U for playlist playback. | More available video and audio formats, which vary from programs. |
| Recording Quality | All files are produced with fixed quality level. | More flexible quality control. |
| Recording Stability | Any unexpected shutting down of meeting or file conversion will result in a corrupted or non-recoverable recording. | What's going on in the Zoom app will not affect the software recording. |
| Others | Able to record audio files for any participants who speaks separately and has the recording transcribed; Public behavior that everyone knows you're recording; | Usually has features of annotating, editing, scheduling recording and one-click sharing; Recording secretly. |
It's undisputable that Zoom is an excellent teleconferencing service which is stocked with handy and optional recording functionality. But as the information that's moved from official sites hints, recording or file converting failure is still possible for local recording. To guarantee a more stable recording with no fall, you are suggested to invest an advanced subscriber with sufficient cloud space or employ a reliable Zoom screen recorder.
How to Record Zoom Meeting or Call with Third-party Recorder?
Generally, a dedicated screen recorder is capable of capturing whatever contents and behaviors on the desktop, system audio and microphone sound included. Set RecMaster – one of the easiest desktop screen recorders – for example, it's able to perfectly record online meeting, video/voice call, and webinar from Zoom, Google Hangouts, Skype or so. Also, you are free to create video or audio recording according to the real situation. Have a glance at the simple tutorial below:
Step 1. Free download and install the recorder on to your computer.
Step 2. Launch RecMaster and choose a proper recording mode to move on: Full Screen is recommended for capture full-screen meeting, Custom Area is to meet the requirements on windowed or a fixed area recording, and Audio Only is designed for shooting Zoom meeting or call audio purely.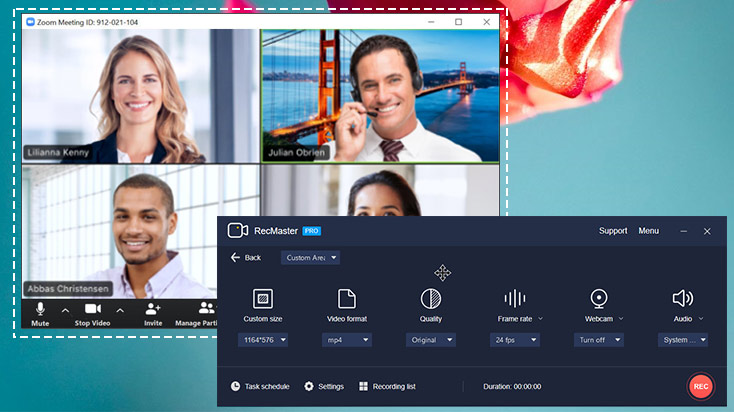 Step 3. Set file format, quality and turn on the microphone. If you will hold or attend a scheduled meeting or prefer a scheduled recording, click Task Schedule to define the time and enable it.
Step 4. Click REC button or press Alt+1 hotkeys to start to record Zoom meeting/call once it's ready. For scheduling recording, you just keep RecMaster running in the background and leave it alone. It will automate the capture by itself.
Step 5. When the recording is over, you are empowered to do easy edits and sharing it to YouTube directly.
To become a power user of Zoom, you should make certain on its functions and workflow and make the most of them. Just like the recording stuff, although it seems simple, there are still some holes you may fall into. Hope all of you have a great experience on Zoom meeting or call and have already known how to record Zoom meeting/call on your computer.
You may also interested in guides on: How to Record Skype Call, How to Record WhatsApp Call, How to Record Facebook Messenger Call