Bluejeans is a video conferencing tool that plays a vitally important role in telework. This software, along with its opponents like Zoom and Google Hangouts, leads the trend of remote work. This kind of software enables your teammates to communicate together giving no considerations to their scattered positions.
You can use this software to conduct video calls, video conferences as well as recording, replaying, and sharing your meeting footages with others.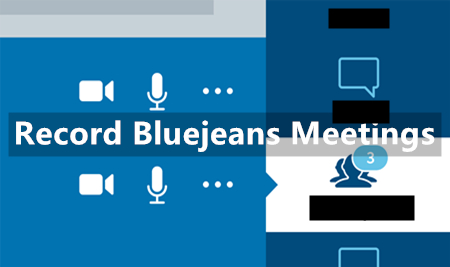 Record BlueJeans meeting is meaningful. According to this software's official site, it could be used to record training sessions, to instruct new candidates, to catch those absent up, or to share the meetings with those who want to join the discussion.
This passage will show you how to get your recordings from BlueJeans and if necessary, from other 3rd-party screen recorders.
How to Record Bluejeans Meetings Calls Without External Software?
BlueJeans has prepared a recording feature for its users, let's see how to leverage it.
Open the BlueJeans app.
Make your mouse hover at the top banner of your BlueJeans interface. And call out the options for recording. Now commence your meeting by hitting "Start" in the top right corner.
As the meeting host, you can click "Start Rec & Highlights" in the top left corner to control the whole process and add annotation effects to your recordings at any moment.
When you're done recording, click "Stop Rec & Highlights".
You'll be asked if you're sure you want to stop recording. Tap "Stop" to confirm.
And till now all the required procedures to record BlueJeans meetings are accomplished. To obtain access to your recordings, you have two ways to ahead.
1. BlueJeans account – You can go directly to the Recordings tab in your BlueJeans account. Simply log-in at bluejeans.com/login and click Recordings where lists all your footages.
2. E-mail – Basically the recordings will be delivered to you in form of a link. You could wait several seconds to receive this email, and the time could vary depending on the length of the meeting recording.
The Built-In Recording Feature Might Cause Inconvenience to You
1. First is the way to obtain your footages, obtaining the recordings from email or from the BlueJeans official site, either way is inconvenient.
2. To break the recording limit (5 hours per user), unlock more features of the built-in recorder, users need to pay an extra charge to upgrade to Enhanced Recording, which includes unlimited storage and the ability to share and stream recordings from the cloud.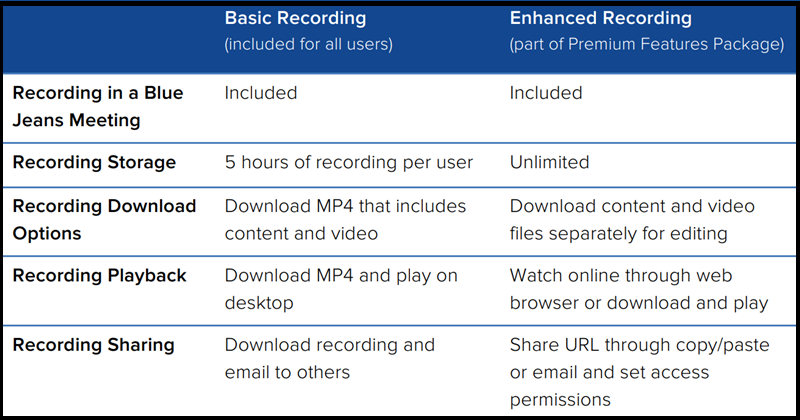 3. Once you start to record the meeting, every attendee knows you are recording.
Use 3rd-Party Screen Software to Record BlueJeans Meetings
Professional screen recorders are always helpful to solve problems like 'can't record full-length videos, 'no permission to record meeting', 'record screen alerts all participators', etc.
RecMaster offers users the ability to record their meetings even they are not the host of Zoom meetings. And as a matter of fact, you can record your screen without the permission of the moderator and also not remind other participators that you are recording. Another function you may find useful is RecMaster's audio-only mode. This mode captures your meeting calls and transforms them into MP3 formats.
How to Record Teams Meeting/Call with Recording Software Without Limitations on Windows?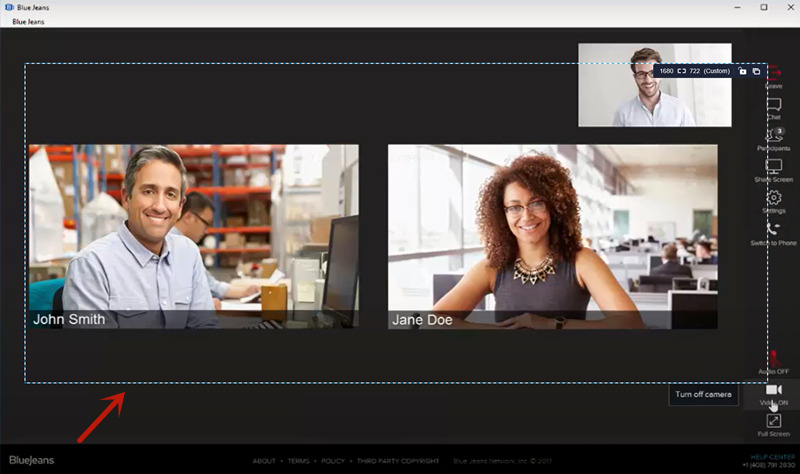 1. Download RecMaster and install them.
2. Open RecMaster and choose Full-Screen Mode (if you want to record BlueJeans meeting calls, Audio-Only mode should be the choice for you).

3. Tweak the settings before recording. The workflow is simple, you just need to select video format (MP4, AVI, FLV/MP3, WAV) > Video quality (high, standard, original) > 30 FPS (capped at 60FPS) > Disable the webcam > Turn on the system sound > Disable microphone sound.

5. Hit REC to capture BlueJeans meetings. And during your recording, you can pause or end it anytime you want. By the way, your footage will be immediately stored in your hard discs' folders. You can also check them and do some simple editing on them at the 'Recording List'.
6. Annotations
Among all the links, RecMaster provides a way to make your recordings look different. That is the annotation tool kit. With its help, you can highlight your recordings by adding brushes, erasers, texts, graphics, and arrows whenever necessary.
Final Words
BlueJeans' default meeting recorder imposes restrictions on users who want to record their current meeting affairs. As a solution to these problems causing inconvenience, users are suggested to use a 3-rd party screen recorder.
RecMaster manages to deliver a crisper resolution of videos when recording BlueJeans meetings. Endowed with a great capacity to record at up to 60 FPS, RecMaster prevents latencies in the first place.
Compared with the internal recorder of BlueJeans, RecMaster doubtlessly has better quality and performance, and it is more functional too.
In a nutshell, if users choose RecMaster as their right-hand assistant, they can record BlueJeans meetings more freely.