When hosting or joining an event in world-leading GoToWebinar software, you must want to know how to record GoToWebinar presentation…
Online virtual event becomes the new favorite of both common workers and teachers to conduct their marketing and educational plan, especially during the recent pandemic period worldwide. Then no matter you are a webinar host to expand the audience's reach or a participant to take part in certain discussion, learn something new or simply to accomplish your lesson at home, you sometimes certainly need to record webinar on your device for sharing to those who are absent or just reviewing later. That makes this full guide a necessary.
Since the method to record GoToWebinar varies from situations, the following part will display several possible ways one by one, each of which is given with concrete available scenarios in detail.
1. Record GoToWebinar with Flexible Third-party Recorder
Target user: Both webinar host and attendee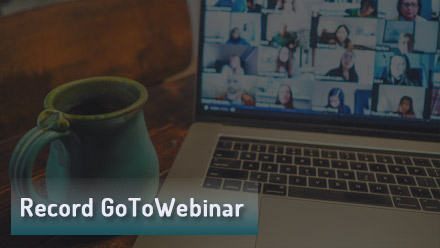 As a rule, nearly all of the online webinar services offer their user an internal screen recorder for convenient content capture. However they also share the similar capture principle to protect privacy, and that's exactly "only the meeting starter or organization IT admin is allowed to initiate recording and distribute other members the power to record".
As of GoToWebinar from LogMeIn, developer only empowers the host to record webinar with sound and webcam (optional), save recorded webinar to Video Library or local space, and share the web-stored video to other registered users via a link. That's to say, any webinar attendee is unable to gain the benefit of GoToWebinar's embedded recording functionality to save presentation and communication personally. And only when the host records and shares the recorded clip can a common audience has the change to do aftertaste.
Hosts are free to decide whether to auto start the screen recording or not, auto transcribe the video or not, and record video with webcam or not. But there's one thing annoying many users: when choosing to locate video to computer hard drive, the recording file is automatically g2m-formated, which will require one's further in-app operation to convert to MP4 or WMV.
In view of this, for those who are not satisfied with and are forbidden to use GoToWebinar's internal recorder, it's wise to leverage third-party webinar recorder like RecMaster, which not only endows all webinar members to document the whole or partial conference at will, but also features quality/format/size controlling, real-time note taking, and easy file edits.
Let's look into how RecMaster works on recording GoTowebinar's live seminar.
Step 1. Before the webinar, you should install and launch RecMaster on your Windows (10) or Mac computer to preset its working mode.
Step 2. Choose a proper recording pattern as you prefer.
In most cases, Full Screen is the top-pick to grab whatever screen activities including the that's done in GoToWebinar app. If you are willing to "crop the whole display" and only capture a fixed area, do select Custom Area to self-define the section. Another Audio Only mode is still standby in case someone wants to keep the talking voice.

Step 3. Do more settings.
Specifically, the setting options include (video & audio) format, quality, frame rate, webcam and sound source. Anyone who'd like to add watermark or mouse cursor effects, define the file saving folder should navigate to Settings panel to make it happen.

Available Formats: MP4, FLV, AVI, MP3, and WAV (for Windows) | MP4, MOV, M4V, M4R, and CAF (for Mac)
Like GoToWebinar's auto-record, RecMaster also supports scheduling any meeting capture in the future.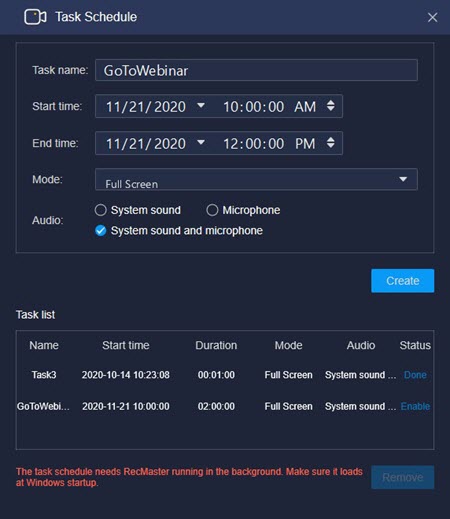 Step 4. Start and stop the recording.
You can begin and stop the video or audio with buttons or shortcuts. If you've enabled floating tool bar, you can annotate video during the capture process. When the conversation (recording) is over, you can cut unwanted parts off and upload the file onto YouTube / Google Drive.
2. Auto-record Webinar from GoToWebinar when Broadcast Starts
Target user: Webinar host only
From the very beginning you register, sign in your GoToWebinar account, the auto-record is turned on by default to help you archive the video for further information check-back or verification automatically. You can confirm it on section from Dashboard -> SETTINGS -> RECORDING -> AUTO-RECORD (Start recording automatically when broadcast begins).

In the same area, there are several other options regarding auto video transcribing, saving manner (to Video Library or computer) and webcam overlay showcase (only available when saving recordings to online Video Library). If you choose to show webcam in recordings, be aware that the file size will increase to some degree.
This automatic recording will stop when the webinar is finished. Then it's time for you to share it to others from the Video Library or local hard drive.
3. Manually Record GoToWebinar in App in Session
Target user: Webinar host only
Since not all webinars need to be recorded, you can leave the automatic recording function off and do it by yourself manually.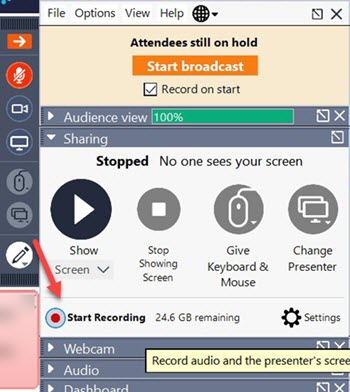 Firstly, you should toggle the "AUTO-RECORD" button to gray status under Settings -> RECORDINGS.
Then, when you start the event and are in the session, you should click Start Recording (Windows) or Record (Mac) to begin screen recording immediately. Pay attention to the available space if your upcoming discussion will last for hours or more.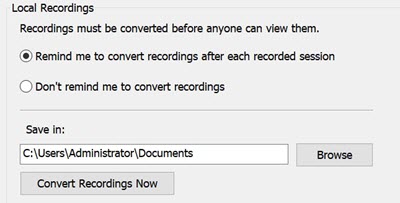 When it goes to and end, hit the Stop Recording in Sharing pane. If you save the file to Video Library, you are free to give it a download, edit, or sharing onto Google Drive, Dropbox etc. If you carry out an offline local recording, do remember to convert the recorded G2M video into mainstream MP4 from Settings -> Recording. Windows users are given another WMV option for format conversion.
See also:
Two Best Webinar Screen Recorders for Windows 10 and macOS 11