Learn how to split screen recording every xx seconds/minutes/hours nor every xx MB size on computer.
Screen recording is adopted by many general people to keep one-time-only things to hard drive, live broadcasting, real-time web conversation, limited online video or audio streaming, unknown computer bug, just to name a few. Also, it's a great yet simple way for video maker to create video footage for vlogging, presentation, teaching and similar purposes. There are so many different recording needs that screen recording software must be equipped with diverse features to meet them as many as possible, among which auto splitting screen recording is starved for by a lot of (long-time) recording initiators, and the examples are:
– How to split video in halves? I was wandering if there is a way to split video while recording, say every 1GB there is a new video file added. (From Reddit)
– Video Recording Split in chunks as per requirement. Need to add this function in recording option for chunks recording as per the user demand. I mean… I want 24 hours recording but in chunks like every file should be in 30 minutes only or 15 minutes only or 1 hour only. (From Development Idea and Suggestion from OBS Forum)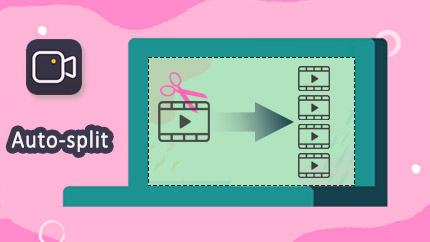 In most cases, customers enjoy the normal recording without stop and obtain a single file for further use. If they want to get two or more separate files, they choose to pause and resume during recording or do splitting work with video editing software. These two methods are OK for occasional splitting demands. What if the recording is too long or large so that manually pausing and post production are annoying? Well, this is where auto splitting screen recording feature comes in, which is supported by some screen recorder apps to output video segments at every certain duration or file size, like 90 seconds, 30 minutes, 1 hour, 16MB (maximum file size of WhatsApp), 300MB (Skype file sharing size limit) etc.
Auto splitting and saving recording into smaller/shorter pieces is good for file management and sharing. To help those who want to do it, this post will deliver a recommended program and an extra how-to.

RecMaster – An Easy and Safe Screen Recorder with Auto-split Feature
RecMaster is a piece of handy desktop screen recorder available for both Windows and macOS. With multiple recording modes, rich settings and advanced tools, it's capable of producing any kind of screencasts in a hassle-free and quick way. Now let's get together to take a look at how to split screen recording with RecMaster while recording directly. Please free download the right installer below according to your system. Since only Mac version has added this auto-split feature until now, we will demonstrate a Mac tutorial in the following part. A good news is that RecMaster for Windows will add the same function into its Settings in the next few months.
Step 1. Install and Launch
Follow the setup wizard to set RecMaster up on your computer in only a few clicks.
Step 2. Choose a Proper Recording Mode
Currently, both RecMaster for Windows and for Mac versions have Full Screen, Custom Area, Webcam and Audio Only modes for either video or audio recording. Beyond that, its Windows version still has a Game Mode for optimized (DirectX) gameplay capture. But you should know that, extra Game Mode doesn't mean it's the only choice for game recording, Full Screen or Custom Area can also be selected to record PC games.

Step 3. Set for Auto-split and Ensure Other Settings
Click the second (from left to right) gear icon in the left bottom area to pop up the Settings panel, where you should navigate to "Auto-split" section for a precise splitting type.

RecMaster empowers its users to split recording in two ways:
● Set the duration (xx minutes) of each chapter to save automatically.
● Set the file size (xx MB) per clips to save automatically.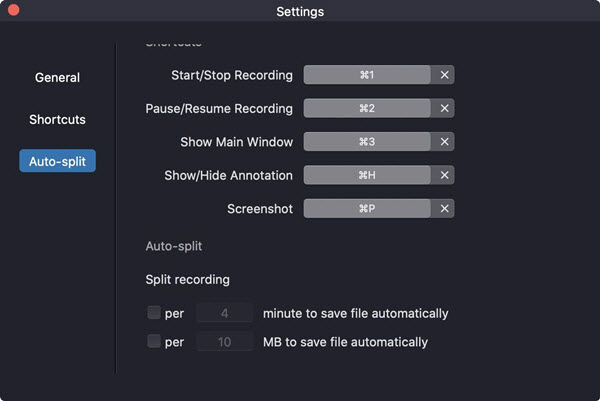 So check the one that you prefer before "per" and then customize the value of duration or size according to your actual needs. After that, on the same panel or main window, you'd better check whether the format, mouse cursor effect, quality standard, fps, webcam and audio are all suitable for you. If not, define them to.
Step 4. Start and End Recording
When everything on RecMaster is settled, start the recording by hitting the REC button or pressing ⌘1 shortcuts. Then the recorded file will be saved as you've expected and set. During recording, you can feel free to annotate the movement or write crucial points on whiteboard. When the whole capture is over, end it with the red button or ⌘2 shortcuts.
If the recording is so long that you have no time to sit in front of screen to give it a manual stop, employ Duration functionality to enable an auto-stop after a fixed capture time.
Step 5. Preview, Rename, Cut, and Share (Optional)
RecMaster loads and lists all recorded files in a Video list, from which you can play them back, rename them directly, cut unwanted parts off each segment, and share what you like to YouTube or Google Drive straightforwardly.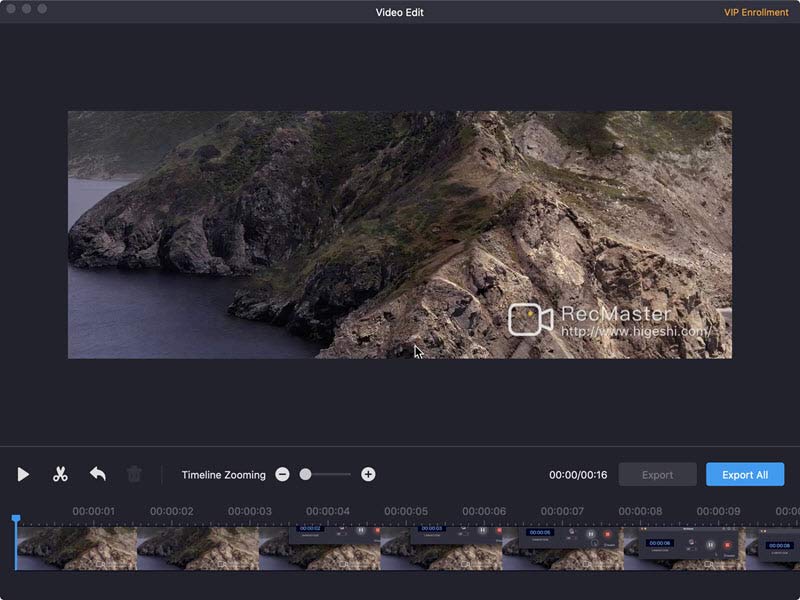 FAQs on RecMaster's Auto-split Screen Recording
1. Can I automatically split screen recording with differing lengths with RecMaster?
RecMaster only supports splitting recording at the same length or size, so at least for now, you can't. If you really have this needs, use third-party video editor for more flexible segmentation. If you really hope our product have such function, you can contact our support team for suggestion.
2. I'm a Windows user, when will this splitting feature be built into RecMaster for Windows?
You can free download RecMaster for Windows now and pay attention to the internal update information. This feature is now under developing and testing for the final release, you can surely benefit from it in the near future.
3. I'm a beginner, and if there're more best software to recommend?
RecMaster is a true beginner-friendly screen recorder you can rely on with "no-brain" workflow and settings. If you have any trouble on how to use it, go to support center to view more tutorials. If it's not your type, you can dig for more apps in the following list articles:
Best Screen Recorders with Audio for Mac
Best Screen Recorder for Windows [Free & Paid]
Top Game Recording Software for Windows
Open Source Screen Recorder for PC/Mac
4 Easy Video Editors for Newbies to Split/Edit Recording