The abbreviation VoIP represents 'Voice over Internet Protocol'. It means a technology to make phone calls through the internet rather than through cable and virtual lines.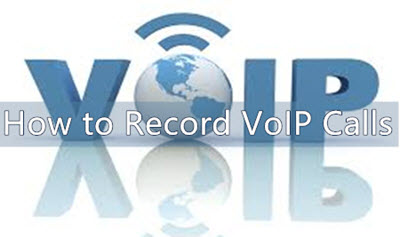 This service used to charge fees, but now as more and more VoIP app springing out users won't have to pay for this service any more.
One advantage about VoIP calls is that you can use any kind of device to make a VoIP call once you get the right app and the access to Internet. VoIP calls support PC-to-PC call, PC-to-Phone call and Phone-to-Phone call. With proper use of this technology, you can save a bunch of roaming fees.
The best example of VoIP apps are WhatsApp calls, Google Hangouts, Skype, etc. In this passage you can find a universal solution to record VoIP phones calls through these apps.
Use Audio Recorder – RecMaster to Record VoIP Phone Calls
Professional Audio Recorder – RecMaster can effortlessly capture the clearest audio with no lag. This quality recorder is embedded with a powerful recording mode called Audio-Only mode, which captures only sound and eliminate video content. With this tool, you can record VoIP phone calls if they are PC to PC or PC to smart phones. Unfortunately, this software is PC-only and if you are looking for a phone-to-phone VoIP recorder, I suggest you to use the iPhone's built-in recorder or A-Z recorder for Android.
1. Download and install RecMaster.
2. Press Audio-Only Mode and then enter its setting panel.

3. MP3 and WAV are offered for you. Choose the right format and then turn on System Sound. Disable your microphone to prevent noises from your PC or from the environment.

4. Hit the red button 'REC' to start recording. Your VoIP calls will be captured with no flaw, high quality and no lag at all.
Why Choose RecMaster as the VoIP Phone Recorder?
In order to better record VoIP phone calls, there are several rigid standards you should bear in mind for selecting a good audio recorder. Quality, output format, complexity, and price.
Quality – This is the most important factor you should pay attention to. The program should record internet calls in original quality so that you won't be bothered by wrong information.
Output format – MP3 is the most widely used format, RecMaster offers WAV as another choice for you.
User-friendliness – RecMaster boasts for its uncluttered interfaces and minimalism design. You can get the hang of it without adequate PC skills.
Price – RecMaster's trail version is always available, you don't need to pay for it. But if you have requirements over recording length and extra features for screen recording, an upgrade of license is necessary. Selling at 24.99 bucks, RecMaster is qualifies as the most cost-effective product in the industry. You won't be disappointed paying for it.
Actual Scenarios – Use RecMaster to Record VoIP Phone Calls
Here are some practical procedures in recording the most popular VoIP providers with RecMaster.
● Record WhatsApp Calls – WhatsApp is one of the most popular free messaging applications for both mobile and computer. With this cross-platform program, people can contact from each other seamlessly via text, voice and video call. As a daily or working communication tool, WhatsApp, along with you, must experience some valuable, crucial and impressive moments.
● Record Skype Calls – If there's one thing that we love from this provider, it should be the popularity across the globe. Instant messaging is free while voice calls can be as low as $4.99 per month. Moreover, users will love it for it does not need setup or cancelation fee. Additional second line, toll-free number and fax support are available with extra charges.
● Record Google Hangout Calls – There are piles of good-to-use communication software in the market, and Google Hangouts is just one of the free bets. Aimed at both enterprise and personal communication, Google Hangouts, currently a part of G Suit line with two key features – Google Meet and Google Chat, is great for us to talk with our remote customers, coworkers, clients, family and also friends on work or daily affairs.
Policies of recording VoIP calls
Recording calls is a very sensitive action. You are suggested to learn about local laws and policies first. The terms vary from district to district.
Users who want to record VoIP phone calls are forced to obtain the consent of the participators. Consent here means that you have to inform the other party that a recording has been in progress.
Normally, it is ok to preserve a VoIP phone call if you don't mean to spread it or make it for illegal use.
Final Words
This passage introduces universal recording software – RecMaster to record VoIP phone calls on PC. VoIP calls are effective approach for communications. And with RecMaster, you can capture any VoIP phone calls from other PCs, or smart phones.