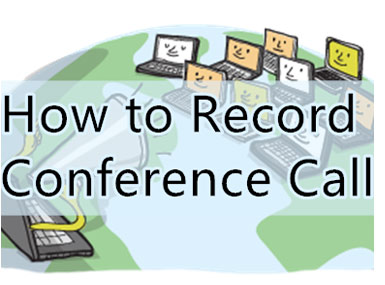 The influence of COVID -19 has gradually flattened. But a trend during the urgent time remains protruded – telework. One great thing about Telework is that it allows workers to work in a close-contacts-proofed environment, thus preventing them from exposure to coronavirus. And what's more, with some brilliant software, employers can meet together and work like they used to be. One of the most important working modes is an online conference call.
However, an online conference call has a fatal flaw in that it is easily lost if dispensed with careful storing measures. To solve this problem, users are suggested to record the meeting. Participators record conference calls and they back up what's happening in a meeting. So how to record conference calls as a meeting participator or a host?
This article introduces you two ways to achieve this purpose – the first one will leverage a software built-in recorder and the second one has things to do with the third-party recorder.
Record Conference Call with Third-Party Recorder
Software that majors in online conference are large in number, which means users have to get used to lots of different operations of each software. The dilemma is also true of those software's intern recording features. But now, with the help of a third-party screen recorder – RecMaster, users can record any conference call in a one-click solution for all kinds of conference software like Webex, Zoom, Skype, Whatsapp app, etc.
Here is how we record meeting calls with RecMaster.
Steps 1: Download RecMaster and activate it.
Step 2: Open the conference software that you want to record and choose a recording mode. For your information, the Audio-Only mode is apt for audio calls, Full-Screen mode is apt for video calls. Once you make up your mind, don't forget to turn on the system sound and your microphone thus recording your own voice and sounds from others.

Step 3: Click the REC button to start. During the meeting, you are permitted to add annotations to their footages (this feature will be illustrated in detail later). Click the red button again to stop recording.

Step 4: When the recording is over, you can find your recordings at Recording List.
By the way, RecMaster has some features that can be helpful during the process of recording conference calls. The first one is a RecMaster built-in editor, the second one is the annotation tool, and the third one is the scheduled recording function.
● Edit features
If users finish recording, they can cut their videos. This feature is hidden in an area called Recording List, a section for playback and further edit function.
● Annotation tools
During the recording of the conference call, you can leverage annotation tools to highlight your footage. This feature is more useful for remote-video meeting calls rather than sheer audio meeting calls.
● Task Schedule
If you happen to be occupied and you have an extremely important meeting call to attend, you will be pretty much relieved with the Task Schedule function. This feature avails you to record your screen at your pre-set period. RecMaster will automatically capture your screen without your presence.
How to Record Conference Call with Intern Audio Recorder?
Under most circumstances, participators of a conference have no right to record a meeting with the software's intern recorder. It is the hosts or paid subscribers who can do so. Besides, if you earn the host's permission and start to record the conference, other participators will all be informed that someone is recording, which serves as restrictions compared with third-party recorder's convenience. Here I am going to exemplify Zoom and Skype to illustrate how to record with the software's internal recorder. Other apps' procedures to record conference calls may have a subtle difference from each other, users could get inspired from instructions below.
● Record Zoom Meeting Calls
Zoom offers two options for recording, "record on this computer" will save the file locally on your computer in an mp4 format, while "recording to the cloud" will save files directly to zooms website and is optimal if you plan to share the recording later.
Once you are recording you can pause or stop the recording at any point during the process.
Once you end the session there will be a brief conversion process where you will see the recorded file is completed.
If you are recording locally to your PC the recorded file will be accessible from your Documents folder in a subfolder called zoom.

Steps: When you start up or join a Zoom (video/voice) meeting via URL, you will see a Record button located in the right bottom toolbar. By manually clicking this button and choose a recording mode (for paid subscribers only, the free user won't have this mode selecting step)
● Record Skype Meeting Calls
Skype, in the very beginning, has no recording functionality until the developer preloads it into the software in September 2018.
Steps: Click the "+" icon in the right-bottom corner and select Start recording to enable the capture. Then a legal snag precaution will appear on the top informing every participator that a recording has been ongoing.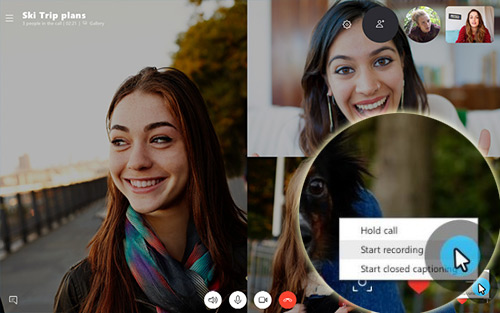 – Click the plus icon again in the same position and choose Stop recording when the chat is over or hang up.
– When you end the recording, a cloud-based MP4 file will be stored in the dialog box. Both you and the other Skype call members are free to watch or listen to it back. And by default, the recording will be available for 30 days. In other words, if you have any plan for this material, please remember to save it locally.
Click to see the steps of recording Webex, Google Hangouts, and GoToMeeting without external software.
Compare Intern Recording with RecMaster, Which Is Better?
Software Built-in Recorder
RecMaster
Recording Permission
The hosts and the allowed ones are free to record the conference.
Anyone can record the current conference call.
Recording Modes
Few modes to choose from. Basically, there is one default mode for users to record
Only supports local recording
Recording Length
This varies from software to software.
No time limit
Recording Formats
MP4 for video recording, M4A for audio recording, and M3U for playlist playback.
More available video and audio formats
Recording Quality
All files are produced with a fixed quality level.
Standard quality
High quality
Original quality
Recording Stability
Any unexpected shutting down of meeting or file conversion will result in a corrupted or non-recoverable recording.
Stable performance and low-performance budget on PC
Other features
None
Usually has features of annotating, editing, scheduling recording, and one-click sharing; Recording secretly.
Is it Illegal to Record Conference Call?

According to Zoom Privacy Policy, no meeting participant should be recorded without consent and the disclaimer at the beginning of the meeting should include an agreement that nobody but the host is allowed to record.
Precautions:  RecMaster should be used for incompatible purposes. No recordings of the conference call should be used in commercial use. RecMaster will not be responsible if users misuse it and violate corresponding rules.
Conclusion
Compared with Third-Party recorder, the intern recording features of conference software fall short in that they impose many limitations on its users, which I think, is the case of protecting participators' privacy. But the good measure could turn out to be tough obstacles for daily work, so the conclusion is that users are suggested to use third-party recorders if they have no means to record the conference call.
You can also look at
How to Reord Webinar
How to Record Skype Calls
How to Record WhatsApp Calls on Computer
How to Record Zoom Meeting