Sharing recordings of favorite PC games is all the rage these days. However, this is not the first time the trend proves to be prominent.
It could date back to the year 2000 when video games dominated the digital game industry. Kids like me spent hours and hours at Pocket Monster (Gold and Silver) surrounded by clusters of intimate friends. Later when we grew up, it was World of Warcraft that received the warmest welcome from gamers. Fast forward to today, with the iteration of generations, games breathe new life in PC games like Overwatch, League of Legends, CS: GO, Call of Duty, and Minecraft. What remains unchanged is the sheer passion that spurs on gamers to share and capture the awesome moments in games consistently.
Unlike games of yesteryear which propagandas playability as claims, video games today offer a variety of different endings, outcomes, and middle games making them even more pleasing to watch and as a result, worthy recording.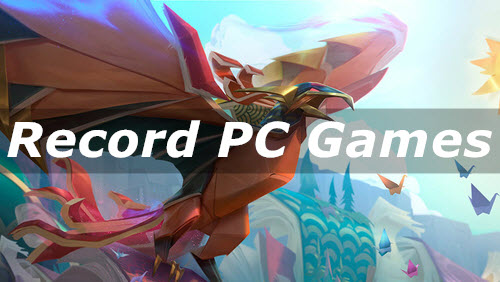 Let's see how to record games and meanwhile there are some details about PC configurations.
Table of contents
How to record PC games with Screen Recorder?
Configurations of PC have influence on games' performance.
How to Record the Games of the Most Famous APIs?
RecMaster is a third party screen recorder with integrated features in recording PC games. It fundamentally has 5 recording modes: Full Screen recording, Custom Area recording, Webcam recording, Game recording and Audio-Only recording serving well users' demands. Editing features comprise useful annotation tools helping to add enhancement to your footage. Beyond that, simple built-in editor for clipping and trimming helps you to cut unwanted fragments.
Designed for game recording, its Game Mode supports recording gameplay at 60 FPS with up to 4K resolution. Besides, with proper settings you can achieve no-lag recording.
1. Open RecMaster and Select Game Mode.

2. Tweak the settings. Make sure to turn on System Sound (capture the sounds in games) and turn off Microphone sound (avoid the capture of unnecessary sounds).

3. Feel free to add annotations.

4. Check the footage in the Recording List.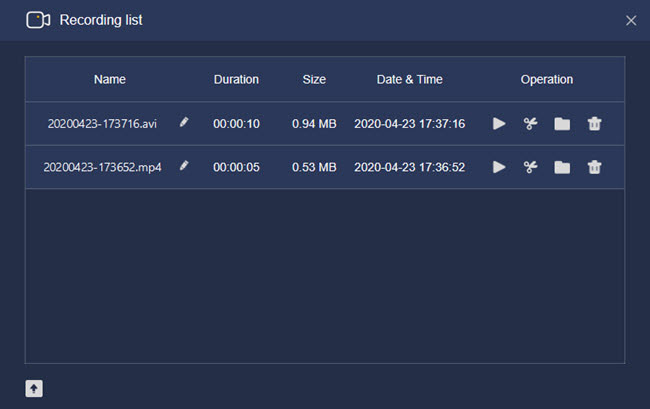 5. Edit your footage. RecMaster provides simple clipping and trimming for users.
There are some useful features as well. The feature Task Schedule functions automatically with the settlement of some settings so as to record the screen at a pre-set period.
Factors You Need to Know That Impact Both PC Games and Screen Recorders
The configurations listed below directly determine the performance of games and the conditions of recording. The fluency of recording gets promised once your PC games are in sound operation. Let's see some of those important components that affect your PC game.
● CPU: The CPU is in charge of processing input from players. Specific tasks including handling the NPCs, environment, and simulations are executed by CPU. This cites reasons why games always think highly of the components like physical simulations in certain games (e.g. Kerbal Space Program). The technology requires powerful CPU and provides marvelous experience for gamers in return. Theoretically, the more premium the CPU is, the faster your games are able to operate.
● GPU: The graphics processing unit (GPU), also called graphics card or video card, is a specialized electronic circuit that accelerates the creation and rendering of images, video, and animations. It performs fast math calculations and as a consequence, CPU is freed to take in other tasks. A GPU is a single-chip processor that's used chiefly to manage and enhance video and graphics performance.
● FPS: Frame per second (FPS) means the frequency at which consecutive images appear on a display. In another word, it is a term indicating the number of frames displayed per second in games or videos. The higher the FPS, the smoother the video will be.
● API: API normally serves as basement for Scene Rendering system of 3D engines. API stores partial features of GPU and Graphics Card, providing independent support for other hardware including input devices (mouse, keyboard), network cards and sound cards. API allows for the consolidation of many applications, especially online games. The most frequently seen game API is Direct X. (>>How to Record DirectX PC Games)
Practical cases of RecMaster on different API games
1. Battle.net
The Battle.net API offers developers with several gaming features form character development to game design out of Blizzard community. Blizzard gaming community API also creates many notorious works of games including World of Warcraft (WoW), Diablo 3 (D3), Hearthstone, Heroes of the Storm, Overwatch, and StarCraft II (SC2).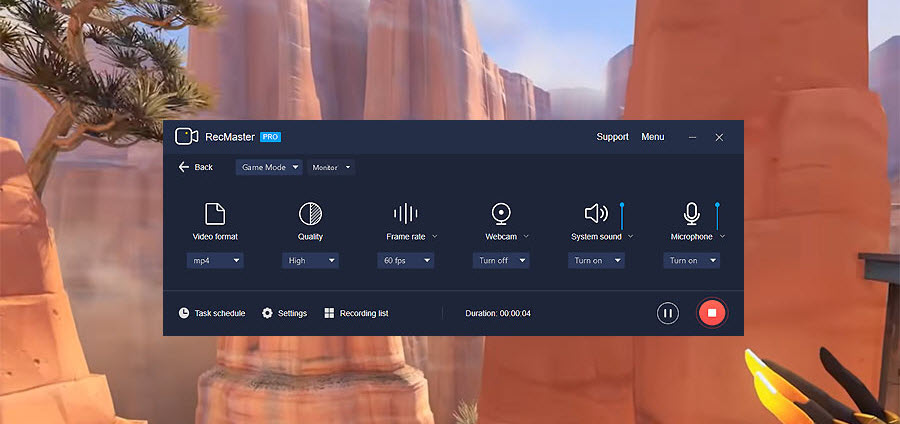 2. Riot Games
Riot Games Tournaments REST API enables users to create a new tournament provider out of a given region. Users could also generate tournament codes, receive game results, and query pre-game lobby player activity. Riot Games League REST API enables access to statistics of LOL including recent games, ranked statistics, runes, masteries and more.

Ending
Hardware-attached recorder (Nvidia shadow play) and recorder coming with the system (Xbox Game Bar) do have some useful features for recording. But frankly speaking, due to self-restrictions, they are more or less particular about audience group. Third-party handy and fresh hand friendly screen recorder like RecMaster was born to serve customers from any operation systems. It seldom brings letdown. Now record with RecMaster and reveal new chapter of PC games.
Game Related:
Top 11 Game Recording Software for Windows
How to Record Gameplay on PC
How to Record Gameplay on Xbox
How to Record Gameplay on PS4
Best PC Game Capture Card List 2020 [with Corresponding Software]