Summary: In this article, you will find 4 ways on how to record gameplay on any PS4 machine, so that you can get a high quality game capture file to upload to YouTube, or shoot the full show with no time limit.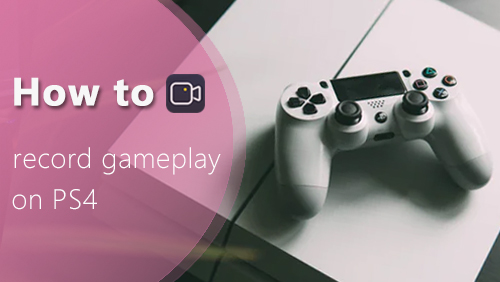 PS5 release is fast approaching in the late 2020, and you still didn't know how to record gameplay on your PS4 console?
You may say: I know! I know the console itself can take the in-game moments, but the maximum length is just 15? 60 minutes? I need a longer capture.
Maybe also, you found the PS4-recorded masterpieces are not excellent as you expected, with frame drops or buffering problem.
To make all the things related to PS4 game recording clear and help you work out a crisp game capture at will, this post will list 4 ways out there on how to record games on PS4, each of which are given with its pros and cons. Just select the one that suits you most.
Content Overview:
1 – How to Record PS4 Games with Control
2 – How to Record PS4 Games on PC with Screen Recorder
3 – How to Record PS4 Games with Streaming App
4 – How to Record PS4 Games on PC with Video Capture Card
Way 1 – Record PS4 Gameplay with Its Built-in Capture Feature
Pros: Auto-record, no third-party tool needed
Cons: 1 hour capture duration at most, only support 30fps
To help the gaming console users record and save their remarkable fight highlights for sharing, Sony has equipped auto-record feature with its PS4 and Pro version.
They two will keep a .mp4 record of the last 15-minute gameplay by default in the cache and if you don't save it by double pressing the Share button, the machine will go on another 15-min and erase the previous segment continuously. Does PS4 only record gameplay no longer than 15 minutes? Not exactly. You can alter the "Length of Video Clip" from 30 Seconds to 60 Minutes. Although the maximum length is just 1 hour and it may also be shortened due to your limited storage space.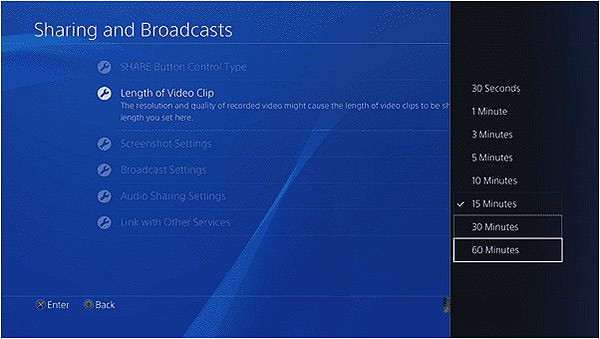 As of dimensions, PS4 is able to record 720p @30fps and PS4 Pro 1080p @30fps, no higher resolution or frame rate available to match the real 1080p or 4K performance.
Therefore, if you want to create over-1-hour gameplay recording on PS4 or maintain the original 1080p or 4K @60fps video quality, you must seek for another capture solution. Keep on your reading to get more details.
Way 2 – Record PS4 Gameplay on Computer with Screen Recording Software
Pros: More flexible recording settings with no time/fps limit
Cons: Need a USB cable and PS4 Remote Play download on PC
PS4 supports 720p @60fps streaming and PS4 Pro 1080p @60fps. So recording PS4 game on computer is de facto a streaming thing. After downloading and signing in the PS4 Remote Play app on PC, you need to define the favored resolution and frame rate on the Settings panel. And then connect your PS4 controller to computer, PC or Mac, with a USB cable to start to "Use this PC to enjoy your PS4 even while you are away from it."
When your computer finds PS4 and switch to its display, you can start the game with a desktop screen recorder recording in the background. Here OSB Studio is recommended if you are a proficient software user. If you are a newbie, please turn to an easy tool like RecMaster.
RecMaster gives the simplest solution to any screen capture, PS4 game recording included. Once you install and open it, just choose Game Mode or Full Screen and then define the format (MP4, FLV or AVI), quality (standard, high and original) and frame rate (up to 60fps) as you prefer.
As a feature-packed recorder, RecMaster also enables you to take picture-in-picture gameplay tutorial or walkthrough by showing your facecam in the corner, grab system or/and microphone sound, add your style watermark, set and enable a timed recording, and edit & share to YouTube. If you are going to run PS4 on multiple monitors, RecMaster can also capture them simultaneously.

Way 3 – Record PS4 Gameplay with Live Streaming App
Pros: No time limit, more fps options
Cons: Good internet speed required, FPS drops maybe
This is actually similar to Way 2 remote streaming thing. You can directly stream your high quality PS4 gaming with facecam or commentary by using a Twitch or Ustream account on the gadget or like Way 2 – connect to a PC for streaming on Twitch, YouTube or more places. No matter what method you use, the final performance and recording quality are surely rely on your actual internet (upload) speed.
With excellent bandwidth like at least 5Mbps for HD streaming and 25Mbps for 4K, you will obtain a HD 60fps game video with no time limit by leveraging the VOD service to achieve it or any third-party screen recording software. But you should note that streaming platforms usually store the archived file within a period of time. So you still need to transmit to local hard disk or cloud space for living forever.
Way 4 – Record PS4 Gameplay with Video Capture Card
Pros: Obtain the best ever video quality, 60fps capture, no time limit
Cons: Video may be oversized, you should get ready to break the bank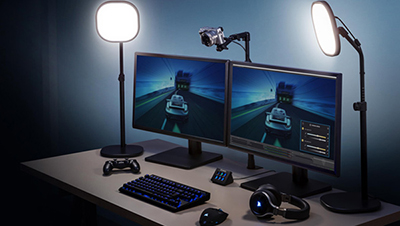 If you are strict with the capture quality, investing on a video capture card is the best way out. By employing a solid capture card like Elgato HD60 or 4K60, you can shoot the high possible PS4 gameplay segment seamlessly. The workflow is not difficult:
You use an HDMI cable to connect your gaming console to monitor maybe a TV -> another HDMI cable to connect the PS4 (out port) with capture card (in port) -> an USB cable to connect the capture card (out port) to a computer, either Windows or Mac is OK -> install the dedicated game capture software brought by capture card developer on computer -> Disable HDCP on PS4 and start then start the gaming and recording on computer.
These are the four possible ways on how to record gameplay on PS4. I believe after reading, you must have an overall knowledge on these PS4 capture stuffs. My advice is if you come across take some great game moments that just happened, PS4's internal capture function is enough. If you are pursuing a game recording over 1 hour or 60fps while don't want to spend a bundle, you'd better use the streaming method like way 2 and 3. If you are an advanced user and willing to put efforts and money on game streaming or vlogging, video capture card is a must-have.
You may also be interested in: 2020 Best Game Recording Software