Summary: This post will impart you ways on how to record gameplay on PC running Windows 10, 8, 7 or XP.
Computer game, also known as PC game, has more advantages over (PS4/XBOX/Switch) console game thanks to its prodigious game library and better gaming performance. Therefore, for those who are generous for a quality gaming machine/rig or not obsessed with the extra controller thing from Xbox or so, it's more recommended to employ a gaming PC to involve themselves in the perfect battle. Meantime, for the general public, without the pricey machine, it's still available to past time with small-scale video game on their plain personal computers or laptops.
Since many gamers love to share gaming playthroughs, experiences and achievements to their brethren online, live streaming and game vlogging is becoming all the rage. Streaming is super easy with only a broadcast application or platform, then how to record gameplay on PC for sharing on the web, maybe YouTube? Here this pc-game-focused guide will teach you how to capture gameplay in different situations.
Content Navigation:
Part One – How to record gameplay on (High-end) gaming PC
Part Two – How to record gameplay on non-gaming/low-end PC
Part One – How to Record Gameplay on Gaming PC
Way 1. Using GPU Hardware Distributed Service
Usually, a gaming PC is built with more capable hardware like first-class CPU, decent graphics card, large memory & storage capacity, and feature-packed motherboard. In view of this, we will firstly show you how to make the most of the graphics card or say GPU to record gameplay on your PC easily. This is the most recommended method for its hardware encoding, low performance hit (usually under 10%), and less or no lag problem alongside. [Related: How to Fix Screen Recording Has Lags?]
As the most popular GPU manufactures, both Nvidia and AMD provide free software for high-end users to stream, capture, and share gameplay screencast. As to game video capture, Nvidia has Shadowplay to capture high-quality game moments at up to 4K@60fps while AMD has Redeon ReLive to take (1080p Full HD) desktop or windowed gameplay footage with no time limit as long as your hard disk has enough space. Besides resolution and fps, quality level, bitrate, webcam and audio options are also given for you to set as you like.

Many game nerds get used to recording gameplay on PC with these hardware services. So if you haven't made use of either, download (if you didn't download before) and find the integrated capture feature of Geforce Experience or Radeon Software and record by following its UI instruction.
Way 2. Using System Bundled Game Capture Tool
Hardware service is powerful, but not as handy as the system's internal tool. Luckily, Windows 10 offers its users this internal screencast benefit by introducing Game Bar into it. If you are a gamer familiar with Xbox console, you must know that Game Bar is actually a Game DVR modeled tool isolated from the Xbox app. With it, you can shoot up to 4 hours 1080p HD MP4 game video with audio/webcam at 30 or 60fps. Simply by pressing Win icon plus G on the keyboard, the control will pop up immediately. If nothing appears, please check whether it's enabled under Start -> Settings -> Gaming -> Game bar. More setting options including length and quality can also be found under the Capture category.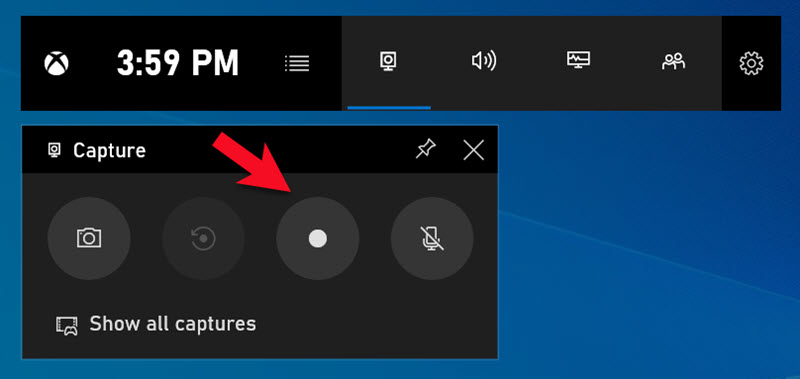 Way 3. Using Third-Party Game Recording Software
Compared to recorder brought by hardware manufactures or PC system, third-party game recording entity may seem a little bit time-consuming due to the picking and downloading, but it is worth a shot, especially when you want to output a more customized video file. For instance, creating a non-MP4 video, an annotated/watermarked video, a picture-in-picture video with webcam size and position adjustable during the capture, or a tailored video with unnecessary parts cut off.
We've selected several top-ranked gameplay recorders for PC of different types for you to choose.
– Free open source screen recorder: OSB Studio
– Solid game recorder: Gecata
– Easiest screen recorder with dedicated game mode: RecMaster – FREE Download NOW

Part Two – How to Record Gameplay on PC (Non-gaming or Low-end One)
Way 1. Using Game Bar (Only for Windows 10)
The same as >that for gaming PC, Game Bar from Windows 10 is the target tool. It's able to work out 1080p HD .mp4 on most of the PC games like Battlefield, Call of Duty, Civilization, Dota, FIFA, Total War, World of Warcraft and so on. "Most" surely means not all games can be captured by this tool. So test the compatibility and stability if you are going to film some crucial battle.
Way 2. Using Third-party Game Recording Software
Since there are quite many non-gaming PCs that are still capable of running video games with low system requirement. If they are not competent for hardware capture service, levering a standalone and lightweight game recorder is the ideal way to go. Plus Getcata and RecMaster mentioned above, Fraps and Dxtory are also reliable ones you can turn to.
Way 3. Utilizing Another PC to Do Game Capture
If your battle station doesn't have problem with the gameplay, however both of the two methods work badly with unexpected outcome like bad video quality with fps drops, you may need to try out this two-pc solution. As the name suggests, you could build a secondary machine to take charge of the gameplay capture work. You don't have to upgrade your so-so PC to a high-end one, but use your other laptop or desktop to finish this task. Of course, a game recorder is also necessary.
RecMaster is the easiest screen recorder for PC. Designed with five recording modes, it enables you to capture full screen or windowed gameplay on PC with audio and high still quality (e.g 4K/1080p 60fps), to mix webcam over gameplay screen for PiP visual effect, to record at scheduled time, to edit game clips and share to YouTube in one click, and also to record under multi-monitor circumstance.

By finishing this post, you must have your own idea on how can you recording gameplay on your PC. Isn't as hard as you think, right? Thanks for your evolving and feel free to send us feedback on this subject if you have any suggestion or software to share.
See also:
How to Record Brawl Stars on Your PC with Internal Audio