Summary: Looking for ways to save your cool moments of Overwatch? Read this article and get the way to record Overwatch session.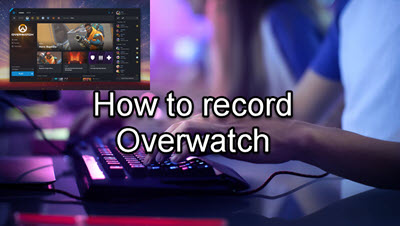 Overwatch is a team-based multiplayer first-shooter game, dividing players into two teams each with six. Users are allowed to select a character called hero from one of three class types: Damage heroes, Tank heroes and Support heroes. Then player need to work with teammates to win a combat by securing and defending control points on a map or escorting a playload across the map.
It is sought by game players for easy operation and high accessibility, attracting over 9.7 million players to register in a week. Along with its popularity, many involved gamers and bloggers begin to share Overwatch matches on YouTube and other platforms. As a general gamer, you also expect to record your excellent moments when you're playing Overwatch. When it comes to talk about Overwatch recording, you need to know its Highlights and Replay functions. Considering your need, this post collects detailed information about Overwatch and gives you way to record Overwatch gameplay.
What is Overwatch Highlights and can I save the Highlights?
Overwatch has launched the highlight system and it will automatically save a handful of awesome moments and plays of the game from your last five matches. It offers features of Today's 5 Top, Recently Captured and Saved Highlights. However, the highlights menu only shows recent 5 Highlights from the active game session persisting them for 24 hours. Moreover, there is temporarily no way to export Overwatch highlights from a game client the data will be erased after logging out the game since the Highlights won't automatically save to your PC.
What is Replays of Overwatch and can I save them?
Overwatch introduces a new function called Replays to allow you to watch your previous matches from a disparate view. Whether you want a first-person, third-person, or a bird's-eye view, you can see it all with this tool. Replays allow you to watch the entire match from any of the 12 player's point-of-views. Additionally, you can slow down or speed up the game to see how a critical moment is played out, check your performance and get a better view from a different perspective. It's an original and attractive way to review your match. However, there is no means of saving Replays or sharing them between two players. The Replays system also only saves your 10 recent games and old replays will be replaced by the news for above replays.
Is there an accessible way to save Replays and export Highlights?
Surely! You can have a permanent record of these cool moments with the third-party software running on your computer, which enables you to record Overwatch Replays and Highlights with ease. There are a plethora of screen recorders in the market with diverse features aiming at different recording demands. Here we would like to recommend a game screen recorder called RecMaster which empowers to record Replays as well as capture the whole process of Overwatch sessions.
RecMaster is one of the best game recording software for PC, accessible for high-pace gameplay recording including Leagueof Legends recording, and many other DirectX Games capture. Preloaded with multiple features, it permits you to produce smooth and fluid recordings of Overwatch with audio and webcam. No matter what content you want to capture, RecMaster always offers a one-click solution to you. In addition, it provides basic editing function to perfect your video by cutting and merging clips. After you have a general understanding of RecMaster, let's see how to use it to capture Overwatch.
How to record Overwatch with RecMaster
● Record Overwatch Highlights and Replays with RecMaster
Step 1: Download and complete the installation by following the wizard
Step 2: Choose the recording mode
Full screen mode is for whole screencast which is more convenient for reviewing. Webcam and Audio Only enables you to create video with webcam or only get audio file. If you only want to record a small area, choose Custom Area. Here Full screen is suggested.

Step 3: Make configuration
Parameters like file format, quality, audio input device are all determined according to your actual demand. You can combine each of them at will and create high quality video up to 1080p/60fps. If you don't make any change, the recording will be carried out by default parameter.

Step 4 Open target video and launch recording
Play the wanted Highlights or Replays and then click REC or use Keyboard combination Alt+1 to start recording. Keep RecMaster running on your computer during the recording process.
Step 5 Stop and edit
Press Stop to end and then you can edit your video.
● Record actual Overwatch gameplay with RecMaster
RecMaser is also capable of real-time gameplay recording with the picture-in-picture pattern which is frequently used by gamers and bloggers. In addition, RecMaster has a unique recording mode called Game mode for gamers. Now we're going to talk about the workflow of Game mode.
Step 1: Launch RecMaster on your computer
Step 2: Select Game mode and configure
Select Game mode as your final choice. Then turn on the microphone and system sound button to capture audio coming from your computer and microphone. Additionally, you are also allowed to change related parameter to produce high quality video like 1080p/720p(60fps). Finally, remember to toggle Webcam icon on.

Step 3: Start and end recording
Click REC to screencast your Overwatch gameplay and if you want to end the recording, simply strike Stop.
Now you can edit and upload the recording to YouTube or anywhere you want to share.
Final Word
Now you must know how to record Overwatch gameplay on your computer. For easy and excellent process, we suggest you to record with RecMaster.
Game resources:
How to Record PC Game
How to Record Gameplay on Low-end PC
How to Record Gameplay with No Lag
How to Record Minecraft on PC/Mac
How to Record Overwatch