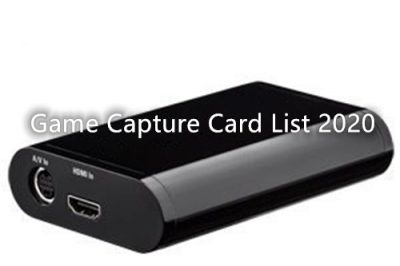 Game recording is turning into a big deal whether it's for entertainment or actually making money. And as one of the first choices for those who want to record their gameplays, game capture card has gained more and more attention dues to its stable performance.
Capture card has no difficulty carrying out tasks like recording gameplay or recording live streaming. Some users may be puzzled that once they've got screen recorder software to operate, what's the point of buying another capture cards? Well, capture card surpasses traditional recording software in that it barely causes FPS drop and also records video with great quality. What's even better about capture card is that it has the lowest performance budget on PC. Under such circumstances, gamers can record their gameplay to their hearts' content without worrying the recording tool worsening their in-game experience.

Game capture card are commonly expensive so if you don't want to spend that much money on capture card entity, we suggest you to use screen recorder software – RecMaster that is much cheaper but bears powerful features as well.
This passage will step by step demonstrate all the information of game capture cards and the bundled capture software on PC.
Table Content:
4 capture card software list 2020
What is game capture card?
How does game capture card work?
What Is Game Capture Card?
A capture card is an input device used to convert gameplay signals to digital data that then allows users to upload onto the internet. It helps game lovers capture and save their favourite games or helps game anchors to stream gameplay to live streaming platforms.
The idea, or say, mechanism behind game capture card smack of resembles to a bypass or go-between process, as the HDMI cables linking with game consoles, PC and TVs.
And in terms of components of game capture cards, they normally are consisted with four plugs – HDMI in, HDMI out, USB plug, and the companion pc software to help record on PC.
How Does Game Capture Card Work?
● How to set up the capture card before recording?
Capture cards work in different ways depending on the model, but they all act as pass-through devices between your game console or PC and your display.
Step 1 Run an HDMI cable from your console to the card's input port.
Step 2 Run another HDMI cable from the card's output port to your monitor or TV.
Step 3 Plug in the USB cable to your PC and your capture card.
● The more detailed illustration of the mechanism of game capture cards
Capture cards actually provides services for capturing video signals from external devices via HDMI connection.
It helps users to capture their gaming consoles like recording Xbox or recoding PlayStation4 etc. A capture card acts like an input data receiver. When user is working on two PCs where one is used to play games and another for streaming then capture card is connected on stream PC.
GPU of gaming PC will continuously transfer data to this capture card. This signal is captured, recorded and encoded as needed and finally is uploaded to sites like Twitch or Mixer.
Software of game capture cards is of crucial importance. Generally speaking, most quality capture cards can't work stably without the assistance of their correspondent software on PC, which helps them better capture the activities on players' consoles or PC.
With software installed on PC users are able to configure specs and parameters of their capture cards. Let's see the list of 2020 best game capture cars software on PC.

Best PC Game Capture Card Software 2020
1 – Nvidia Share [Built-in Overlay of GeForce Graphics Cards]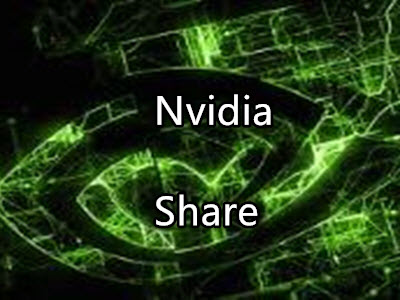 Nvidia Share (former Nvidia Shadow Play) is a bundled screen recorder of Nvidia GPU.
As free game recording software, Nvidia impresses users with its unequivocal strength to capture gameplay videos and it manages to manually record gameplay videos that without time limitations. An excellent part of it is that it succeeds in producing videos in crisp visibility and high quality. All thanks to its capacity to record at up to 4K at 60 FPS. What's more, Nvidia Share is hardware accelerated, which means it has an extremely low performance penalty on system's operation and also FPS drop. Players' in-game experience won't be interfered by game capture card software.
Check The Availability of Nvidia Share & Key Features
Supported Graphics Cards
Desktop: GeForce GTX 650 or higher graphics card.
Notebook: Non-Optimus Notebook with GeForce GTX 660M or higher graphics (Optimus support coming later)
Supported System
Vulkan APIs and OpenGL-based games.
Play will run on PC system with Windows 7 / 8 / 8.1 / 10 and upwards.
RAM Requirement
More than 2GB VRAM memory.
Recording Modes
Shadow & Manual Mode, Shadow Mode, Manual Mode, Twitch Mode
Available output settings on recording
Low or Medium profile (quality)/resolution/fps/encoding type/mbps/webcam;
Audio bit rate/channels/boost (volume)/microphone options
Multi-monitor support
√
Hotkeys
√
Parameters:
FPS: 30fps, 60fps, 120fps.
Resolutions: 1920 x 1080 resolution. Gameplay at higher or lower resolutions are scaled to 1080p
Video encoding type: H. 264 codec and outputs in MP4 format.
Video bit rate: 50Mbps for 1080p, 130Mbps for 4K.
Audio formats:
● Sampling rates: 44.1 kHz, 48 kHz, 96 kHz, 192 kHz
● Sample sizes: 16 bit, 24 bit
● Speaker configurations: Stereo, quadrophonic, 5.1, 7.1
Pros
● Free with GTX 650 and higher Kepler GPUs
● Twitch LiveStream support coming
● Small file sizes compared to rivals
● Minimal performance impact on FPS, <5%
● Excellent support on Windows 8
Cons
● Only supports Nvidia Kepler desktop GPUs, no current mobile GPU support or support for older GPUs
2 – AMD Radeon ReLive [Software of AMD Hardware]
AMD's Radeon Software Adrenalin Edition is a rocking piece of software for AMD graphics card owners. The software of AMD lets users tweak their gameplay experience by adjusting game and display settings, including the ability to overclock users' GPU in certain games. It's a neat piece of desktop software that can also record gameplay with a feature called ReLive.
What Contained within the Radeon Overlay are a number of other features, including in-game live performance monitoring and a switch for Radeon Chill (AMD's super-smart power saving and cooling software), as well as controls for frame rates and colour.
AMD ReLive recorder software can record gameplay effortlessly, as well as to stream gameplay to the most notorious platforms like Twitch or Mixer, and the last feature – to grab a screenshot. Besides, ReLive easily carries out tasks like creating how-to tutorials or just to show something off.
Check The Availability of AMD Screen Recorder & Key Features
Supported Graphics Cards
Radeon™ RX 5000 /Vega/500/400 Series
Radeon™ VII
Radeon™ Pro Duo
AMD Radeon™ R9 Fury, R9 300, R7 300, R9 200, R7 200, R5 300, R5 240 Series
AMD Radeon™ HD 8500 – HD 8900 / HD 7700 – HD 7900 Series
Supported System
DirectX9-12 and Vulkan APIs on Windows7 64-bit and Windows10 64-bit.
RAM Requirement
More than 2GB VRAM memory.
Recording Modes
Game recording, Desktop recording, Borderless region capture
Available output settings on recording
Recording profile (quality)/resolution/fps/encoding type/bit rate (for video);
Audio bit rate/channels/boost (volume), Separate microphone track
Multi-monitor support
√ (But it only features single display recording or AMD Eyefinity display configuration recording.)
Hotkeys
√
Parameters:
FPS: 30fps, 60fps.
Resolutions:  360p, 480p, 720p, 900p, 1080p, 1440p, 2160p (4K), and In-Game.
Video encoding type: MP4.
Video bit rate: Up to 50Mbps.
Audio bit rate: Up to 320Kbps.
Pros:
● Much faster UI loading times
● Slicker, more intuitive interface
● More features and a small performance boost
● ReLive provides easy game capture support
● Wattman makes overclocking and fan control easy
Cons:
● Hidden settings can be confusing
● Only a modest speed bump
3 – Elgato 4K60 PRO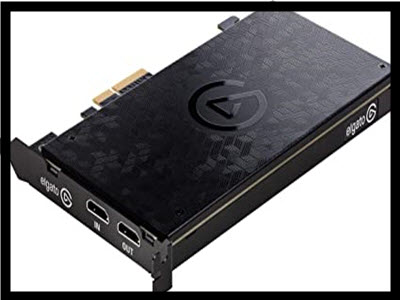 The Elgato 4K60 Pro is an excellent game capture card to end all competitor capture cards. With its standout feature to record at 2160p at 60 FPS, (also support 1080p as well as HDR10) it literally can effortlessly record any games from consoles and PC. And Speak of hardware factors, the 4K60 Pro benefits from much larger bandwidth thanks to its PCIe x4 interface, what's more, the USB 3.0 transcending from USB 2.0 represents an absolute breach from its past.
What makes this capture card different from its competitors is that it needs to slot a PCIe card into your computer, and the simple task of opening the side panel may be challengeable for some of its users.
The 4K60 Pro has requirements on OS. Users will need an Nvidia 10-series GPU, at least, as well as a 6th Gen Core i7 or Ryzen 7 to run the capture card. But thankfully, the 4K60 Pro is worth the hassle. It includes the same excellent features seen on the HD60 S, including "Flashback Recording," as well as passing through at up to 1080p240 or 1440p144.
Check The Availability of Elgato 4KPro & Key Features
Supported Graphics Cards
NVIDIA GeForce GTX 10xx (or better)
Supported System
Windows10 64-bit.
RAM Requirement
More than 4GB VRAM memory.
Recording Modes
Game recording, Desktop recording, Borderless region capture
Available output settings on recording
Recording profile (quality)/resolution/fps/encoding type/bit rate (for video);
Audio bit rate/channels/boost (volume)
Multi-monitor support
√
PCle requirements
PCle x4/x8/x16 slot
Hotkeys
√
Resolutions:  1080p, 2160p.
Frame rate:  60FPS. 1080p and lower: up to 240 FPS
2560*1440: up to 144FPS
3840*2160: up to 60FPS
2560*1080: up to 144FPS
3440*1440: up to 100FPS
Video encoding type:  mp4, .mov, and .mkv.
Video bit rate:  up to 140 Mbps.
Pros:
● HDR10 Capture and Passthrough.
● HDR support.
● 4K recording at 60 frames per second.
● Multi-app support.
Cons:
● It doesn't work well with 4:3 PC resolutions.
● Occasional audio desync.
● Input latency.
● PCIe only.
● High system requirements.
● No mac supported yet.
4 – CyberLink PowerDirector 15 [Software of AverMedia Live Gamer 4K]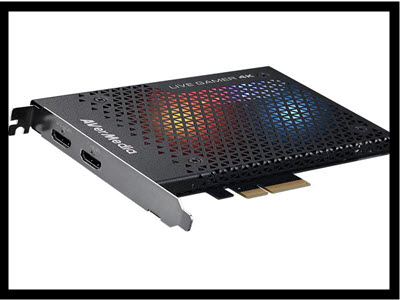 CyberLink's PowerDirector is a brilliant game capture card that bridges the gap between professional editing and consumer-friendliness. It has often been ahead of 'pro products' with support for new formats and new technologies. Best part of the capture card software is that it is fast to work with and fast at rendering.
As a refresher, the latest versions of it keeps on adding series of useful features such as stabilization, motion tracking, titles, transitions, and View Designer for cool effects like Little Planet. It also adds color tools, including color matching, LUT (lookup table) filters, split toning, and HDR effects. Animated picture-in-picture templates called Video Collages and automatic audio ducking to lower background sound levels also made their debut in the previous version.
Let's have a clearer look at its key features and OS requirements.
Check The Availability of Cyberlink PowerDirector & Key Features
Supported Graphics Cards
ATI Radeon HD 4000 series
ATI Radeon HD 5000 series
ATI Radeon HD 6000 series
ATI Radeon HD 7000 series
NVIDIA GeForce 8000 series and GeForce Mobile 8000 series above
NVIDIA GeForce 9000 series and GeForce Mobile 9000 series above
NVIDIA Quadro and Quardro Mobile
NVIDIA Tesla
Supported System
Windows 7 – 10, with 64-bit versions required
RAM Requirement
A minimum of 4GB RAM.
And a 128 MB VGA VRAM graphics card.
Recording Modes
Full Mode, Storyboard Mode, and Slideshow Creator, Auto Mode.
Available output settings on recording
 (quality)/resolution/fps/encoding type/bit rate (for video);
Audio bit rate/channels/boost (volume)
Multi-monitor support
√
Other features
Editing features (picture-in-picture editing), 360 degree footage, Assisted movie making, Motion tracking.
Hotkeys
√
Resolutions:  up to 4k.
Frame rate:  60FPS.
Video encoding type:  H.264 MP4 video file
Pros:
4K passthrough.
The software is versatile and easy to use.
Records footage to MicroSD, console and PC support.
Fast rendering.
Clear interface.
Loads of effects.
The most 360-degree video capabilities of any video editor.
Multicam editing.
3D and 4K capability.
Motion tracking.
Cons:
Mac users need third-party software to assist the capture card.
Number of options can make interface overwhelming.
Weak color matching.
Verdict
This passage is an all-around guidance for the current most popular game capture cards and their correspondent software on PC. All the game capture card software has punch above their weight in recording gameplay with negligible performance penalty on in-game fluency.