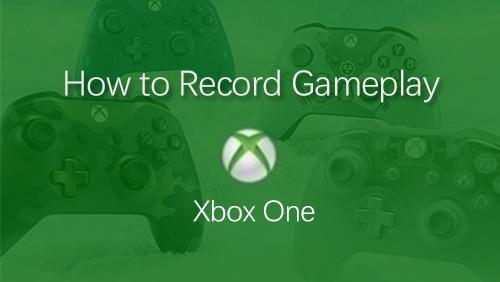 Video game is an emerging industry and that is the reason why some technology companies like Sony and Microsoft continue to develop a series of game related products. Xbox, the video gaming console from Microsoft, is such a product sought after by many game enthusiasts. For gamers, it's natural that you want to save some cool moments including a high score, a satisfaction of the competition winning and then share to YouTube or other social platforms. This post will give you three ways to record gameplay on Xbox.
Content:
Way 1: Using the Built-in Feature of Xbox
Way 2: Using Windows 10 Game Bar
Way 3: Using Third-party Game Recorder [Recommended]
Method 1: Using the built-in function of Xbox
Microsoft has embedded many features with Xbox One like editing, sharing and making recording to make things easier for users. Therefore, without downloading, you can record awesome in-game moments. Here steps will be given on how to record gameplay on Xbox with the built-in function: Game DVR.
1: When you're playing games with Xbox controller, simply say "Xbox Record That" to microphone and your tool will automatically start recording. A clip of 30 seconds video will be saved. More recording intervals of time will be given if you have launched Game DVR, and you can select the proper one from the choices of 30 seconds, 45 seconds, 1 minute, 3 minutes, or 5 minutes.
2: Press- X to grad the past 30 seconds of gameplay and press- Y to get an image of screenshot.
3: Users can adjust video length according to their needs from End Game Clip option.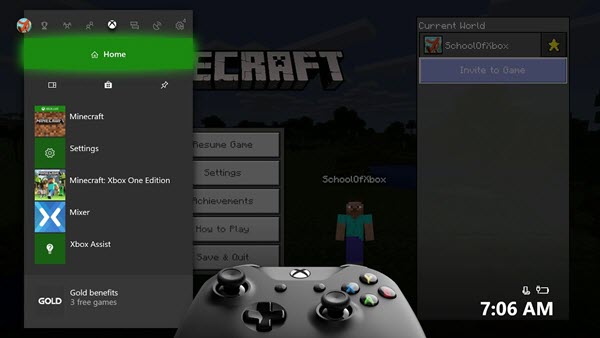 It's convenient for you to record gameplay on Xbox with the app's built-in function, but it still has some disadvantages. Firstly, the app only allows you to capture in-game footage, in other words, if you need to record the menus, you'll need to use an external capture card to record gameplay on Xbox. Secondly, the length of recording is limited among 5 minutes. If you want to get rid of the duration limit, you can use third-party game recording software like RecMaster to record without limit.
Method 2: Using Game Bar of Windows 10
Windows 10 allows you to take screenshot, record gameplay video without using any third-party software. Before you start recording, you need to enable Game Bar in Windows 10 of your PC.
Click on Start button -> Settings button -> Gaming option option and then click on Game Mode in the side option (make sure that Use Game Mode is enabled) finally click Game Bar button and toggle ON the option to allow recording.
After finishing preparation, let's start the recording.
Step 1: Press Windows Logo + G keys on the keyboard of your computer to bring up the Game Bar. Then check "Yes, this is a game" option.

Step 2: Once the Game Bar appears, click the red button to start recording.

Step 3: Press Windows + G keys to bring back to the Game Bar menu and click the red button again to end recording.
After step 1, you can also use Hotkeys Win + Alt + R to start and end recording.
Although Game Bar can record gameplay and it's also friendly to desktop application or browser tab, you can't record more two or more resources at the same time. If you want need to grab desktop, file explorer or multiple programs that're beyond the abilities of Game Bar, you'll need an expert screen recorder.
Method 3: Using a third-party tool – RecMaster
There are a plethora of screen recorders in the market, paid, open sources and free. Each of them has its strengths and weaknesses, and here we recommend a comprehensive recording tool – RecMaster. It enables you to capture the gameplay like LOL, Overwatch, Minecraft and any other gameplay saving and footage on Xbox with high pace up to 60fps. Moreover, you can add webcam overlay to your video along the recording process to produce the gameplay video with picture-in-picture effect. With the microphone and system sound you are able to record the background music and commentary in your gameplay videos. If you want to schedule recording, you can use the task schedule function to capture your screen in fixed time.
Finishing downloading and installation, just do as follows.
Step 1: Open RecMaster
Entering the main interface, you can see multiple modes: Game Mode (Windows Only), Full Screen, Custom Area, Webcam, and Audio Only.
Step 2: Choose Game Mode or Full Screen Mode
For Windows users, you can choose Game Mode for recording. For Mac users, the mode is temporary unavailable but you can use the Full Screen mode as an alternative with the same result.

Step 3: Preview the default
RecMaster offers you many choices of video format, quality and frame rate. It depends on your preference and demands to select these options. To get a video embedded with your face, you need to turn on the Webcam button. If you want to record your voiceover and system sound, remember to toggle microphone and system sound buttons on.

Step 4: Start recording
Click REC button to start recording or use Hotkeys Alt + 1. During the recording, you can put annotations to emphasize some crucial steps by adding arrows, lines…
Step 5: Stop recording
With everything captured, click Stop button or use Hotkeys Alt + 2 to end this recording. If you don't want to stop manually, open the Task Schedule icon and set up the fixed task. RecMaster has a bundled editor which enables you to trim unnecessary clips especially at the beginning and end parts.
Know more about game capture: Windows 10 Game Recording Guide
After reading this article, you must have a clear idea about how to record gameplay on Xbox. Choose your favorite way to record the cool moments!
Related articles:
RecMaster vs Game Bar
How to Record PC Game