Call of Duty 4: Modern Warfare is a 2007 first-person shooter developed by Infinity Ward and published by Activision. It is the fourth main installment in the Call of Duty series. The game breaks away from the World War II setting of previous entries and is instead set in modern times. Operations of this game are easy – players can refer other first-shooter games to get instructed. The most impressive parts of this game are its high-quality images. Players will find the reality and virtual world's edge blurred when they absorb in playing Call of Duty. Then the demands for storing wonderful gameplay clips derived. A third-party game recorder is always convenient to record Call of Duty sequels.
● Achievements
Sequels of Call of Duty had made great achievements over the years.
All in all, the game won numerous awards from gaming websites, including IGN's "Best Xbox 360 Game".
It was the top-selling game worldwide for 2007, selling around seven million copies by January 2008 and almost sixteen million by November 2013.
The latest 'Call of Duty' game is already setting sales records on PlayStation 4 and PC, and it's likely to become the best-selling game of 2019.
Call of Duty: Modern Warfare is currently the fourth fastest-selling release in the U.S. according to NPD.
Call of Duty Modern Warfare – Game Review & What to Record?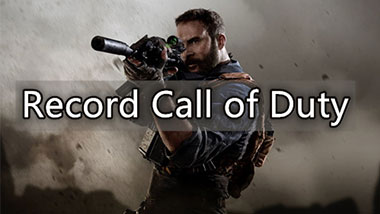 Call of Duty received universal praise from critics and gamers. Among all the contents, the gameplay, storyline, multiplayer game mode received the most ardent feedback.
The most interesting parts of this game are the single-player campaign mode and multiplayer mode.
For those who want to record Call of Duty and produce the best gameplay clips, a screen recorder is a necessary, and here I suggest you use RecMaster.
Screen recorder has another usage – record in-game problems and uploads for support.
● Single-player campaign
Modern Warfare has 14 different missions that cost players about 7 hours to finish the whole stories. The missions are difficult and challengeable so players have to wield their wits to implement the missions and further, attain achievements.
The tasks are vivid and breathtaking, you could be asked to penetrate a base, escape from prison, or hunt down terrorists. During the process, you can absorb yourself in the realistic warfare environment and feel the excitement around you.
● Multiplayer
The new multiplayer maps and the realistic terrain draw you into the world of Modern Warfare. The environments include a cave in the mountains and a bridge over the dry Euphrates River. It feels like these places are familiar, based on news reports from distant wars. Meanwhile, Call of Duty maintains its smooth gunplay and has great weapon customization in its multiplayer mode.
However, there is a question that goes along with Multiplayer mode – the unfair match mechanism. Basically, all of the multiplayer games on the market like LOL, Apex, and fortnight will face the question, Call of Duty cannot get out of the old rut too. If you can bear this flaw, Call of Duty will serve you well.
● Bugs
1. Crashes are often seen in the Xbox community in particular and the PC community.
2. SBMM (skill-based matchmaking) – match mechanism receives complaints in that players will face way stronger opponents than themselves.
3. Occasional net code and lag compensation.
4. PC Dev Error 6065/6066/6068.
5. Memory error 13-17.
6. Black graphical corruption, etc.
Among the top game recording software, RecMaster is powerful enough to help users produce up-to original quality gameplay videos. And in Call of Duty's case, players can use RecMaster to record the single-player campaign clips and multiplayer mode and the result will not let them down. Besides, for the in-game problems, if players want to ask for technical support and send feedback, recordings the problems are more efficient than describing them.
How to Record Call of Duty on PC with RecMaster?
RecMaster is a versatile screen recorder that is able to carry out tasks like game recording, streaming video recording, webpage recording, etc.
It has 5 fundamental recording modes: Full-Screen recording, Custom Area recording, Webcam recording, Game recording, and Audio-Only recording serving well users' demands.
Here we recommend players to leverage Full-Screen Mode to record Call of Duty since the game mode is not compatible with this game. This is not saying that game mode is not competent, RecMaster used to perform well in recording PUBG and Fortnite with Game Mode.
Besides, the annotation tools help embellish your gameplay recordings. Beyond that, a simple built-in editor for cutting helps you to eliminate unwanted fragments.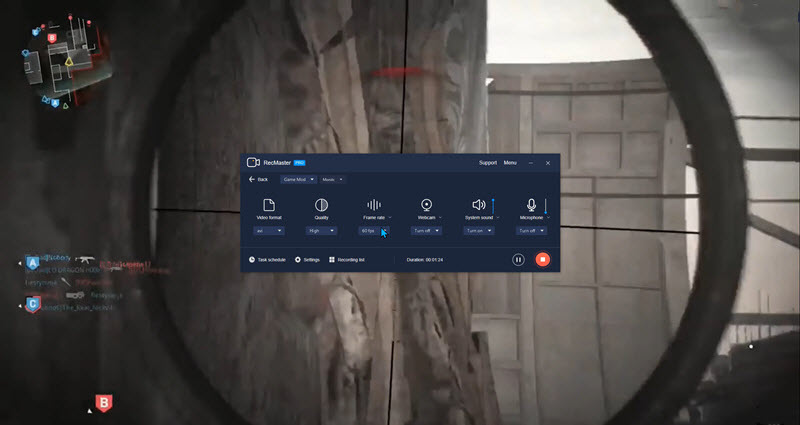 1. Download and Install RecMaster.



2. Open RecMaster and choose 'Full-Screen' Mode.
3. Configure the settings on the Game Mode setting panel.

To record Call of Duty with high quality, users are suggested to choose 'original quality' > AVI video format > 60 FPS > turn on the webcam if you want to add commentary to your gameplay footage, if not, turn off the webcam > turn on the system sound to capture in-game audios > turn on the microphone to capture your off-screen sound, but be careful, this button could record noise and other unwanted sounds.
4. Click 'settings' on the bottom-left corner of the game mode's setting panel. There we will do further configurations.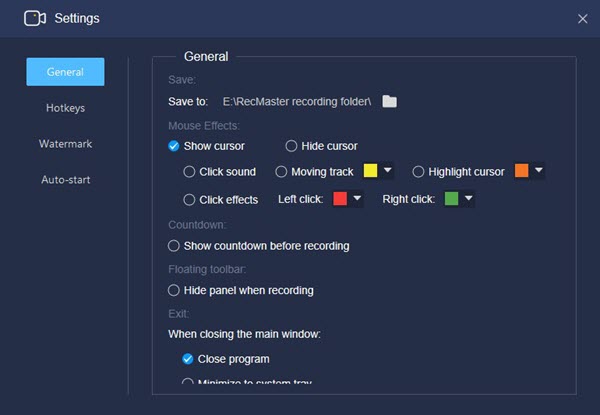 This is the operation window for users to tweak cursor effect, and storage path set customized hotkeys and watermark.
5. When gamers finish all the links of setting configurations, they could start recording by clicking REC at the setting panel of Game Mode.
6. In the process of recording, gamers can add annotation tools if they care to.
7. Click the red button again to stop recording. Users can find their footage in the Recording list where some editing work could be completed.
Verdict
Call of Duty is one of the most worthy playing games in the market. Screen recorder RecMaster helps players to record Call of Duty in high quality. And in addition to game recording, RecMaster is also handy for recording in-game problems and upload for technical support.
You can also check the articles for recording other games:
Overwatch: How to Record Overwatch Gameplay on PC [Save Permanently]
Minecraft: How to Record Minecraft (Dungeons/Earth) on PC or Mac
CS:GO: How to Record CS: GO Gameplay on Windows (10) or macOS
Steam Games: How to Record Steam Games? [Dota2, Rainbow Six Siege, etc]