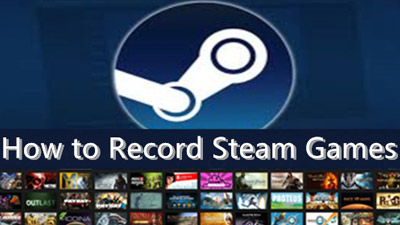 Steam is a video game digital distribution service by Valve. It was launched as a standalone software client in September 2003. Since that day, it plays a role to provide automatic updates for Valve's games, and at the same time, recruit third-party new games for its users. As it grows, the community attribute has gradually appeared. Steam developed social features like friend lists and groups, cloud storage, and in-game voice and chat functionality.
The most worth mentioning point of Steam is that it has a bewildering variety of games whose genre ranging from RPG, action, horror, adventure, massive multiplayer, etc. But if gamers want to share game clips to their friends, they could be disappointed since Steam doesn't have any built-in recorder.
To deal with this problem, a third-party screen recorder will be helpful to record Steam games. Screen recorders are so many that users will be overwhelmed in fumbling out the right one. Here is an all-around guide of what a good game recorder should be and how to record the hottest games on Steam.
Record Steam Games, What Do We Need?
Considering that Steam gets the world's best games with the highest quality, the recorder that gamers need has to be powerful enough to carry out the recording mission. What is a good game recorder for Steam?
First, the recorder should be capable to record your gameplay on Steam without latency, so the recorder has to be light and causes low performance penalty to users' games.
Then the recorder should be able to record high quality videos. Besides, the gameplay video should be made fluent, which means the recorder should be able to record up to 120 and even higher.
Thirdly, the recorder should bear other features that make a gameplay video better. E.g. video creators might want to add commentary to their videos, so the webcam and annotation tools are important too.
How to Record Steam Games?
RecMaster is a professional game recorder in that it allows users to record gameplay at 60 FPS (in the near future, 120 FPS will be available), a parameter capable enough to carry out most of the game recording missions. Beyond that, it also supports recording at up-to 4K resolution thus to deliver the best watching experience. Besides, RecMaster record steam games with original quality, which is fantastic to show the game the way it was.
● Advantages and features
FPS: RecMaster provides up-to 60 FPS (and in the near future, 120 FPS) for games. 60 and higher FPS are premium parameters to record games. High FPS promises the fluency in recording games, in another word, users can record with no latency with 60 or higher FPS.
Time Limit: RecMaster has no time limit on recording a single footage.
Interface Design: RecMaster has uncluttered and simple interface. Unlike OBS – the most famous game recorder that requires a learning curve, RecMaster makes it easy for fresh hands to get the hang of itself in a short time.
Watermark: RecMaster exerts no watermark to users' game recordings in the first place. However, users can add customized watermark to video in text or image format.
Performance Penalty: RecMaster causes acceptable performance penalty to users' games while recording.
Annotation Tools: While recording, users are able to draw, circle, and add whiteboard and graphics to their gameplay recording.
Video Formats: Users are allowed to produce AVI, MP4, FLV videos with RecMaster.
Recording Modes: Game mode, Full-screen mode, Custom-area mode, Webcam mode (capture only webcam), and audio-only mode.
Hotkeys and cursor effect.
Task schedule and Auto Start.
● Steps to Record Steam Gameplay
1. Download and Install RecMaster.
2. Open RecMaster and choose 'Game Mode'.
3. Configure the settings on the Game Mode setting panel.
To record Steam games with high quality, users are suggested to choose 'original quality' > mp4, avi, flv video format > 60 FPS > turn on the webcam if you want to add commentary to your gameplay footage, if not, turn off the webcam > turn on the system sound to capture in-game audios > turn on microphone to capture your off-screen sound, but be careful, this button could record noise and other unwanted sound.
4. Click 'settings' on the bottom-left corner of game mode's setting panel. There we will do further configurations.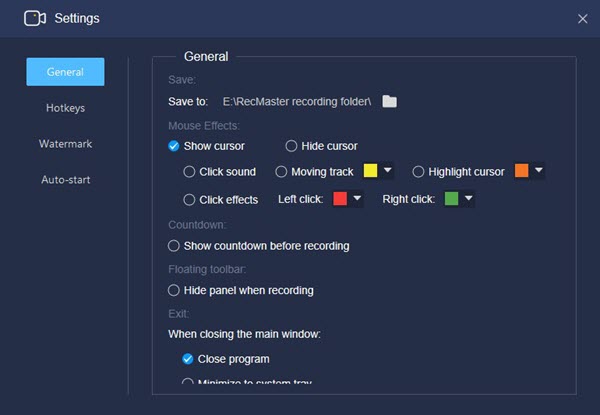 In this window users can decide cursor effect, and storage path, set customized hotkeys and watermark.
5. When gamers finish all the links of setting configurations, they could start recording by clicking REC at the setting panel of Game Mode.
6. In the process of recording, gamers can add annotation tools if they care to.
7. Click the red button again to stop recording. The footage will be automatically stored to users' local folder (the path could be customized). Users can find their footage in the Recording list where some editing work could be completed.
Scenes of RecMaster Record Steam Games [Dota2 and Rainbow Six Siege]
Dota2 and Rainbow Six Siege has its requirement on OS and operating environment, so in other word, the screen recorder we choose should be of premium quality. RecMaster is capable to record those most high-end Steam games with high quality and low influence, let's see its performance in recording Rainbow Six Siege and Dota2.
● Rainbow six siege
Tom Clancy's Rainbow Six Siege is an online tactical shooter video game developed by Ubisoft Montreal and published by Ubisoft in 2015. During the 5 years, the game sat quietly in the background while magnate like Overwatch, PUBG, Fortnite, and Apex Legends captured all the gamers' attention around the world. Siege's player base has only grown over time, and until now it hits the record of 45 million players. Great thing of it is that its momentum hasn't seen an end yet since the other popular shooters of today aren't really its competition.
The core of Siege is a 5v5 dance of attack and defense between well-equipped military Special Forces squads on compact but complex maps. The game puts heavy emphasis on environmental destruction and cooperation between players. That's what makes it different from other shooter games like Call of Duty.
OS: Windows 7, Windows 8.1, Windows 10 (64bit versions required)
Processor: Intel Core i3 560 @ 3.3 GHz or AMD Phenom II X4 945 @ 3.0 GHz.
Memory: 6 GB RAM.
Graphics: NVIDIA GeForce GTX 460 or AMD Radeon HD 5870 (DirectX-11 compliant with 1GB of VRAM)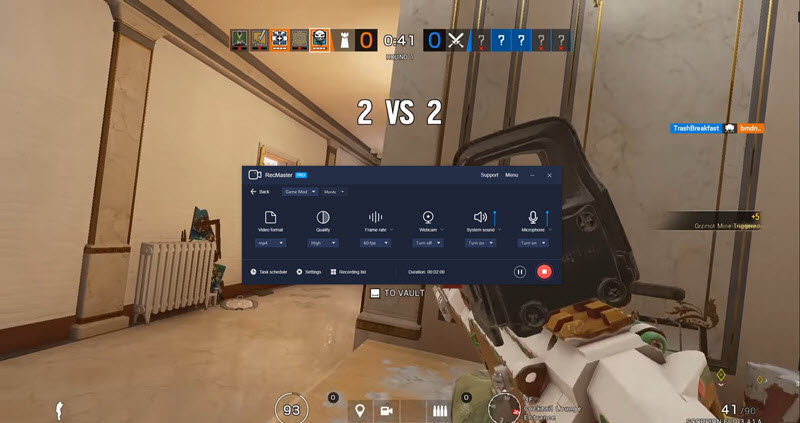 ● Dota2
Dota 2 is a multiplayer online battle arena (MOBA) video game developed and published by Valve. The game is a sequel to Defense of the Ancients (Dota), which was a community-created mod for Blizzard Entertainment's Warcraft III: Reign of Chaos and its expansion pack, The Frozen Throne.
The core of Dota2 is the cooperation. Through farming to gain items and fight with opponents and push until players destroy their opponents' base.
OS: Windows 7 or newer.
Processor: Dual core from Intel or AMD at 2.8 GHz.
Memory: 4 GB RAM.
Graphics: nVidia GeForce 8600/9600GT, ATI/AMD Radeon HD2600/3600.
DirectX: Version 9.0c.
Storage: 15 GB available space.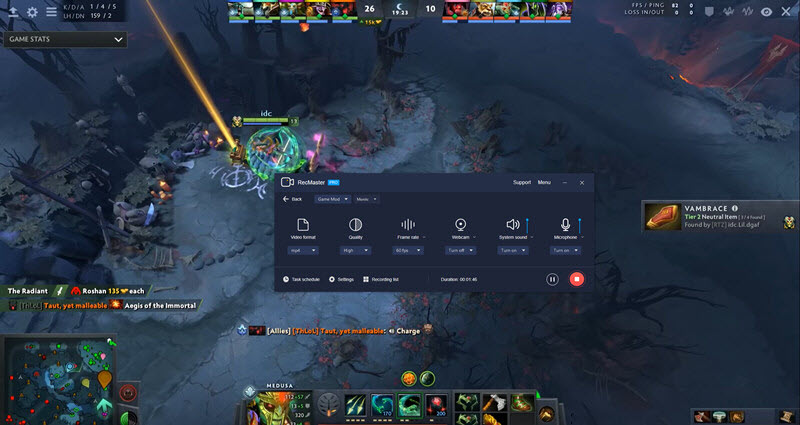 Conclusion
Steam is integrity of game store and community. If gamers want to Record steam games with no latency and high quality, RecMaster is a good choice for them.
More Game Capture Guides:
How to Record League of Legends? Using Replays or Game Recorder
How to Record Minecraft (Dungeons/Earth) on PC or Mac
How to Record CS: GO Gameplay on Windows (10) or macOS
How to Record Overwatch Gameplay on PC [Save Permanently]
Best PC Game Capture Card List 2020 [with Corresponding Software]