Game Bar is unique software coming with Windows 10. It commits itself to bringing extra game experience for players. It builds up a premium game community and encourages gamers to share their game through chats. The most welcomed feature of Game Bar is its recording feature. Users used this buddle feature to capture their games and forwards highlight moments to in-game friends. However, as another game recorder, RecMaster wins flavors among gamers, a result attributed to its premium ability in game recording. Then this RecMaster vs Game Bar article will show viewers which recorder is more capable.
Introduction of Game Bar and RecMaster
This part introduces overviews for the RecMaster and Game Bar, along with detailed functions and characteristics of them. This article is on the pretext of a theme – RecMaster vs Game Bar, in fact it gives out comprehensive data of them, hoping to deliver users with preliminary impression of game recorders.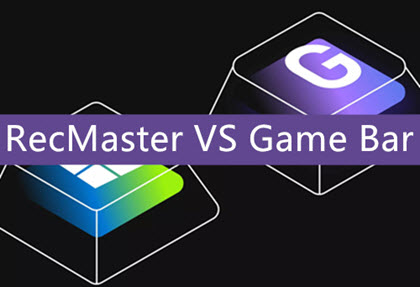 ● Xbox Game Bar
Xbox Game Bar works with most PC games, giving you instant access to widgets for screen capture and sharing, finding new teammates etc. Possessing simple interface and easy operations, recording at up to 60 FPS and customized resolution, Game Bar is qualified as a good game recorder on Windows 10.
One thing worth mentioning is one of Game Bar's merits to run silently in your PC. Game Bar's built-in recorder is created to be invisible during the recording process. Without noticeable system tray icon or control bar on the desktop, this characteristic of it should satisfy those who just want to absorb in their gameplay.
● RecMaster
RecMaster is a game recorder and beyond that definition. It bears powerful features and could be regarded as right-hand assistant in making tutorial videos, presentation videos etc. Since this article is all about RecMaster vs Game Bar, so this part should illustrate the features of game recording so as to fairly compare game-related parameters of them. RecMaster allows users to record at 60 FPS, a number capable enough to carry most of the games. Beyond that, it also supports users to record at up-to 4K resolution. Game Bar also manages to provide the conditions for users.
More details about each recorder are listed below. Let's take a closer look at their advantages and disadvantages.

Features and Disadvantages of the Two Screen Recorders
Game Bar
RecMaster
FPS
The game bar allows users to record their gameplay at 60 FPS, a condition powerful enough to record most games and delivers good quality of videos.
60 FPS at most.
Time Limit
4 hours at most.
No time limit.
Interface Design
Clear and minimalist.
Uncluttered interface and easy operations.
Watermark
No watermark.
No watermark.
Features

 

Screenshot, game recording, background recording (to capture previous plays),
Custom-Area Mode, Full-Screen Mode, Game Mode, Webcam  Mode, Audio-Only Mode, Scheduled recording, Annotation tools, Video editor.
Characteristics
Background recording – no interruption of interfaces and no system tray icon while recording.
RecMaster possesses multiple recording modes and features, it is
Game Bar Disadvantages:
1. Game Bar doesn't support recording in custom area.
2. Game Bar is not embedded with an editor.
3. Game Bar lacks annotation tools.
4. Game Bar will break and it will make your computer run slower.
5. Game Bar only supports recording one program during one certain period.
6. The sound quality it delivers is terrible.
7. Bugs are appearing frequently in its new updated version.
8. Users reflect that there is severe FPS loss while they are playing games
RecMaster Disadvantages:
1. Simple editor, only support the cutting function of videos.
2. RecMaster is commercial software.
3. RecMaster can't capture image.
How to Record Games with Game Bar?
This part lays emphasis on procedures of recording. RecMaster vs Game Bar, Which one has the easiest operation and which one captures with better quality? The answer reveals itself in the content below.
width
Users don't have to experience a learning curve to get accustomed to Game Bar. Basically the hotkeys are the most difficult part of it.
Press Windows and G to call out the control bar of Xbox Game Bar,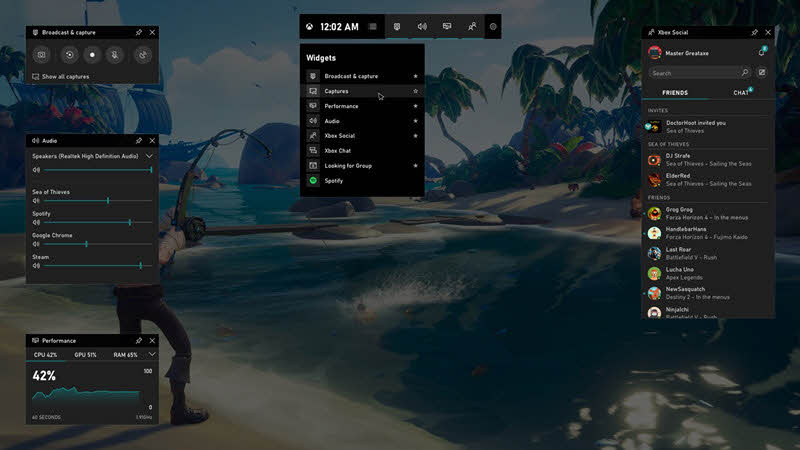 Game Bar enables its users to operate with handy hotkeys.

1. Press Windowsand G to call Xbox Game Bar.
2. If this is your first time using Xbox Game Bar, a prompt window will pop out telling you that you can't record unless you open on certain game. Ignore the warning by clicking Yes, this is a gamethen the recorder is available.
3. Click the Recordicon (the solid circle) to start recording. Game Bar will running on background and be invisible temporarily. Don't forget to turn on the Microphone button or your screen cast will not be able to capture sounds.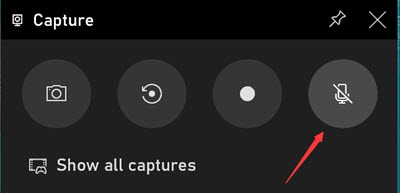 4. Press Windowsand G to call up Game bar again. Click the Stop icon to finish recording.
5. Click gallery to check your footage clusters. Xbox game bar wasn't embedded with edit feature so there is no further workflow here.
How to Record Games with RecMaster?
RecMaster is a one-click solution to game recording. There are not any complicated configurations to set. Users only need to bear one thing in their minds – Tweak the FPS to 60 and everything will be pleasant.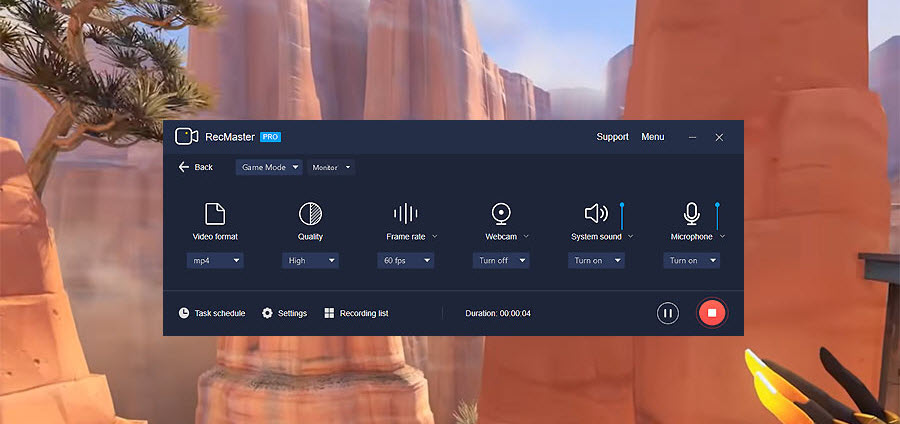 1. Double-click RecMaster and hit Game Mode button to enter its setting interface.

2. Set the audio sources before recording. Make sure you turn on system sound and Microphone sound in case you want audio narration involved in your videos.
3. Click REC to start recording.
4. Find the floating bar and feel free to add annotations to whenever you want to highlight your video content.
5. Stop recording.
6. Check out your footage at Recording list where you can playback, edit and export your video.
Ending
As software developed by Microsoft, Xbox Game Bar once received warm welcome by Windows 10 users. Xbox Game Bar is convenient in downloading, upgrading, and operating Best part of it is that it costs users no money. Game Bar becomes many game players' only choice in that it is compatible with most games in the industry. This is also the merit of RecMaster.
RecMaster vs Game Bar, they are both intuitive recorder with easy operation. However, Game bar performs better in user base and availability. RecMaster surpasses Game Bar with its rich features.
Users are suggested to choose their preferred recorder according to the information given above. And either recorder wouldn't be a letdown to you.
You may also interest in:
RecMaster Review
RecMaster vs. QuickTime