Xbox One is home to some of the current most welcomed games. This passage focuses on introducing two ways to play Xbox One games on PC and then you can record gameplay on Xbox One for YouTube.
Xbox One games are no longer restricted to a single device anymore — the brand sees a trend of stretching across multiple operating systems and devices in seeking a more user base. One of the hottest marriages is between the Xbox One and Windows 10, which avails gamers to play your Xbox One Games on their PC – GTA 5, Call of Duty, Minecraft, Overwatch, FIFA, Fortnite, Roblox are all available now. (You can click the links to get the tutorials of how to record each games mentioned just now's gaming clips for YouTube)
This passage introduces two methods -The first method is using the stream function of Xbox One and another method is using Xbox Play Anywhere to play Xbox One games on your PC and also a desirable approach to record gameplay on Xbox One for subsequent uploading to YouTube.
Now let's get straight to this tutorial.
How to Play Xbox One Games on PC?
Note that there are two ways to play Xbox games natively on a PC.
1. Check Xbox Play Anywhere.
Many games distributed on the Microsoft Store support Xbox Play Anywhere. That means any compatible game you purchase is playable on both platforms, no additional game purchase required
2. Use 3rd – party software to Stream Xbox One games to Windows 10.
Windows 10 has a built-in feature that allows you to stream an Xbox console to a Windows 10 PC. This is done through the Xbox Console Companion app — for now. Microsoft plans to move everything over to the new Xbox app, although it strictly deals with Xbox Game Pass at the time of writing.
How to Record Gameplay on Xbox One for YouTube on PC?
1. Download the YouTube App for Xbox One.
Navigate to the YouTube app and open it > then sign in to your YouTube account > Navigate to the Upload tab (you may need to enable sharing by going to the Settings menu and switching the "Enable Sharing on Social Networks" option to on).
Once in the Upload tab, you'll see a list of your gameplay clips > Select the clip you want to upload > Enter a title/description and other important dates> select upload > Remain on the Upload screen until the upload has finished.
2. Using the Upload Studio.
The Upload Studio is where you can present clips of your best gameplay footage to your friends and followers for personal recognition or bragging rights. You will then be able to upload the videos that you've created to OneDrive, where you can then distribute them via the likes of YouTube, Facebook, and Twitter.
3. Use a 3rd-Party Screen Recorder to Record Switch Gameplay and upload to youtube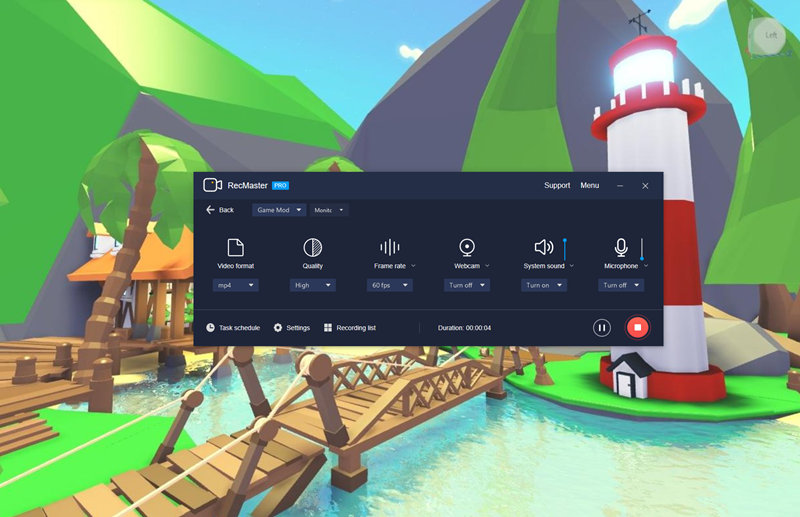 A third-party screen recorder is another desirable solution for those who want to record Switch gameplay on PC.
Among all the good screen recorders, RecMaster is a cost-effective solution to record at 60 FPS (120 FPS in the near future), with 4K resolution (or 5K, 8K according to your monitor) and the ability to record with the original video quality.
Compared with the professional game capture card – Elgato HD 60 S, RecMaster is much cheaper, with merely 25 bucks and users can record Switch gameplay stably on both Mac and Windows for a life-time long span.
• Specific steps to record Switch gameplay on PC
1. Download and install RecMaster.
2. Choose Game Mode to record Switch gameplay. (Full-Screen Mode is also powerful to record Switch games).

3. Tweak the settings. Make sure you set the FPS at 60 FPS and also choose the right video quality – the original video quality is the highest scale RecMaster can provide.

4. Start Recording. In the process of recording, you can add annotations to your gameplay recordings.
5. End recording and go to Recording List to edit your footages.
Final Words
This passage introduces two workable ways for games to play Xbox One games on PC (Windows 10 especially) as well as a desirable way to record gameplay on Xbox One for YouTube. Hope the handy YouTube recorder and solution can solve your problem.