AVI was created by Microsoft in November 1992 aiming at providing users with an advanced and robust format on the Windows operating system. AVI stands for Audio Video Interleaved, which means that AVI is file format stores audio and video information digitally for playback purposes. AVI format enjoys built-in support in all Microsoft's Windows platforms. Extension .avi is the symbol of AVI files. AVI is wildly used in the Internet world, for its ability to deliver exceptionally high-quality audio fidelity. So, how do we cybercitizens adopt this format and even record AVI on computer?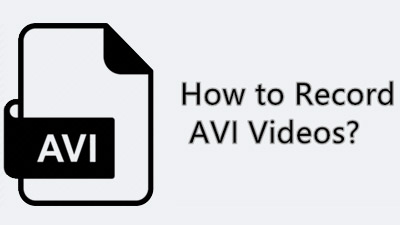 This article is going to recommend to you an optimal AVI video recorder to meet with the purpose.
Record AVI on Computer with Third-Party Recorder
RecMaster allows its users to create videos in FLV, MP4, and AVI formats. It is a dedicated AVI screen recorder working on both Windows and macOS. It provides 5 recording modes to meet your recording demands. Technically it can capture anything happening on your desktop. Here is an example showing detailed procedures to capture screen and record AVI on computer formats with RecMaster.

Step 1 – Choose a recording mode
Choose your preferred recording modes according to your demands. If you want to record a full-screen AVI video, you are recommended to choose Full-Screen mode, if you want to record a secondary display AVI video, Custom-Area mode will do you good help.

When you finish all the preparation work and open RecMaster, you will see an interface with five recording modes. They are Game Mode, Full-Screen Mode, Custom-Area Mode, Webcam Mode, and Audio Only Mode, as their name suggests, they are designed for different recording purposes. Now for the purpose to record AVI on Windows, we suggest users choose Full-Screen mode that promises the utmost viewing experience. In case some users are not accustomed to videos in full-screen, then they should choose Custom Area Mode for capturing customized area.
Step 2 – Configure the settings
Step two is the crucial procedure for you to record AVI on computer format. The operation is simple though, in the given options choose AVI and nothing else. But there are profound options designed for advanced users, if you want to make your footage in a great performance, you could try following steps below:

Set the options one by one through selecting quality (standard, high, original) > choosing 30 FPS > audio sources (according to users' demands they can turn off or turn on microphone sound or system sound) > webcam videos.
Step 3 – Start the recording
Click the REC button to record. During the process, you can pause, resume, and add annotations or webcam to your recordings if you care to.
Step 4 – Stop the Recording
Stop recording if you are satisfied with the content you have recorded. Then Rename, preview, share it as you like.
Step 5 – Editing
If you want to do some changes to your AVI videos, you can first do some cutting with RecMaster's built-in editor.

Things You Need to Know About AVI Videos
● The Advantages of AVI Format
AVI video format has excellent ability to record high-quality audio.
AVI file can be burned into playable DVDs and disks and store their internal audio and video information.
AVI file format is one of the most widely used video formats for promos, short movies, and advertisements thanks to its extraordinary compression capabilities.
● MP4 vs AVI, Which Delivers Higher Video Quality?
In comparison, MP4 is more widely used in different industries. You can utilize the video converter to convert AVI to MP4 for iPad, iPhone, and other portal devices.
AVI usually relates to DivX codec, which is known for its big file size and high visual quality. MP4, on the other hand, is a format that uses MPEG4 AVC/H.264 codec. Since MPEG-4 videos are often contained in AVI format, many individuals think AVI has better quality compared to MP4.
See Also: >> Best MP4 Screen Recorder to Create .mp4 Screencast on Computer
● How to Compress Large AVI Recording?
The biggest problem of AVI is that it always produces bulky files. If your AVI video surpasses 100 MB and you want to shrink it, then you should go and find a video compressor. Here we suggest you to leverage an online video compressor called "Video Converter". You can compress your AVI by following:
Add your file > Choose the target format > Lower your video resolution in the Settings menu > Click the Convert button.
>> See Also: How to Record Screen at Smaller Size
● Why Can't I Play AVI Videos?
Two ways to solve this problem, the first approach is to use different media players to play AVI videos. The second approach is to convert the AVI format.
AVI videos run without effort in any Windows systems, if you are using Windows, you will have no difficulty opening your AVI videos with WMP (Windows Media Player). If you're using macOS or Linux, you may take some detours since these two platforms aren't built with any apps that support AVI format. So you are suggested to download a third-party app that supports AVI. VLC Player conforms to your demands, it's fast, open-source, free and it has no problem working on Windows, macOS, Linux, Android, and iOS, etc.
If you don't want to download third-party software, you could also play AVI video by converting its format to MP4.
AVI is somehow a format more frequently used in Windows while MP4 is extensively adopted in operating systems like Linux, macOS, and Windows, so if you have a problem playing AVI videos on Linux or macOS, you should consider converting it to MP4 thus to seek
VLC allows users to convert AVI format into other playable formats. Here are steps to convert AVI to MP4. Steps are listed below: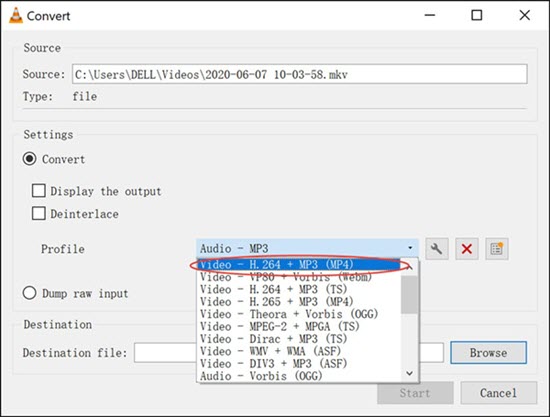 Open VLC and Click on Media > Convert > Click on Add and select an AVI video > Click on Convert > Then at the Profile column, choose Audio – MP4
> Browse is a button letting you choose a destination file and name your new file > Click Start and the transformation is completed.
VLC Related: VLC Screen Capture Guide & Tips
Ending
This post tries to answer questions on "How to record AVI videos format". Through the demonstrating and instructing, it is clear that RecMaster as a desirable AVI video recorder on Windows, provides a one-off solution for users to record AVI on computer format. Besides, illustrations on the question – "How to solve the AVI-can't-be-played problems" explicitly narrate two desirable solutions. One is downloading the versatile media player – VLC to play AVI videos on any operating systems.
VLC is also involved in the other method, it serves as a converter to transform AVI format into MP4 and MP4 format has no restrictions on users' operating systems. I hope our viewers have a closer look at AVI after reading this post.