Summary: Effective ways to save the GoToMeeting session. In this way, you won't worry about missing any important meeting.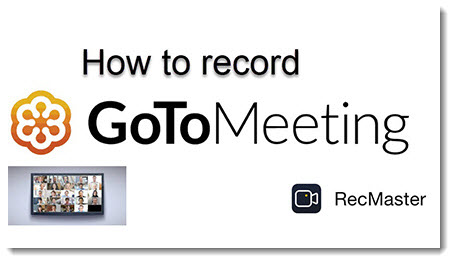 The Coronavirus epidemic has fundamentally changed every aspect of our lives from the way of transportation to the new working pattern. Twitter claims that it will allow some of its workforce to continue working from home "forever" since the experience of working from home for the past several months has shown that it can work at scale. Simultaneously many big tech companies like Facebook, Google have followed Twitter's footsteps by allowing employees to work from home. Therefore, it is obviously that remote working will be a new trend.
Working from home may be a fantastic thing for people who waste much time on commuting to the work environment. But for the employer, maintaining employee morale has been a great challenge. To help employee adjust to remote work, many companies employ applications like Zoom, WebEx and GoToMeeting to interact with each other through web conference. So the following part will talk about GoToMeeting and provide methods on how to record GoToMeeting.
How to record GoToMeeting with the built-in method?
Although GoToMeeting promotes the communication efficiency, it's still a headache to select a perfect timetable suitable for every attendee. With recording and sharing recording functions, you can eliminate the pressure of finding the perfect slot on everyone's calendar. Luckily, like Zoom and WebEx recording function, GoToMeeting also provides two recording methods: cloud recording VS local recording. Now let's learn how to record online GoToMeeting session with these methods.
The differences between Cloud recording and Local recording
| | | |
| --- | --- | --- |
| | Cloud recording | Local recording |
| Operating versions | Desktop and Web version | Desktop version only |
| Store path | The Meeting History tab of your online account | Saved as file on your local hard drive |
| Recording procedure | Manually start recording | Manually start recording |
| Sharing | Copy the link | Convert the file into a downloadable format and then share to the attendee |
| Available for free version | N | Y |
Even there are some differences between these two methods, the procedures to capture GoToMeeting sessions work in the same way. Note that only organizers and co-organizers have the rights to start and stop recording the meeting. Before directly recording meetings, make sure you've checked your meeting status.
How to record GoToMeeting during a session
Step 1: Ensure that you are sharing your screen or an application included in the session recording.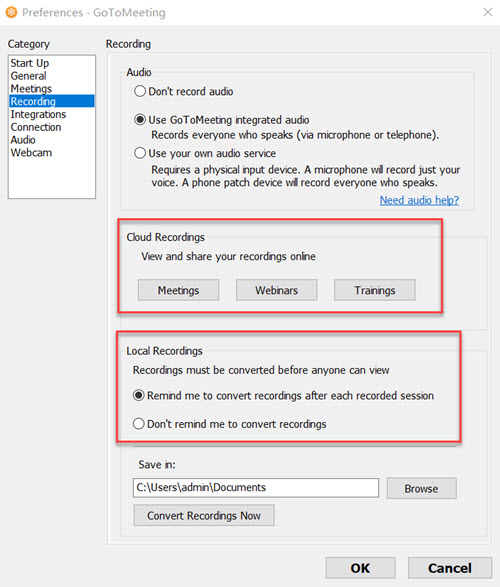 Step 2: Click the Record icon in the top bar of the viewer or Grab Tab.
Note: It requires at least 5 GB of free space which is available in the Recording folder.
Step 3: Hovering over the Record icon and then click Stop Your Recording.
If you need, you can restart recording during the same session by clicking Start Your Recording.

The bundled recording method is workable but it still has some limitations.
Only organizer or co-organizer can start recording the meeting. If you're an attendee who wants to save recording, you need to get permission from the host. However, Co-organizers and attendees promoted to the organizer role will not be able to use cloud recording.
In the local recording mode, you need to manually convert the temporary recording file into a downloadable format (WMV/MP4) by using the Recording Manager.
Whether you start or end the recording, attendees will see a notification that the session is being recorded or ended.
In the cloud recording mode, it will take a couple minutes for the latest recording to appear in your account.
Now you may still feel troublesome to record GoToMeeting session. Is there any available way to save recordings without cumbersome process? Surely, now please keep on reading to find out the explicit method.
How to record GoToMeeting with third-party software RecMaster?
RecMaster is a GoToMeeting screen recorder with simple operations. Embedded with multiple recording modes, you can optionally record the online meeting on this platform. It enables you to preset the file format and supports instant sharing. Moreover, it allows anyone to record GoToMeeting without the permission of the host as well as the notification appearing on every attendee interface.
Feature comparison between the built-in method and RecMaster
| | | |
| --- | --- | --- |
| | Built-in method | RecMaster |
| Recording right | Attendees need to get the permission from the host. | Everyone who joins the meeting can record |
| Recording notification to member | Y | N |
| Recording format | Fixed format. In the local recording method, you need to manually convert the file into downloadable format. | Freely change the video format before recording. |
| Support instant sharing | N | Y |
| Scheduled recording | Y | Y |
| Maximum recording length | 2 hour | No time limit |
| Mouse effect/drawing tool | Only drawing tool | Both available |
| Built-in editor | N | Y |
This application supports GoToMeeting video and audio recording, so the following part will illustrate the recording methods separately. First, let's learn how to record webinar on your computer.
How to record GoToMeeting video conferencing with RecMaster
Step 1: Download and follow the wizard to complete the installation.
Step 2: Get started and select the recording mode
Full screen is suggested to record the conference with all the onscreen activities captured. If you only want to record the host interface, you can use the Custom area to adjust recording resolution to 1080p, 720p etc.

Step 3: Make settings
RecMaster provides personalized settings. Format, quality as well as frame rate can be decided according to your demands. For some tutorial meetings, the highlight of mouse track and sound is necessary. To configure this function you need to enter the settings interface. For the scheduled meeting, you can use the schedule task to release yourself from sitting along the computer. Finally, remember to toggle the system sound and microphone buttons on.
Step 4: Begin recording
Simply press the REC icon to start. There is an annotation icon for you to draw lines, add texts and make marks during recording.

Step 5 End and sharing
To end the recording, you need to click the Stop button. After recording, use the built-in editor to cut and merge unwanted moments.
How to record GoToMeeting voice call with RecMaster
As a screen recorder with audio, RecMaster also help voice call recording.
Step 1: Download and install the application.
Step 2: Choose the Audio Only mode with MP3/WAV format. You can capture your commentary and other people's ideas.

Step 3: REC to start.
Step 4: Choose Stop to end and freely share your recording.
What is GoToMeeting?
GoToMeeting, remote work software, is a platform that enables businessmen and professionals to meet virtually through an online meeting, desktop sharing and video conferencing. As a feature-rich application, it empowers you to express and exchange real-time ideas with your colleagues.
GoToMeeting Feature Summary
● Application sharing.
● Audio conferencing via phone and computer.
● Drawing tools.
● Full desktop sharing.
● Instant messaging.
● Recording/recurring meeting.
● One-time scheduled meetings.
● One-click high-definition HD video.
Conclusion
Now you can not only record your GoToMeeting sessions, but also record GoToWebinar content at ease. If you want to get rid of the cumbersome process and strict limitation, you can use the RecMaster to do that.
Related how-to articles:
How to record Skype calls
How to record conference call