In this article, you will get two best HD screen recorders to help capture 720p/1080p high definition screen video easily on Windows PC or Mac.
High-definition (later written as HD) is everywhere, because years ago Full HD, known as 1080p, has already become the norm. We can see ubiquitous 1080p televisions, computer monitors, tablets and still the smartphones. Meanwhile, HD content also scatter here and there including filmmaking, online streaming, gaming, surveillance and recording.
HD has many branches theoretically, say 720p HD Ready, 1080i/1080p Full HD and 1440p Quad HD, among which 720p and 1080p are most commonly used two. So this article will focus on how to record 1080p/720p screen on Windows or Mac computer. If you are willing to capture 4K Ultra HD screen video, please refer to this 4K screen recording guide. Before we cut to the chase, you're given two advises here:
– One is you'd better keep the default recommended and normal display and don't scale it to any other abnormal one for recording.
– The other one is if you upscale the recorded footage from low to high resolution, such as 720p to 1080p, 1080p to 4K, it will sacrifice the quality a lot. Hence, you are not suggested to do so unless it's a must-do.
#1 How to Capture 1080p/720p with Best HD Screen Recorder – RecMaster
RecMaster, as one of the best screen recording software for Windows and Mac, offers several recording modes to meet various screencasting needs of users. Plus its down-to-earth video settings, annotation tool and editor, you can get an ultimate control on what and how to capture.
As an easy best HD screen recorder, it enables you to record your entire desktop, your partial screen, as well as the front camera at 720p or 1080p definition. Surely some have requirement on the monitor display. You will know that after finishing the following part. Now please free download RecMaster and get it installed on your machine.
Then how to take a HD screencast with RecMaster? It depends on your monitor display.
– Since nearly all computer screens are larger than 720p, if you are going to record 720p HD desktop with RecMaster, choose "Custom Area" recording mode and select an area of 720p manually. Also, you can directly choose 1280 * 720 (16:9) option under Custom size -> For PC. You can lock the recording region and aspect ratio.
– For 1080p full HD screen recording, there are three possible situations:
1) When your display resolution is exactly 1920*1080, use Full Screen recording mode of RecMaster to capture a 1080p video with clicks.
2) When your display is larger than 1920*1080, such as 2K and 4K, use Custom Area mode to set the size at 1920*1080 by mouse or pick it at Custom size -> For PC. For full screen recording, you can only output a video with the same resolution of computer.
3) When your display resolution is smaller than 1920*1080, just like 1600*900 and 1440*900, RecMaster can't empower you to film 1080p video directly. At this time, you can walk it around by changing the system display into 1920*1080, or shooting regardless of the resolution firstly and then transform it into 1080p afterwards with video converter or editor.
– For HD webcam recording only, please use Webcam recording mode and define the resolution to what you want.
RecMaster features recording HD screen with audio, webcam, annotations and mouse movement effect. So set them well before the capture except the real-time annotation. What's more, RecMaster has two other useful functionalities: task schedule and video editor. The former one is designed for timed recording once you keep it running in background, and the latter one helps do easy video cuts when the HD video is too large or long.
Keywords: easy, free trial, multi-modes, annotation tool and editor
Related Guides: How to Record Screen at 16:9, How to Record Horizontal Video at 9:16 for Mobile on PC
#2 How to Capture 1080p/720p with Best HD Screen Recorder – OBS Studio
OBS Studio is a big name that's mentioned anywhere regarding streaming and recording. As the most popular free screen capture software especially among game streamers, OBS Studio is even superior to many commercial programs. But if you are pretty new to this tool, you may take time to get familiar with its workflow and settings. Surely, watching YouTube tutorials is the best way to triumph over the steep learning curve.
Without further ado, how does this best HD screen recorder capture 720p or 1080p video on Windows (10) or Mac?
– Firstly, download, install and launch it.
– Then, create a scene and related source(s) which can be a single Display Capture (the whole desktop), a Window Capture (any application you are running), a Game Capture, a Video Capture Device ( e.g the integrated camera), a Brwoser or any listed in the source options, or a combination of them.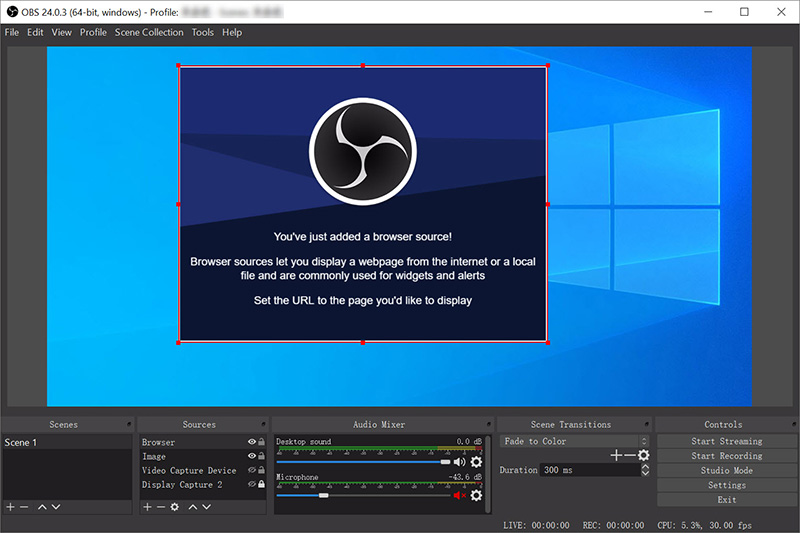 – Click Settings and navigate to Video control. There are two resolution options: Base (Canvas) Resolution and Output (Scaled) Resolution. Just as the name suggests, Base Resolution is the size of the scene you created while Output Resolution is the size of final recorded file. When they two are not the same, OBS Studio will scale the size and output the final recording.
One advice is that to guarantee a high quality of 720p or 1080p HD recording, you'd better have Output Resolution the same or smaller than Base resolution, and the FPS values no less than 24.
– Start and stop the recording. OBS Studio allows you to switch sources, or scenes during recoding. So you can realize the montage effect easily.
Keywords: Totally free with no watermark, not easy, no annotation tool or editor
Conclusion on HD Screen Recording
These two best HD screen recorders are totally different types of programs. You are free to use either of them to work out a 720p or 1080p HD screen recording on gaming, streaming movie, broadcasting, online meeting, or just your facecam, and then share it to the world freely.