Summary: You can record screen at 1080p with the below screen recorders!
It's no doubt that 1080p is currently the most popular and widely used high definition video display resolution appearing almost anywhere you can see. As online movie, live streaming and other videos are created in 1080p, the biggest benefit for you is that you can enjoy these videos in a clearer and more horizontal way.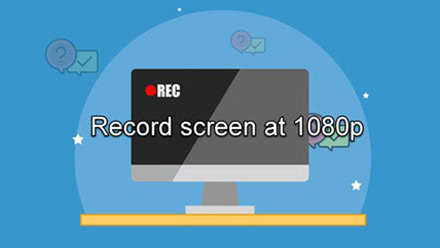 But what if you want to record onscreen videos in HD or record your computer screen at 1080p? The first must-have thing is to pick out one HD screen recorder and that's exactly what the post will tell you. So please keep on reading and get the way to record screen at 1080p with the most suitable HD screen recorder in this article.
1. How to record screen at 1080p with RecMaster
When it comes to record screen at 1080p, the most suggested 1080p screen recorder is RecMaster, a piece of high quality screen recorder to produce HD videos. It enables you to record HD screen in many occasions including high-paced gameplay capture, live streaming record, online video meeting and other crystal onscreen recording options. Moreover, it offers versatile features for 1080p screen recording like custom or full screen capture in 1080p, task schedule, mouse movement effect, unique logo and video editor.
In case you wish to learn more about this software, check the following guidance. Before we directly move to the point, please launch this application on your computer.
Step 1: Check the resolution of your computer screen
Go to Settings>>Display interface of your computer to check the default screen resolution and the desired one is 1920×1080 (16:9). If the resolution is wrong, you can manually change the resolution parameter. However, if your screen happens to be smaller than 1920×1080 (16:9) and you can't change the resolution choice, you're unable to produce 1920×1080 (16:9) videos with RecMaster.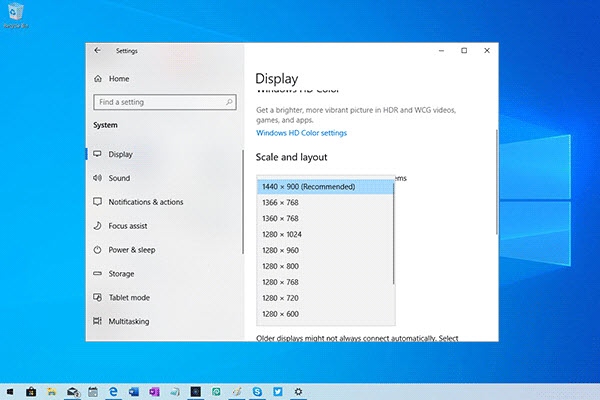 Step 2: Determine the recording mode
If your computer screen is 1920×1080 (16:9), directly choose the Full screen mode. While if your screen is larger than 1920×1080 (16:9) and you use the Custom area mode to change the resolution (You can pick 1920×1080 (16:9) in Custom area>> PC). For videos from Webcam only, freely employ the Webcam mode with 1920×1080.

Step 3: Change related configurations
RecMaster allows you to decide the involved configuration including video format, quality, mouse cursor effect, audio source and storage path. Optionally combine these selections to meet your need.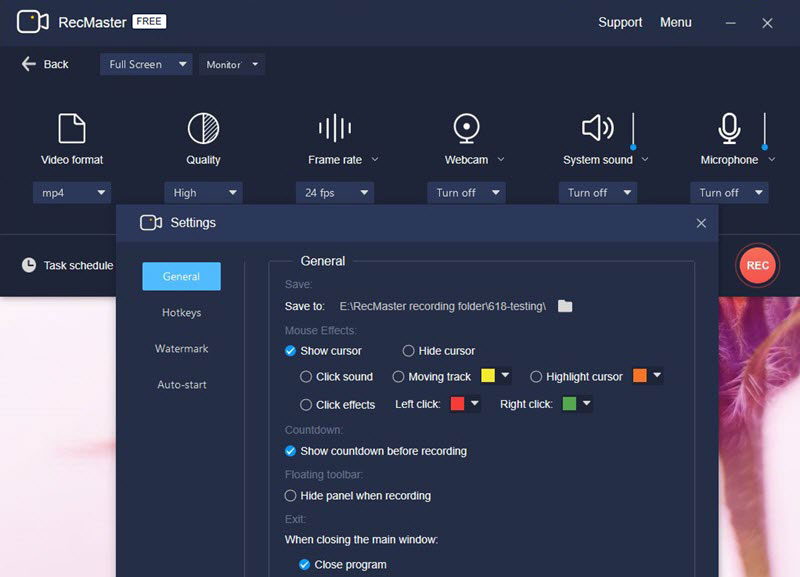 Step 4: Start recording
Use Hotkey combination Alt+1 for Windows or click REC button to begin screen recording at 1080p. Use the annotation feature to enhance your video by adding text, drawing lines and step-by-step guidance.
Step 5: End and Share
Simply end recording by pressing Stop icon. Now you can trim the recorded 1080p video with the built-in editor in case the video is too long or the size is so large. Share your recorded video to YouTube or upload it to Vimeo, Facebook and other social platforms.
Note: The recorded 1080p video is in crystal clear quality. However, if you enlarge the video resolution, you're likely to get a blurry video. So if you have unique demand for ultra screen recording like 4K, please follow how to capture 4k monitor on pc.
2. How to record screen at 1080p with Snagit
Snagit is a good choice for capture screen at 1080p, providing different types of recordings such as video display, audio output and screenshot capture. It's embedded with three modes in the main interface: All-in-one, Image, and Video. As one piece of the best screen capture software in 2020, anyone with Snagit can make high definition video with cursor capture along with edit function.
The reason why we pick Snagit out is the concise interface and powerful editor. After you've finished the screen capture, it goes automatically form move screenshots to the Edit section where you can make small edition like resize, annotate and add special effects to your picture. No matter videos or pictures can all be done with Snagit. Once you download Snagit on your computer, you can complete these steps below.
Step 1: Select the mode for video capture
Snagit offers two options for video capture: All-in-one and Video. To capture 1080p video, you need to preset the recording area. Click Selection>>Use fixed size>> change parameter into 1920×1080and then optionally turn on the microphone and other icons.
Step 2: Start recording
Click Capture to start or preset the Hotkey. During the recording, Snagit enables you to switch between screen and webcam.
Step 3: Finish recording
When it's time to end recording, directly click Stop button. If you've selected Preview In Editor, the recorded 1080p video will pop up instantly in the editor interface. Here you can trim, tag and save video as GIF and PNG.
After that you can share video to YouTube, Google Drive, Email…
Conclusion
RecMaster and Snagit are two excellent screen recorders to capture computer screen at 1080p. If you prefer a more flexible and personalized one, we suggest you to try RecMaster as your final choice.
See Also:
How to Record Computer Screen in 720p
How to Record Horizontal Video for Mobile on Windows