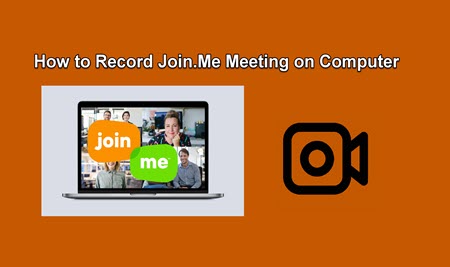 Join.me is a cloud-based online conferencing platform released by LogMeIn that packs with versatile features for people to meet online for various purposes in an instant. It used to be a free program available for desktop and mobile phone users to launch online meeting, make screen sharing and video conference, but now it is no longer free to host a Join.me meeting.
Even shift to a commercial application, it still offers free version with some function limits for meeting participants so that it's continuously welcomed by people. However, Join.me, as one remote work application, also has the dropdown for instant communication – that is nonrecurring. Therefore, people instinctively have the demand to record online meetings, save audio file or capture online interview videos for future reference. That's why we write this post to meet your goal by offering tutorials about how to record Join.me meeting on your computer as a host or participant.
Solution 1: Record Join.me Meeting Internally
Different from the similar product GoToMeeting that provides GoToMeeting internal recording service for free, Join.me only grants Pro and Business version subscribers the right to capture Join.me meeting with advanced features like Scheduling, Annotation and more. With a view to recording successfully, please make sure that you've already become the Join.me Pro or Business subscriber before directly trying.The meeting host can use the Join.me meeting recording feature to keep track of everything that happens in your meetings.
Below is how to record a meeting as host:
Step 1: Download Join.me software to your computer and log into your Join.me Pro or Business account to start a meeting as host. Invite your attendees by the personalized URL or the default link.
Step 2: To find the online meeting recorder feature of Join.me, you need to click … (Tool) button and choose Record option in the dropdown menu. Once you start recording, meeting participants will be notified that the meeting is being recorded.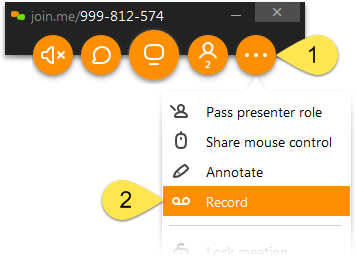 Step 3: During the recording process, you can make screen sharing, share mouse control, chat and send files. All the movements except for Participant bubbles, sounds played on your device and Join.me video can all be well captured. To end recording process, click the … (Tool) again to find Stop recording button. The recorded file is saved as mp4 format and you can share the files by links.
Attention: Once you send the video links, everyone has the right to download videos and re-share the video, so you need to think carefully before sending out your video URL. More importantly, under such circumstance you have to wait for a longer time before the recording appearing.
● When your meeting has a bad or choppy internet connection, it may take up to 20 minutes to process the recording.
● When audio participants fail to hang up, the recording starts to process after a 24 hour delay.
Solution 2: Record Join.me Meeting in Third-Party Way
A professional yet easy screen recorder is another workable way to make Join.me recording. There are tons of available screen recording programs on the market and here we would like to directly recommend a reliable desktop screen recorder called RecMaster for you.
RecMaster is a screen recording project compatible with Windows and Mac. As a multi-functional screen recorder, it can be applied to record Join.me meeting, Zoom calls, and other conference calls. Additionally, it can also act as a webinar recorder for any online video calls recording. Besides the basic recording mode, RecMaster comes with personalized settings and all-in-one recording features allowing its users to record, edit and share in one tool. As long as you can access to the Join.me meeting, you can record the session with ease no matter you're the host or participants.
How to make Join.me meeting recording with RecMaster
Step 1: Download and install RecMster software package to your computer.
Step 2: Choose suitable recording mode. There are versatile recording options for you. For video recording, you can choose between Full screen and Custom area mode. When it comes to audio calls recording, you can take advantage of Audio only mode. Here Full screen mode is our suggestion for better viewing experience.

Step 3: Make perfect configuration. RecMaster empowers you to set up video format, quality, frame rate and audio source to create any video as you like. Besides, you can make use of the task schedule tool (Windows only) to make scheduled recording project like regular meeting. Mac user can use auto-split function to automatically get videos in fixed duration or file size. Besides, you can preset the mouse cursor effect to focus on viewer's attention when you're recording video tutorial or presentation videos.
Step 4: Tab the REC button to get started. During the recording process, you can add notes and shapes by virtue of the annotation tool.
Step 5: When it's time for over, press the red button again to stop recording process. Now you can instantly view the recording file or cut out any unwanted clips with the built-in editor. After that, you can upload videos to YouTube or Google Drive.
If you're worried about information violation or abusive use, you can also utilize RecMaster to capture Join.me screen with watermark in text or image form.
Conclusion
We still suggest you to try the standalone meeting recorder RecMaster instead of using the paid recording way to record Join.me sessions on your desktop. Besides Join.me platform, RecMaster is also competent for RingCentral meeting, TeamViewer session, and Microsoft Teams Meeting recording in one-click. It's no exaggeration to say that RecMaster is the best bet to solve all your onscreen recording problems.