Either offline or remotely online, besides using portable smartphone and high quality digital audio recorder, you can still take advantage of your computer to conduct and record interview, no matter you are an HR, a video interview vlogger, a podcaster, or a common storyteller.
Since the worldwide COVID-19 pandemic is still on, it makes online communication a mainstream, be it online meeting, online education, or the topic of this post – online interview. In the HR field, there's a saying that interviewing online is the future. It really makes sense because both job seekers and employers gain great benefit from this kind of recruiting manner, bringing about higher hiring efficiency by easing or removing the burden of schedule, location, weather and so forth.

To initiate online interview on PC, generally you have two ways to go:
The first and also the most convenient way is simply to employ an online chatting app, on which you can directly talk with the interviewee for real-time evaluation. Nearly all common conversation or meeting apps can be your partner to do this task, for instance Skype, WhatsApp, Google Hangout, and Zoom.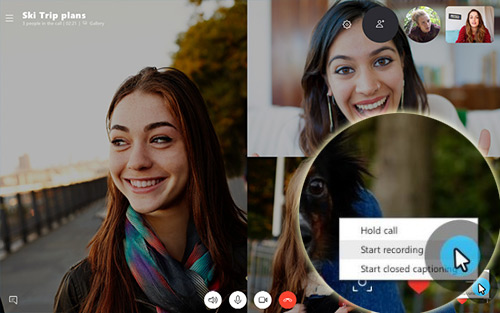 The second way seems more professional and it's exactly introducing a dedicated video interview software or platform to create jobs with a series of questions and requirements pre-made. All the job hunting candidates and their performance will be tracked until the final hire decision.
For high-quality podcast interview, the operation is flexible too. From microphone to handset to even the sound coming from system for remote interview, any desktop chatting app (e.g. Skype, Zoom), audio production software (like Audacity and Logic Pro) or online audio recorder (for example cleanfeed) could be the one to help.
How to Record Interview of Job, Podcast etc. on Computer
It totally depends on what interviewing program you are using and what's your actual requirement on such interview capture.
In short, since we are only talking about and also recommend you guys doing interview on computer due to the coronavirus breakout, if the interviewing tool you're using already has a integrated recorder or is a workstation to save the interview video or audio, such as Skype, Zoom, Audacity, and pro-level video interviewing platform, you can keep a recording of the job/podcast interview straightforwardly.
If there's no internal video recording functionality or this free bundled interview recorder doesn't satisfy your actual needs, say video has bad quality/is too large, you want to work out multi-track file with each audio source being a single one or similar, you'd better dig around for another more powerful interview recording program. Below are some top picks for various situations.
1. RecMaster – An Easy Screen Recorder Supporting Both Video & Audio Interview Capture
RecMaster is a simple desktop screen recorder with user-oriented interface and settings. With it, you are free to record online interview of any kinds with both your and the other participant's sounds alongside. Meanwhile, you can manually control the video format/quality/voice volume, add company logo watermark into video, schedule the mission to auto-start and -stop at a specific duration. For Mac users, it also gives an auto-split feature to save the interview video or audio in every certain duration or size.
By installing it on your desktop, you are given several recording modes to choose from. Do select the one as you prefer, and Full Screen, Custom Area and Audio Only are three suitable options for recording interview.

Detailed Controls on Interview Recording with RecMaster
Formats
Quality
Audio
Webcam Overlay
Schedule Recording
Real-time Annotation
Full Screen
MP4, AVI, FLV for Windows;
MP4, MOV, M4V for Mac
Standard
High
Original
(@60fps)
System Sound;
Microphone;
Volume adjustable
Y
Y (by defining the start and end time on Windows and setting recording duration on Mac)
Y
Custom Area
Audio Only
MP3, WAV for Windows;

M4A, CAF for Mac

Fixed
System Sound;
Microphone;
Volume adjustable
N
Y
Y

RecMaster makes recording interview especially the job one a piece of cake. After the capture, you are also empowered to do further basic edits on clips like cutting, trimming and merging and upload it to YouTube/Google Drive.
2. OBS – An Advanced Video Interview Recorder Supporting Up to 6 Audio Tracks
General recording apps don't feature recording PC screen with multiple audio tracks, while open sourced screen recorder OBS Studio is an exception. It allows users to mix up to six audio sources into video interview, which means you can sit with five interviewees with five different mics for the capture. Moreover, as a piece of freeware for live streaming, many streamers utilize it to stream interview on YouTube or so and undergo the recording at the same time. The only drawback of it is audio exporting is unavailable currently. So you have to extract the tracks from video afterwards.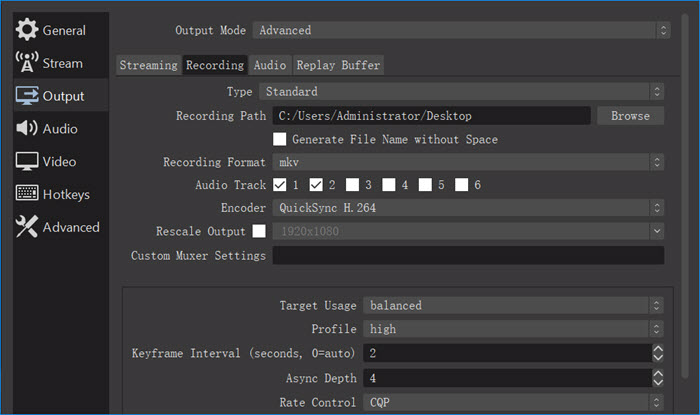 Detailed Controls on Interview Recording with OBS
Scene
Unlimited number with selectable transition effects between the switch.
Source
Window Capture, Display Capture, Video Capture Device, Audio Input/Output Capture, Browser etc.
Video Formats
MKV, MOV, MP4, FLV, TS, M3U8, and any FFMPEG friendly one
More settings
Base/Output resolution, Encoder, Automatically remux to MP4, FPS, Rate controle, Bite rate, Keyframe Interval and so forth
The diversified sources support of OBS gives people the freedom to add any interview related app, sound, and webcam to record. Unlike general recorders who only accepts one overlay, OBS has no limit on overlay quantify and works well with them, which makes it one of the go-to sources for advanced screencasting.
OBS Related: Fix OBS Black Screen Capture, Best OBS Settings for 1080p/720p Recording
3. DAW Software for Advanced (Multi-trackting) Podcast Interview
To create high quality podcasts on computer, when common audio recorders fail to work out what's expected, there are many solid free or premium DAWs (Digital Audio Workstations) you can consider to rely on, Audacity (cost-free for Windows), Logic Pro (for Mac), Adobe Audition, Reaper, Garage Band, just to name a few. (>> See Record PC Screen with Multitrack: Use Software or Hardware Recorder)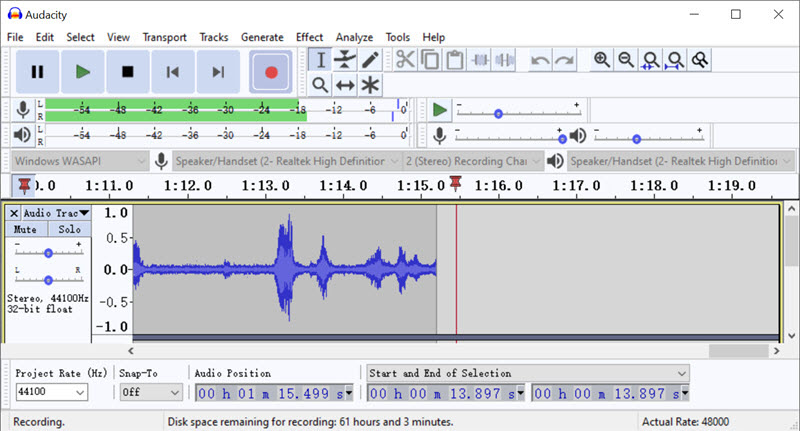 Ending
That's all about how to record interview on Windows or macOS based computer. To sum up, if there's no special demand on interview, you can make it happen on free Skype, Zoom and alike apps and enjoy the free recording capability to record interview. For more flexible interview documentation, you'd better alter the recording method or directly move up to a slicker workstation for such works.
You may also be interested in:
How to Record Skype Interview on Computer
How to Record Zoom Interview on Computer
How to Record Online Podcast on Computer as a Listener and Podcaster
Top 5 Video Call Recorder: Save and Store the Important Moment