How can you record your Skype call or meeting? You are not allowed to record Skype meeting by the host? Everyone knows you are recording and the file just keeps available for 30 days? Or it only creates MP4-formatted recording even when you just prefer an audio file? …
Skype is one of the most popular instant messenger programs using VoIP tech. As the replacer of MSN, this Microsoft application has over 660 million registered users worldwide until the end of 2019. With the web Skype or Skype installation on the desktop computers, laptops, iOS/Android mobiles, users can make free video or audio calls to friends, family members and hold or attend web conference with coworkers easily.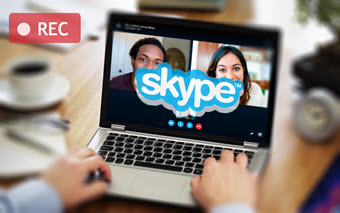 When it comes to any crucial Skype conversation, such as virtual interviews, business meetings, webinars, and valuable family talking, Skypers may want to save them for future reference or what. At this time, recording becomes necessary. So here it raises a common question: how can you record the Skype calls/meetings? Since Skype is primarily used on computers and tablets, this post will keep an eye on how to record Skype calls on Windows/macOS.
MAIN CONTENT:
1. How to Record Skype Calls/Meetings with Skype App?
2. How to Record Skype with Third-party Tool?
3. Skype Recording vs Third-party Recording, What's the Difference?
1. Absolutely, you can utilize the built-in recording feature of Skype!
Skype, in the very beginning, has no recording functionality until the developer preloads it into software in September, 2018. No matter you are outgoing or picking up a meeting, call, video or audio type, you could:
– click the "+" icon in the right-bottom corner and select Start recording to enable the capture. Then a notification banner will appear on the top so that every conversation participants could know that a Skype-launched recording is now going on.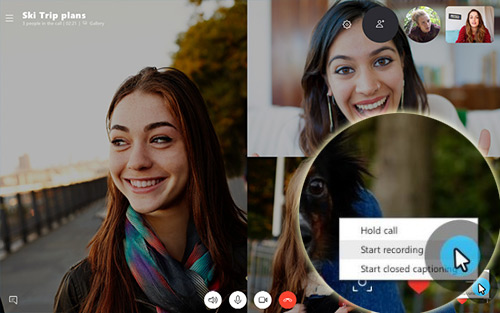 – click the plus icon again in the same position and choose Stop recording when the chat is over or hang up.
– When you end the recording, a cloud-based MP4 file will be stored in the dialog box. Both you and the other Skype call members are free to watch or listen it back. And by default, the recording will be available for 30 days. In other words, if you have any plan on this material, please remember to save it locally.
2. How to Record Skype (for Business) Call, Meeting with RecMaster on Computer?
RecMaster is an all-in-one desktop screen recorder for Windows and macOS. The multiple recording modes – Game Mode (for Windows only), Full Screen, Custom Area, Webcam and Audio Only make you the master of any screen recording tasks, Skype (for Business) recording included. Let's first check what RecMaster can do with your Skype web or app:
✓ Record any chat as you like, video call, audio call, meet now, and message;
✓ Record the whole desktop no matter what size of your Skype call window;
✓ Record a specific area you select manually;
✓ Record video and audio at the same time;
✓ Record the audio only for either audio or video call;
✓ Annotate the recording if necessary during the call;
✓ Cut unwanted parts off after recording;
✓ Share the clip to YouTube or Google Drive directly;
✓ The person(s) you are connecting with won't know you are recording. (Surely you'd better tell him/her/them you are doing this to avoid some legal issues.)
Then you can use RecMaster to achieve any of these in clicks. Below is an easy 3-step guide on how RecMaster records Skype calls/meetings on computer. Please download it according to your system and complete the installation beforehand.
Step 1 – Launch Skype Recorder and Choose a Mode
Just like we've mentioned above, you are free to do a full-screen video recording, a Skype-windowed video recording, someone's solo recording, and the audio recording.

If you choose any of the video recording modes, you can define recording format (to MP4/FLV/AVI), set video quality (to high/standard/original level) and audio volume. For audio recording, you can choose MP3 or WAV as target format and tweak the audio volume, too. These formats are supported by Windows and Mac RecMaster gives Mac friendly formats as well.
Step 2 – Start the Skype Call and Record
You can start the recording on RecMaster (by clicking REC icon or use Alt + 1 hotkeys) and then begin the Skype call or vice versa. If you are worried about the extra useless content before the real call, you can delete it with RecMaster's embedded editor.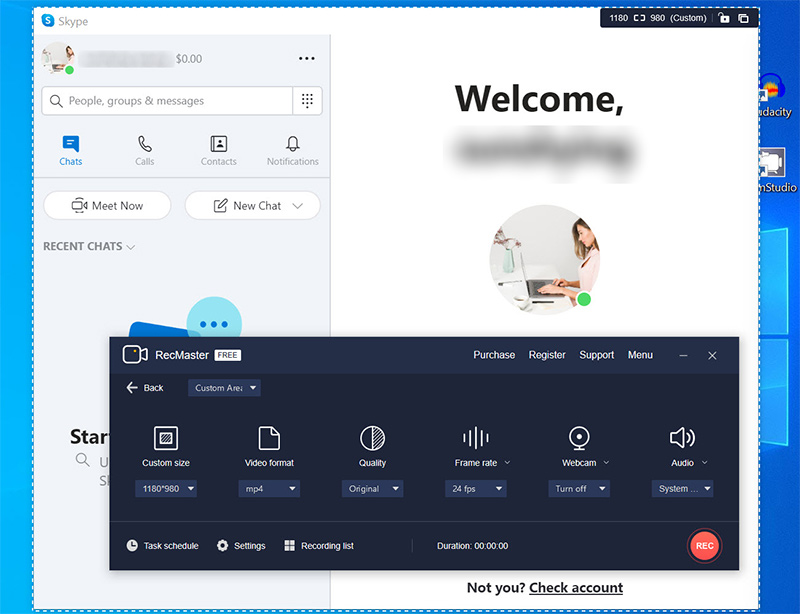 Generally, you can leave the recording alone and put you focus on Skype conversation. If you need to mark some special moments, you can turn to the annotation tool that's located on the floating toolbar. Also, for any long meeting or chatting, you can pause and resume the recording at any time.
Step 3 – End the Recording
Click stop button or use Alt + 2 to end the recording. Now you can go over the file, edit or share it to others.
3. Built-in Skype Recording vs. Third-party Screen Recorder
Many users wonder now that Skype could do recording itself, why there are so many third-party Skype recorders? And Skype preloaded recorder versus other Skype recorder software, which one is even better? We can't say either of them is better than the other one, but it's undisputable that built-in feature brings about much convenience while external screen recording software is more flexible on recording. To help you get things clear, here we have made a brief comparison on Skype's recorder and one of the best screen recorder for Windows/Mac – RecMaster.
● Built-in Skype Recording Feature
Pros: No download needed; Cloud-based recording that has no requirement on storage space and has no effect on computer performance.
Cons: Can only output recording file into MP4 (even the audio recording); All of the Skype members know that you're recording; Unable to annotate or edit at one go.
● RecMaster
Pros: Support selecting recording area at will; Support video quality settings; Output recording online video meeting or conversation into MP4/FLV/AVI, audio into MP3/WAV; Allow to take annotation during recording and edit video afterwards;
Cons: Need an extra download and installation; You have to consider about the free space if you record long meetings; It may affect the Skype call if your computer is an old machine.
From the pros and cons of both Skype recording feature and RecMaster recorder, it's easy to draw that every coin has two sides. Maybe for an occasional Skype recording, it's far more handy to make the most of Skype app itself. While for those who are a frequent Skype caller and need to take screencast from time to time, an independent Skype video/audio recorder gives a more flexible solution.
Final Words
Although Microsoft leaked words on the upcoming retirement of Skype for Business in 2021 (Microsoft Teams would be the fill-in), it won't have much influence on users who are chasing after freemium. And now with the usage exploding caused by COVID-19 and remote-work policy, Microsoft are still working hard to bring about more feature upgrades and improvements on Skype, wishing Skype to coexist with its new Microsoft Teams app.
We hope this how to record Skype guide will do you a favor for memento, learning or something else. Also, you can use this Skype recorder to capture Google Hangouts calls, Whatsapp calls and similar easily.
See also:
Record Video Message on PC: Enjoy without Time Limit
Best Skype screen recorder for desktop and mobile user