Annotations are designed to highlight videos and deliver intuitive manifest of videos. Common annotation tools indicate tools like brush, graphics, and texts, etc.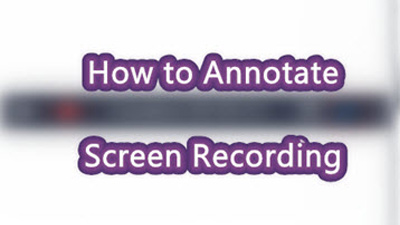 Nowadays it is quite ordinary to find annotations leveraged in videos, which could be reaction videos, tutorial videos, presentation videos, online courses, remote meeting videos. The majority of them are productions of screen recorders with annotations. So are there any screen recorders with good annotations, if the answer is optimistic, how do we annotate screen recording with them? This article will solve your concerns nicely and pretty.
What Are The Annotation Tools Await Us to Choose and How Do We Annotate Screen Recording?

RecMaster has the most standard annotation bar. You can find it out following instructions below:
1. Open RecMaster and choose a mode.
2. Three modes have been equipped with the feature of annotating. They are Game Mode, Full-Screen Mode, and Custom-Area Mode.
3. Click "Start recording" and a floating bar will promptly show up.
4. Hit the little brush in the right corner to call out the annotation bar.
5. RecMaster records users screen along with their drawings and highlights, they don't need to turn to another third-party editor to edit footage.
RecMaster is an excellent third-party screen recorder with functional annotation tools. It captures everything that happens on your desktop and allows users to add texts, graphics to their footage. Annotation is just one of the useful features of RecMaster, which in fact performs better in recording games and streaming videos.
RecMaster provides 5 modes for users to choose from – Full-Screen Mode, Game Mode, Custom-Area Mode, Webcam Mode, and Audio-Only Mode. RecMaster manages to deliver latency-free recording and along with FPS high up to 60 FPS. In a nutshell, if you have RecMaster within your hand's reach, it will do excellent jobs to annotate screen recording and more than that.
Situation 1: Annotate Online Courses
Udemy online courses are valuable for students. It temporarily substitutes traditional mode of learning by dint of its simplicity and safety especially during the COVID 19 period when remote work and online courses become mainstream. Annotating online courses helps to highlight important knowledge points and they could be regarded as tools to take notes right on the videos. But the first step before adding annotations is the operation of recording online courses, then it comes to the workflow – annotate screen recording.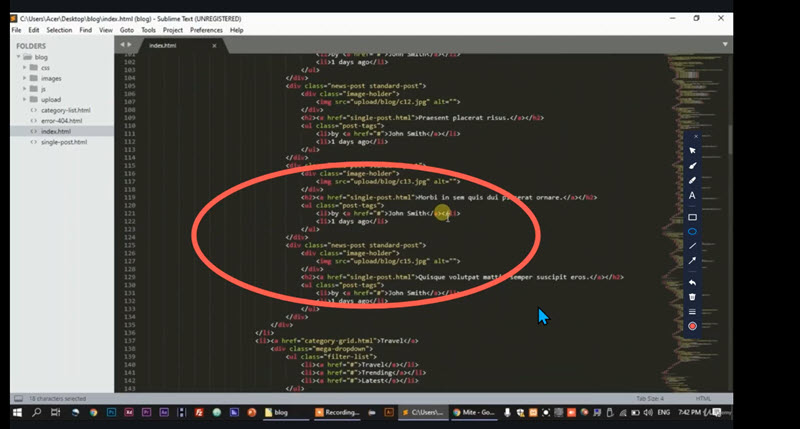 Steps:
1. Open RecMaster and choose Full-Screen Mode.

2. Tweak the settings before recording to make good quality videos. You just need to select video format > "high quality" > 30 FPS > Turn on webcam (it depends on you) > Turn on system sound > Turn off microphone sound. This way of setting up promises no-latency and high-quality recording which are crucial for the annotating work

3. Press REC and RecMaster begin to capture your screen.
4. Now feel free to add whatever annotation tools you like to make your footage unique and intuitive. Bunches of tools await you to use – Cursor, Brush, Eraser, Text , Rectangle, Circle, Inclined line, Arrow, Delete, Pen thickness. Make the best use of them and create unique videos of your own.
5. If you finish recording, press the same button to stop recording. Your footage is automatically saved to your local folder. You could find the exact footage on the Recording List. The recording list is also the place allowing users to do simple editing on their footage. They can trim their videos and cut unwanted fragments.
Situation 2: Annotate Presentation Videos
Videos need annotation to look instructive, while presentation videos are especially the kind that needs annotations. In the process of creating presentation videos, PPT is an inevitable form. However, People always avoid embedding annotations to their PPT in consideration that they could destroy the simplicity. But in the demonstration process, annotations are necessary.
Let's see how to how to annotate screen recording when your target file is presentation video. First of all, procedures of screen recording are indispensable too.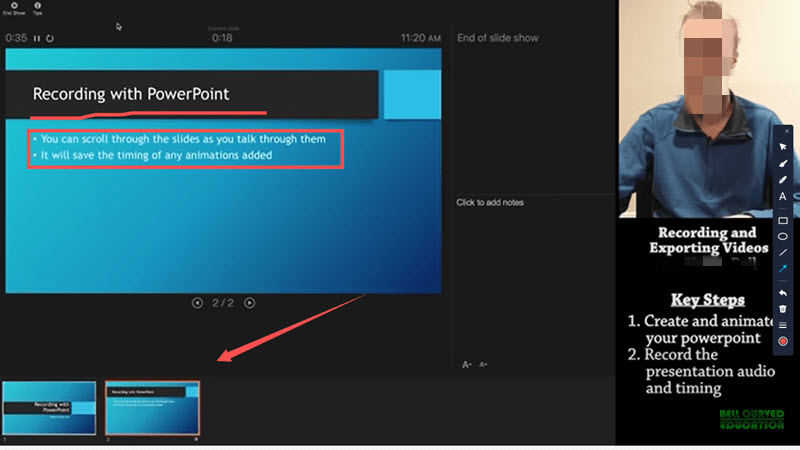 Steps:
1. Run your PowerPoint files in advance and be prepared for subsequent recording.
2. Activate RecMaster.
3. Select a recording mode and Tweak settings.
4. Start recording and add annotations any time you want to.
5. Go to Recording List and edit your video.
If not influenced by COVID-19, presentations could be clearer with presenter standing on a platform laser-pointing his/her PPT. Presentation videos with the talking head are seen as a last resort when group gathering is banned. Annotations inject new blood in presentation videos and they punch above their weights.
Ending
Annotations make videos look instructive and intuitive. RecMaster's annotation bar offers users a bunch of tools to annotate screen recording. Users could use brushes to draw and circle, use texts as means to add detailed information, use graphics to highlight a certain area, Use eraser to make their screen recordings clean again. Annotations are just convenient in highlighting presentation videos and online courses.
See also:
How to Combine Screen Recordings on PC [Two Ways]
How to Use Whiteboard Function during Screen Recording