You cannot ignore the FLV recorder if you want to create FLV videos. Producing FLV videos by screen recording software is an effective way.
Third-party screen recorders are nearly all equipped with the function to produce videos in FLV format. So the only difficult task turns out to be the choice of the right recorder. Premium FLV recorder not only records your screen but also provides you with multiple features to make the process easier and decorate your videos.
Today's introduction of an FLV recorder is powerful software, with its help you can save videos from YouTube, Vimeo, and DailyMotion. However, FLV files can be viewed on sites like YouTube, but once these files are downloaded they cannot be opened by common players such as Windows Media Player. So you may need a VLC media player to replay your FLV videos.
What Is an FLV File?
Flash is a container file format used to deliver digital video content (e.g., TV shows, movies, etc.) over the Internet using Adobe Flash Player version 6 and newer.
This format is supported in Adobe Flash Player and developed by Adobe Systems. Users of FLV format include Hulu, VEVO, Yahoo! Video, MetaCafe, Reuters.com, and many other news providers.
FLV has been long gone acknowledged as one of the standard video formats on the Internet (along with MP4, AVI). Nowadays, you can find traces of them from YouTube, Hulu, Netflix, and other major video-portal websites.
BTW, Flash Video is watchable on most operating systems via the Adobe Flash Player and web browser plugin. But there are two situations where FLV won't work with:
1. The first circumstance is that very occasionally, the downloaded FLV videos cannot be opened by common media players such as Windows Media Player.
2. The second situation is that Apple's iOS devices, along with almost all other mobile devices, do not support the Flash Player plugin and so require other delivery methods such as provided by the Adobe Flash Media Server.
How to Create FLV Files with FLV Recorder on Windows?
Third-party screen recorder – RecMaster allows users to make FLV videos as well as recording FLV videos from the Internet. It is uncluttered, intuitive and easy-to-use. Here are the step-by-step instructions for users to produce FLV videos with RecMaster. And some useful features are appended at the ending of the passage. Let's get straight to this tutorial.
1. Hit the buttons below to download RecMaster. Make sure your PC's operating system matches with the OS requirements of RecMaster.

2. To create videos in FLV format, there are 3 modes that could be helpful. Game Mode, Full-Screen Mode and Custom-Area Mode, all allow you to choose FLV as the target video format before the recording starts.

3. Tweak the settings.

This part of procedures is crucial, the options you configure before recording will directly influence the quality of your videos. Now let's check how to make the settings in their best conditions.
In the setting panel, FPS, video quality and video format (FLV) are the targets we are heading to.
FPS determines the fluency of your video, 30 FPS should suffice all the common recording demand like record YouTube live streams, record online meetings like BlueJeans meetings, etc.
The highest FPS that RecMaster can offer is 60 FPS, which is a parameter tailored for game recording, you can use it to record games on consoles, e.g. Wii U games and Switch Games. PC games are supported too, LOL, OSU!, PUBG, and so on.
Video formats, besides FLV, two more options are provided – AVI, MP4. MP4 is the most used format on the Internet, and AVI is wildly used in the Internet world, for its ability to deliver exceptionally high-quality audio fidelity.
Video quality – Choose 'Original' since it is the highest video quality.
System sound and Microphone sound –
Make sure you turn on System Sound or your videos will look as if they are muted. Turn off the Microphone sound so as to prevent RecMaster from recording noises.
The webcam option helps you add a corner-placed window showing your talking head. If you are not a game anchor or live-streamer, you might not need this feature.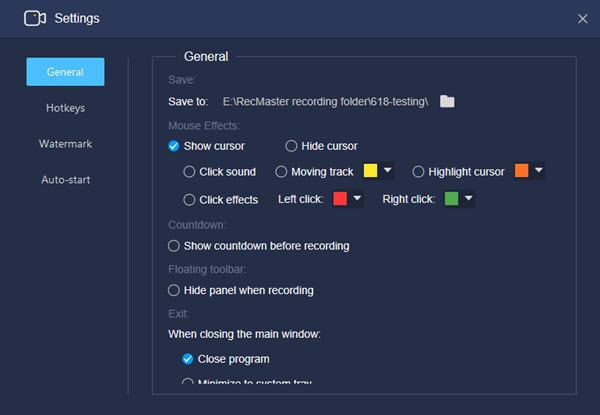 For more advanced settings like the mouse cursor effect, the customized watermark (Windows only), hotkeys, and saving path, the Settings panel will help you achieve these goals.
4. In the process of recording, you can add annotation tools to your FLV videos to highlight them.
5. When you feel the right timing to end your recording, call out the control bar and hit REC to stop the recording. After that, you can go to the Recording Bar to manage your footage, rename them, check their locations, and most importantly, edit them.
Editor's Final Words
This passage introduces a brilliant FLV recorder – RecMaster. This software is easy to come by, simple to operate and making FLV recording/FLV videos like a breeze of wind.