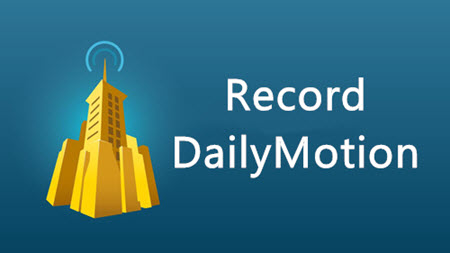 We are catered by bountiful resources from the Internet. Sports news, music news, political news and public news are springing out and taking over our eyesight. And as an all-in-one website, Dailymotion is the integrity of all kinds of information. Screen recorders play a vital important role in helping viewers to save their favorite content on Dailymotion – they record Dailymotion and store the videos to hard disc.
This article will show viewers how to capture the contents on Dailymotion with an effective tool.
Facts about Dailymotion
Dailymotion is one of the leading sites providing contents oriented from netizens, independent writers and commercial partners. Choosing streaming videos as its media, the platform opens users' eyesight, shares and brings what's newest to users.
Viewers could find videos according to their hobbies as well as witness contents from some famous accounts everything from the strange to the spectacular.
How to record Dailymotion? Here are two practical cases and let's find out.
What to Record on Dailymmotion?
● Record Dailymotion [Lives]

Live streams are one of the most easily lost types of videos. However, with the help of screen recorders, problems are solved instantly. What expanded later are concrete steps for recording live streams with handy recorder – RecMaster.
1. Open RecMaster and choose Custom Area Mode.

2. Drag and Draw to make an area for recording.
3. Tweak the settings before recording. Procedures are simple, you just need to select video format > "high quality"> 60 FPS > Turn off webcam > Turn on system sound > Turn off microphone sound.

4. Press REC and RecMaster begins to capture your screen. Press the button again to stop recording. Your footage is automatically saved to your local folder. You could find it at the Recording List.
● Record Dailymotion [the Most Recent videos]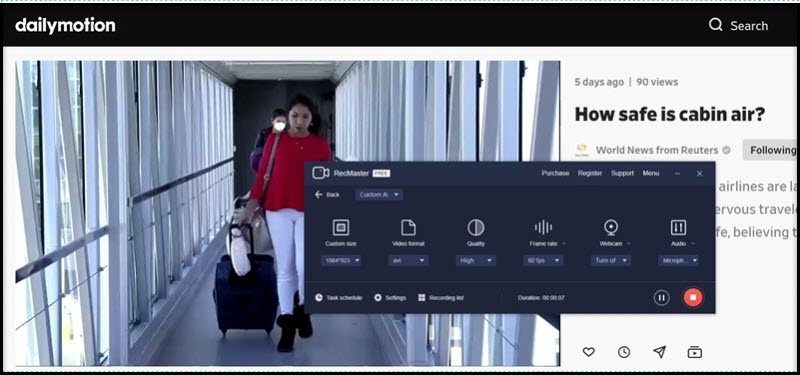 COVID19 is in appalling flourishing, news and reports are uncountable and overwhelming. As big video portal website, there is no way for Dailymotion to get out of the rut.
Netizens could find COVID19 relative information on Dailymotion effortlessly.
E.g. Video "How safe is air cabin" illustrates passengers' concerns over safety on airplanes. And record this kind of video is easy.
Procedures of recording this type of videos are same with what they take to record live streams. So here we don't expand on that.
RecMaster is skilled at recording streaming videos. It succeeds in supporting up to 4k resolution with crisp visibility. Furthermore, RecMaster allows its users to record at 60 FPS at most, which means users could record with no lag if their settings are set properly.
● Record Dailymotion's Streaming Audios [Rip Soundtracks Out of Music Videos]

Music column is one of the 4 major columns on Dailymotion. The following steps will show you how to record music videos or rip soundtrack from music videos.
First about music videos' recording, we suggest users to follow the exact procedures of Custom Area Mode.
As for ripping soundtracks out of music videos, there are some tricky steps in it.
1. Open RecMaster as normal and choose Audio Only Mode

2. And also, we need to set up specific settings for better performance of our videos.
Procedures are not so similar to those when we record in Custom Area but much simpler.

3. Choose audio format (mp3) > turn on system sound > turn off microphone.
Audio Only Mode is extremely friendly for recording Music videos. RecMaster used to deliver excellent performance on recording online radio, let alone ripping soundtracks from music videos on Dailymotion.
Precautions:
Videos from Dailymotion.com are copyrighted. Any redistribution of them without the consent of the copyright owners may be a violation of the law in most countries. This page is provided for compatibility purposes only.
What Is RecMaster And What Are the Features of It?
We've seen two practical cases of RecMaster. It delivers good performance to record Dailymotion videos. RecMaster is newly born prospective screen recorder software. It is designed with uncluttered interfaces and an easy mode of operation. Compared with some oldest screen recorders in the industry, RecMaster stands its ground firmly by a high price-performance ratio. Let's see some other awesome features of RecMaster.
Ending
Dailymotion consists of colorful contents waiting for cybercitizens to explore, with software RecMaster, users could attain places they never have been before. Custom Area Mode is suggested to record current news videos and live streams on Dailymotion. Audio Only Mode is recommended to rip soundtracks out of music videos on Dailymotion. Select RecMaster as your right hand and record Dailymotion with one go! As a versatile screen recorder, RecMaster can also help you record online meeting, make video presentation and more.