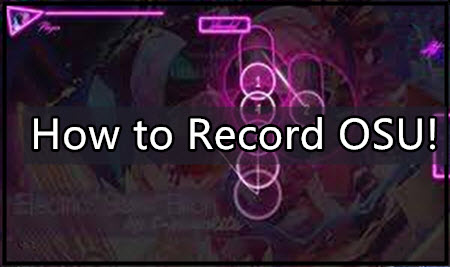 OSU! is such a unique game that it is nothing like any FPS games out there like CSGO, PUBG, Call of Duty, etc. it is all about rhythm and music. In this game, players have to follow the beats to do a series of operations like single beats, sliders with the reverse arrow, and spinner. Once you miss a certain number of these things, your health will decrease and you will just fail within a second that any luck can't help you here.
In the process of getting accustomed to playing OSU!, players cultivate superhuman reflexes, muscle memory, and in the end, they find themselves get better at FPS games. In a nutshell, OSU! gives out a different kind of 'FUN' that no other game could give you!
It is so important to record OSU! since this game easily dries your eyes and causes hypertension if you keep playing – it is of vital importance to rest and watch replays to improve your operations. Recording is also convenient in sharing splendid moment or achievements to players all over the world.
Why Do We Need to Record OSU!
Become an advanced player in OSU! is not easy, players have to explore his or her playing mode, their hitting ways, and more complicatedly, how to make the best of their two hands to overcome the most insane beatmap.
Recording OSU! under this circumstance is super helpful.
You can take OSU! recordings as replays of gameplay, which help you to memorize the beatmap.
Record your operations and mistakes for the subsequent amendment.
Record your high-score match and share it with players all over the world.
In this game, the complexity is scaled with stars, with the 1 star the easiest to try and the 7-star the hardest to play.
How to Record OSU! on PC with A Game Recorder?
The most efficient way to record OSU! on PC is to use PC screen recorder software. But the thing is that different recorder varies in features and quality, how do we choose the right recorder?
We should bear in mind two things when picking up the destiny screen recorder. Whether the recorder is capable of recording games and whether we are offered pleasant recording processes with great features.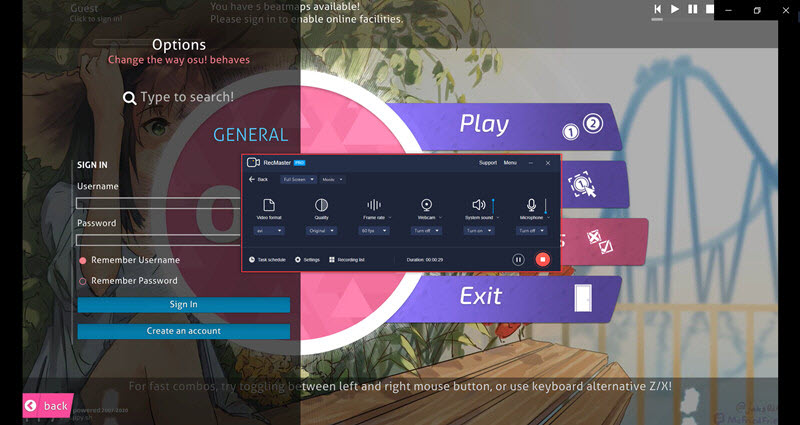 Screen recorder RecMaster happens to meet all the conditions we put forward – it offers users to record at 60FPS and also butches of useful features to decorate gameplay recordings. It can successfully record four major modes of OSU!, OSU! catch (catch fruits), OSU! taiko (drums), classic mode, and OSU! mania (Piano).
Steps of recording:
1. Download and install RecMaster.
2. Open RecMaster and Select Game Mode (Full-Screen Mode is also capable of recording FIFA). If you play OSU! in a window, you can also use Custom-Area Mode to capture your gameplay.

3. Tweak the settings. Make sure to turn on System Sound (capture the sounds in games) and turn off Microphone sound (avoid the capture of unnecessary sounds).

4. Use annotation tools (arrows, circles, rectangles, texts, and brushes) to highlight your recordings. You can use this feature to teach players to handle some 7-star hard beatmaps.

5. Check the footage in the Recording List once your recording is finished.
6. Edit your footage. RecMaster provides simple clipping and trimming for users, you can cut fragments that comprising bad operations or mistakes and take on nearly perfect gameplay.
7. After all the procedures of recording, now users are allowed to upload gameplay recordings to YouTube or Google Cloud Drive.
How to Increase the Performance of Your Gameplay Recordings?
● Improving video quality and using a proper video format
Use RecMaster and before you record OSU!, set the video quality to 'original' and then set the video format as 'AVI' – a special format that shrinks the size of video while preserving the quality.
● Eliminate stagnations and latencies
RecMaster is low-weight and consumes less CPU compared with other screen recorders. If you still find your recording full of staggers and lags, you should consider leveraging RecMaster's GPU boost [Mac version exclusive] to mitigate stagnations and latencies.
● Boost your PFS in 3 ways
1. Decrease resolution
2. Update your graphics card drivers
3. Change OSU!'s game settings
● Choose the most suitable devices to improve your operations thus creating good clips
By default, a lot of players will start with the mouse, since it's often the quickest available aiming tool by far. But there are multiple means of input to control the cursor and pop the circles:
1. Mouse
If you are going to stick to use the mouse, it's suggested to get a mouse with a cord for stability, as wireless mice can disconnect or stutter.
2. Tablet
If you are going to use a tablet, you should try and pick an area on the tablet that you can comfortably play with.
3. Touch Screen
Although rare, quite a few users play on a touch screen. You should try not to press too hard on the touch screen or find one that is quite sensitive to your tapping on the fingers, and better yet one that has low latency.
Final Words
This article is guidance for OSU! players to record OSU! gameplay clips. With the assistance of one of the best game recorder – RecMaster, players can create fluent and high-quality OSU! recordings for uploading, sharing, and replaying.