Training videos have played a paramount role for high-efficiency skill imparting process. It discards the dropdown of traditional training pattern that requires all the attendees to present in the office or any specific place. Moreover, it simplifies the complicated and repeated training into scheduled one. Once you create the training video, you can optionally share it to anyone you like.
To record excellent training videos, you need to work with a training screen recorder. No matter what type of training video you want to present, a suitable screen recorder for training can also be helpful to you. Note that you may need one to assist your daily work, here we recommend the two best choices for you.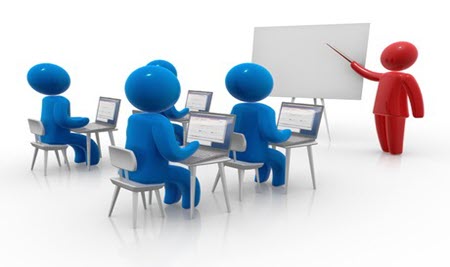 Best Desktop Training Video Recording Software for PC and Mac
We recommend RecMaster as the best software to record training videos on PC and Mac because of user-friendliness and high performance features. Once you enter the main interface, your view can easily focus on the right recording mode. It provides multiple screen recording modes to meet your different training video making demands. You can employ the Full screen mode to create online course, software demo and anything need to display in whole screen. For any training videos in specific region like presentation videos, you can directly take advantage of Custom area option. Even if you only need audio for lecture training, there is also the Audio only mode for you.
High performance is shown in these respects below. It comes with many necessary tools for training video producing. If you want to catch viewer's attention on any point, you can use the mouse cursor effect to do that. In case that you want to take notes in recording process, RecMaster also designs the annotation panel for you. Another scheduled or fixed time training video demand can also be accomplished by using Task schedule (Windows) or Auto-split (Mac) feature. Basic adjustments to the recorded training video can also be conducted using the in-built editor. Here is the workflow of RecMaster as a training video screen recorder.
How to produce training videos with RecMaster
Step 1: Download and install the software package to your computer.
Step 2: Determine one recording mode for the latter training video. As for general usage demand, Full screen mode is our suggestion for tutorial videos.

Step 3: Configure the settings. Set up video format, quality, audio source and webcam to your wanted options. To make further configurations like mouse cursor, move to the Settings button to enable it.

Step 4: Start recording process with REC button. During the recording process, you can free perform any actions you preset.
Step 5: End and edit recording. To terminate the recording, simply tab the Stop menu. You can use the created-in editor to perform any post-recording procedure.
If you're making training videos for YouTube, you can directly press the Upload icon to share your original content.
Best Online Training Recording Software for Windows and Mac
What if you don't want any local-installed training recording program to eat up limited storage space? Then you properly require the online program. There are so many online recorders for you but how to choose the suitable one tool may annoy you. Instead here we directly recommend the popular Screencastify for you to instruct online training recording.
As a Chrome screen recorder extension, it has all the basic features towards training recording. Whether you're brand new or a seasoned training video creator, you'll find that Screencastify can do it all. It offers three recording modes and allows you to embed webcam anywhere in your recording. Besides, you can narrate with your microphone to capture real-time narration. Although it's a browser screen recorder, it's also available for offline recording.
How to capture training video with Screencastify
Step 1: Find Screencastify extension on your Chrome store and add it to your Chrome toolbar. Remember to set permission of camera, microphone, drawing and annotation tools.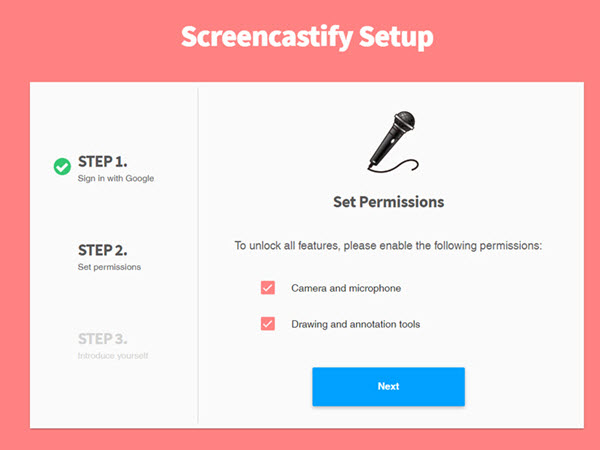 Step 2: Select one recording mode from Browser Tab, Desktop and Webcam Only. Confirm settings on microphone, webcam and other needed tools. When everything is settled down, press Record button to begin recording. You can enable the mouse pointer, pen, eraser to release creativity.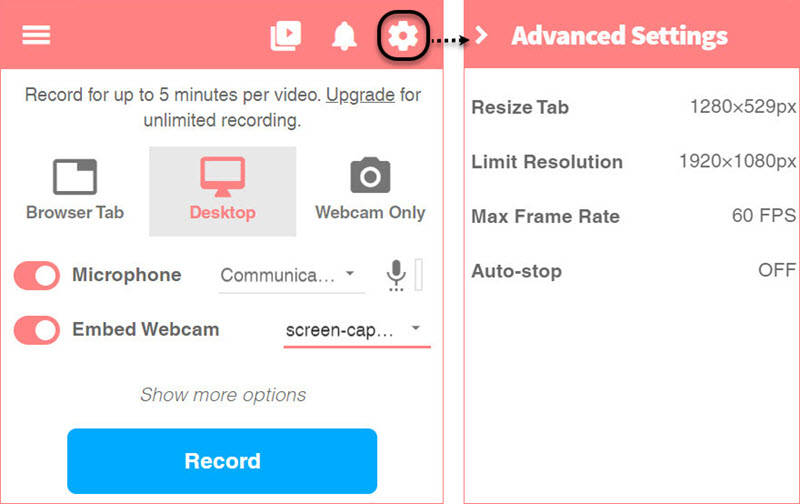 Step 3: Click the Stop button and you'll move to new interface named Video Page where you can edit, trim and share training video by sending links.
Conclusion
There are two best screen recorders for training video making. If you want to a more reliable one, you can use RecMaster. If you need an online choice, directly give Screencastify a try!