When it comes to learning, there goes a saying: A picture is worth a thousand words but a video is worth a million. Video makes it easier to understand the new knowledge instead of reading the literal description several times. In the ever-changing society, employees have to keep on studying new-born skills to improve their competitiveness and performance, students need to accumulate latest research results to broaden their horizons and even the general public should inevitably master the usage of high-tech to be in sync with The Times. In these conditions, watching training videos must be the most efficient and receptive method to comprehend the new content.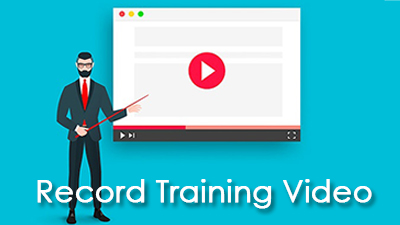 No matter you're an employer who wants to make employee training or a blogger who desires to drive traffic to your website through sharing a specific program tutorial or even a teacher who expects to clarify the doubts on new content for your students, recording training videos is the credible and time-saving solution to handle these problems. If you find yourself aimlessly wandering on the website to figure out suitable video software to record training videos, here we will tell you everything you needed to know about how to recording training videos easily by recommending 3 best screen recorders to you.
#1 – Best Training Video Recorder for Novice
#2 – Best Training Video Recorder for Intermediate Level User
#3 – Best Training Video Recorder for Advanced User
1. RecMaster: The Best Training Videos Recording Program for Novice.
As a beginner of this field, you prefer an application to record training videos which must be easy-to-make but feature-rich. RecMaster is exactly the one that you've looked for a long time. Entering the main window, you can see an eye-catching interface and the classification of functions is extremely clear. That's why we've picked RecMaster out from the market. As the easiest screen recorder for tutorial video-making,there are five recording modes for Windows: Full Screen/Custom Area/Game Mode/Webcam/Audio Only. Even it's the first time for you to use the application, yet you can quickly select the proper recording mode.
Another thing newbies care most is the utility. Microphone, webcam and multiple recording modes are essential for recording training videos. RecMaster supports multiple recording modes with optional devices combination for Windows. When making some software training videos, you can choose to capture the whole screen or a portion of your screen with webcam and microphone turned on or not. What's more, additional functions like picture-in-picture, annotation and editing are also accessible. You can rely on these functions to smoothly complete recording. More importantly, all the processes can be carried out by simply one-click operation and then you can get the desired video.
How to use RecMaster to record training videos
1. Prepare all the things you need to use like PowerPoint, outline etc, and then launch this software program.
2. Double-click your mouse to evoke the program and then select the recording mode. To make a more vivid and attracting how-to tutorial, many users prefer to use Full Screen mode to present the whole display with webcam and microphone voice.

3. Press REC button to start. If you need to highlight and emphasize some important information, click the annotation function on the floating bar to spotlight the key points with arrows, callouts etc. What if you have omitted some crucial points in your PowerPoint or Words, you can also use the annotation function to add text and explanatory notes.
4. With everything finished, simply click the Stop. The Recording list will pop up automatically and here you can have a general review of the video. What you need to do if you don't satisfy with some clips of the video, with the cutting function you can easily remove these unwanted footage without restart.
5. Now you can optionally download or upload the video to YouTube or other social platform.
2. Filmora Scrn: The Best Training Videos Program for Intermediate Level
As an intermediate level user, you may concern more about the utility of the screen recording software. Except for merely recording, some fundamental editing functions are also required. Filmora Scrn, one of the best screen recorders for Windows, is better for you to finish screen recording with the built-in editor. This application supports different demands of training videos. Some new products training videos can be recorded in the full Screen mode with frame rate up to 120, which is advantageous on recording the use of new games to show the slow-motion of some key actions.
For other training videos which only need narration, you can simply turn on the webcam and audio. Then your voice as well as your face will be captured simultaneously, which is more attractive to the listeners than plain description. More importantly, the screen recorder has a built-in editor with some advanced operations. It's inevitable to capture some unwanted clips especially in the beginning and ending part. Use the cut function to remove unwanted footage instead of recording again. Moreover, Filmora Scrn also enables users to operate some complicated editing like trim, speed change, opacity adjustment…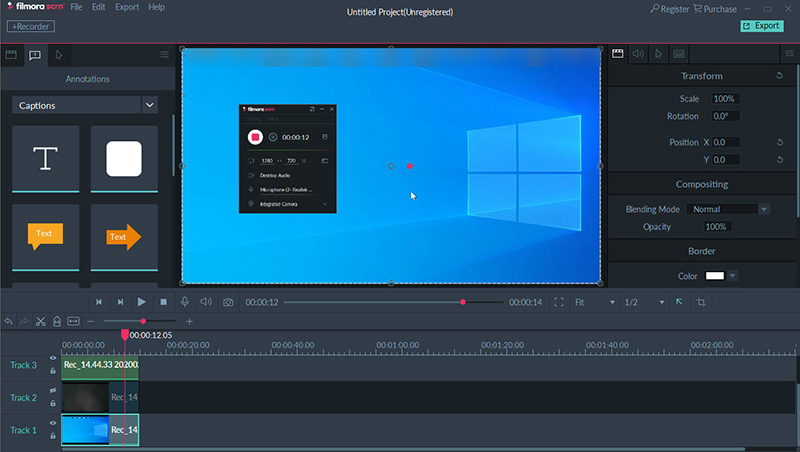 How to use Filmora Scrn to record training videos
1. Download and install the software.
2. Choose between Quick Capture and Get Started. If you want more personalized settings, select the latter one to set parameters before recording. Click the Advanced button to change the file destination for later reference. Recording modes such as full screen, custom area and a target window recording are all reliable.
3. Press capture button to get the capture started and a minimal operation window will appear. Choose Start capturing then begin to expound the material you prepared. The recording process will continue unless you manually stop the task.
4. Click Stop and the software will automatically shift to the editor window where you can play, edit and cut the videos.
3. Camtasia: The Best Training Videos Program for Master
Demanding more basic editing functions and flexible settings options of a training recorder, you must need the help of Camtasia, which provides all the important features that make your video distinctive. Important features including full/custom screen recording, webcam and audio capturing are supported by Camtasia. More importantly, the editor of Camtasia is the powerful .Sometimes the videos are not perfect and you may need some editing operations to make it look more professional. Despite of basic editing functions like cutting, trimming, Camtasia has a feature called smart-focus, enabling users to record only the active part of the screen. This function plays role in multi-screen recording. Even with several windows opened on, Camtasia will only focus on the interface you're operating to attract the audience's attention. More editing choices like splitting, adding effects, creating quizzes are all available.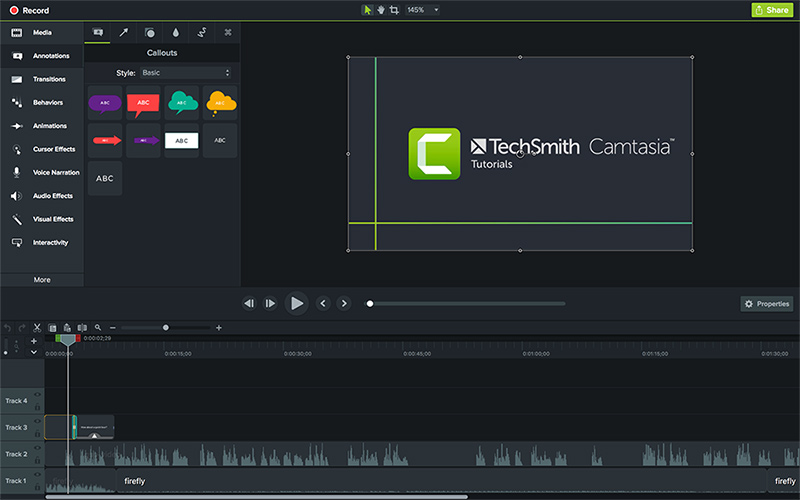 How to use Camtasia to record training videos
1. Download and complete the installation.
2. Open the application and click Record the screen Select the area of the screen you want to capture. You can use either the default choice of full screen recording or the Custom mode to capture a particular area.
3. Decide the options of audio and webcam by clicking Recorded inputs and Audio. By default, the microphone and system sound will be captured simultaneously when recording screen. Turn off the system sound if you only need narration.
4. Now hit the Record button and a countdown will appear. The recording will instantly begin after the countdown.
5. Press the Stop button after you've finished recording.
Now you can edit the video or directly upload it to Vimeo, YouTube….
Final words
Training videos are effective and helpful to both company and individual. Simplify your recording process and create more productive training videos for the needed.