This is an easy guide on how to capture any screen activities on Windows 10, 8, 7 and XP computer, with audio or not, in full screen or just a selected area.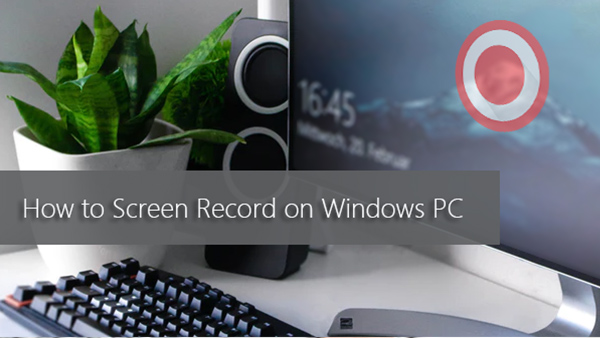 Video is changing our lifestyle! We spend more time on video streaming services to enjoy movies, TV shows, sports matches, live broadcasts and such. We prefer to chat with family and friends through video or audio calls rather than typing long texts slowly. Even when we want to learn something new, we tend to search and look into the explanation or teaching video online instead of struggling with the word-to-word paper in the library.
But life is not always so perfect, because you will come across certain troubles with video such as: you want to download your favored films or courses for (offline) watching only to find the platform doesn't endower you to do so, you'd like to capture some on-screen actions for making demos by yourself but don't know how to, you've tried many "best recorders for Windows" but they just disappoint you for different reasons…
Well, with the help of a feature-packed screen recording helper like RecMaster, you won't have such matters any more.
How to Capture Various Screen Videos on Windows 10, 8, 7 and XP
We are determined to make complicated things easier to cater to so many screencasting beginners.
Step 1 – Prepare for the Recording.
Before the real screen video capture on your PC or Mac, you should take a look at the four things (listed below) you may or must need to complete the recording. Writing script and equipping your computer with mic are recommended for vlogging starters to produce smoother video with high quality narration. Of course it's not a big deal if you are doing an informal recording.
– A screencasting plan with script (optional)
– A separate and decent microphone (optional)
– An external front camera (it depends)
– A screen recorder for computer (a must-have)
– An advanced video editing tool (it depends)
There are many screen recording choices and considering the diversified reasons of screen recording, we here picked RecMaster, an easy yet feature-packed (easy editing features included) desktop screen recorder, as the screencasting tool in this how-to demonstration. You can free download and set it up on your Windows or macOS machine right away.

>> Check Why Do You Need a Screen Recording Program?
Depending on the situation, you are suggested to test and simulate the whole recording process beforehand to avoid some unwanted captures or awkward stuttering.
Step 2 – Start the Screencasting
With both your hardware and software get ready, you should launch RecMaster and select a recording mode on the main interface. The multiple choices enable you to take screen video on any specific active area or the whole desktop with audio. If you'd like to create picture-in-picture effect with your facecam in, easy too!

Then do settings on the secondary main window or from its Settings panel.
The main windows allows you to define video format, capture quality, frame rate, webcam mix and what audio to record alongside. And tap Settings icon from this window, more options are given to customize the file saving folder, enable and highlight mouse cursor, add watermark (if you tend to mark your personal or company logo) etc.
During the capture process, annotation is also available to mark, highlight, explain the content. Therefore, don't ignore this mini yet helpful feature labeled in a paintbrush icon on floating bar, especially when you're undergoing a tutorial screencast.
You are free to pause and resume the mission. When the recording is over, end it and the file will get loaded in a recording list where you can click related buttons to replay, edit, and share (to YouTube). Plus the default hotkeys are shared below, with which you can unlock the power of one-type operation.
For Windows: Alt+1 to start/pause, Alt+2 to end recording, Alt+3 to show main window, Alt+4 to hide or show webcam.
For Mac: ⌘1 for starting/ending recording, ⌘2 for pausing and resuming the recording, ⌘3 for showing main window.
Making a screencast on what's going on on your computer is an easy and great way to impart knowledge, share special moments or thoughts, and transmit online sources to hard drive. And the multiple modes and pre-settings of RecMaster can meet nearly all screen recording needs, including multiple-monitor recording, scheduled recording.
Do You Need A Screencasting Application?
Taking screenshots seems much easier than making screencasts, because you can take advantage of your computer system, communication application or browser directly, plus keyboard shortcuts, to make it happen. While capturing screen video is not the same thing. Since it requires more complicated workflow, more A/V (audio/video) grabbing and processing techs and more computer sources to handle this task, the bundled tool or feature on screen recording gets less coverage. Even Windows 10 has Game bar and macOS has QuickTime and Screenshot Apps internally to realize screen recording, their performance is quite limited, say the ability to decide capture region, grab webcam image and internal system audio.(>> Screencast Software for Windows 10)
Well, pouring these words out is not telling you how hard making screencasting on Windows or Mac is, but help you understand why owing a standalone and dedicated screen recorder is so important, in especial you are ready to do it often, unsatisfied with a basic record-and-save screencasting tool and want to ask more from it.
What's the Best Screen Recorder for Beginner?
Based on the average computer skills of screencasting green hands, we don't suggest any high-level utility or  post-production behavior at the very beginning. Therefore, the best program is the one that gives cover-all screen recording capabilities and has easy internal editor, with a reasonable price between $19 – 40 (if you have such plan to purchase). Like other types of software, screen recorders also have different purchase plans for different usage periods and computer numbers, such as 1-year license for 1-pc and life-time license for 2-pc. You can adopt either according to your actual condition.
RecMaster, as one of the best screen recorders for Windows and Mac, is an ideal choice for newcomer. With it, you can work out a perfect and high quality screen recording even you don't exactly know how to make a screencast before. Currently, since many workers and students are involved in remote-work-mode due to the COVID-19 pandemic, in order to help people work more effectively, RecMaster's developer is now distributing a special discount to all common users. Now you can go and get the $5 coupon code from the official purchase page of RecMaster.
Hot COVID-19 Related Sources:
Best Remore Work Software
Tech Tools for Online Course
How to Record Online Meetings