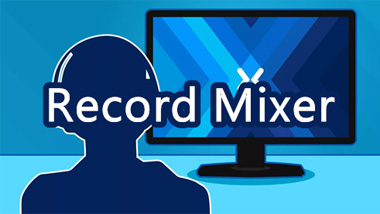 Mixer is a Seattle-based video game live streaming platform. The service carries an emphasis on interactivity, with low stream latency. Viewers are catered with bountiful stream resources on Mixer, live broadcasts include the most popular video games currently – Fortnight, Apex, Call of Duty, etc.  Mixer is a platform allowing viewers to interact with the stream e.g. views can vote, trigger effects, send "sparks" thus to exert influence on streams.
Since Mixer transmits through the form of streaming, this is a turbine flow enjoying short life expectations. To save our favorite content we could consider leveraging useful screen recorders to record Mixer streams and radios.
Table content
How to Record Mixer lives with Mixer's built-in feature
How to Record Mixer streams and radios with third-party tool
Record Mixer streaming Clips with Mixer's Built-in Recorder
● Who can make Mixer clips?
1. Partnered or verified channel owners could make Mixer clips in the first place.
2. By default, channel editors can create clips.
3. Signed-in viewers are allowed to make clips if they attain the required channel rank level.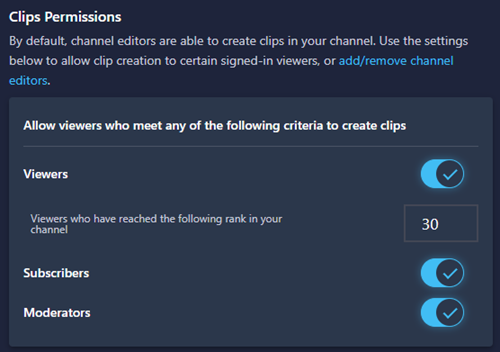 ● How to make a live stream clip?
Steps:
1. In a web browser navigate to Mixer.com and log in.
2. Click your profile photo in the top right, then click on Dashboard in the menu.
3. The Broadcast Dashboard is where all of the settings for adjusting users' streams located. Under preferences, select "Keep recordings of my streams" and save this change.
Once enabled, any broadcast longer than 5 minutes will be automatically saved as a VoD. You can watch, download, and delete saved VoDs from your "Manage Channel" page on Mixer.com.
● How to save current Mixer streams?
Clips can be downloaded from the Clips modal on desktop only (desktop only).
● What're the deficiencies of Mixer clips?
1. A short length of clips – each clip of a channel is capped at 15 to 60 seconds.
2. Hard-to-get Permissions for recording clips.
3. Clips expire in 90 days (some are capped at 15 days' span).
About these deficiencies, recording with Xbox Game could be considered as a solution to them. Specific procedures of recording games and live streaming take after those of recording real-time gameplay. Game Bar as a built-in recorder in Windows 10 is free, but they lack many important features. Professional third-party screen recorder like RecMaster does a great job in this particular field on the contrary.
How to Record Mixer Streams and Radios with Third-Party Screen Recorder?
RecMaster is a third-party screen recorder with integrated features in recording live gameplay on Mixer. It fundamentally has 5 recording modes: Full-Screen recording, Custom Area recording, Webcam recording, Game recording, and Audio-Only recording. Editing features comprise useful annotation tools helping to add enhancement to your footage. Beyond that, a simple built-in editor for clipping and trimming helps you to cut unwanted fragments.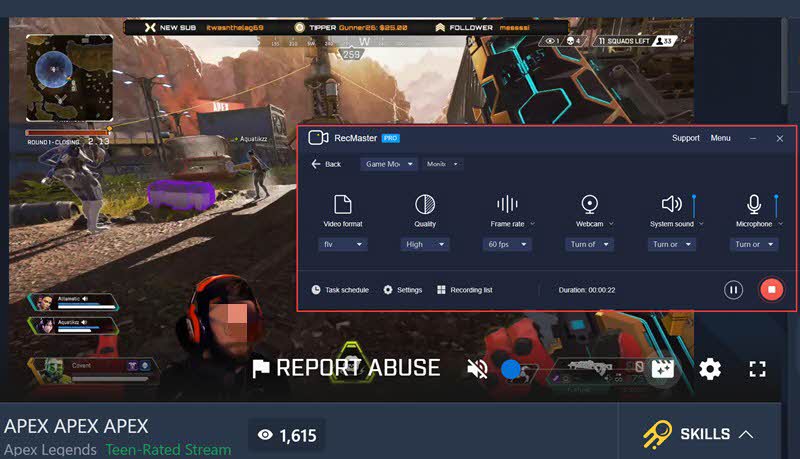 The best part of RecMaster proves to be its capacity to record at up-to 60 FPS, an optimum premise for recording Mixer streams and even real-time games. RecMaster has dealt with demands over streaming videos and audios, let's have a clearer look at its performance when record Mixer streams and radios.
☛ How to Record Mixer Streams with RecMaster?
1. Steps: Open RecMaster and Select Game Mode.

2. Tweak the settings. Make sure to turn on System Sound (capture the sounds in games) and turn off Microphone sound (avoid the capture of unnecessary sounds).

3. Feel free to add annotations.

4. Check the footage in the Recording List.
5. Edit your footage. RecMaster provides simple clipping and trimming for users.
☛ How to Record Mixer Radios with RecMaster?
RecMaster has a recording mode super compatible with streaming audio called Audio-Only Mode. In this mode, users could record radios on Mixer without effort. Besides, RecMaster could be used to record any songs or podcasts to users' local folders with high quality.
1. First and foremost, activate RecMaster and choose Audio Only Mode to record Mixer radios.

2. As usual, you should set up all the options before recording officially. Audio Format supports mp3 and wav. Remember to turn on system sound and turn off microphone sound with regard that you want your radio file unbothered by microphone noises.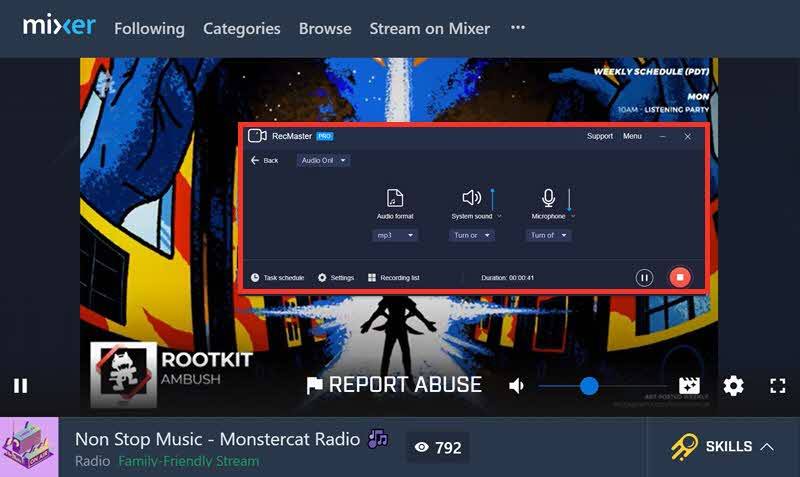 In the last step, click the red button and start recording.
3. Manage your recording process through a floating bar that resembles the picture below.
4. Click Stop and the interface of Recording List will prompt out showing you the audio file.
Ending
Mixer is a paradise for avid gamers. It also serves as a platform for the anchor to pursue their dreams. This article prepares two desirable approaches for viewers to record streams and audios on Mixer. Compared with other game streaming platform like Twitch, Mixer's default recording feature is not powerful enough. The recorder has restrictions on clips length and the clips expire in 90 days. Professional screen recorder software RecMaster frees viewers from time limitations. It provides more than premium conditions for recording, users of RecMaster will be enabled to record fluent and crisp videos with proper settings. It delivers excellent performance when record Mixer streams and radios, we highly recommend viewers adopt RecMaster as their right-hand assistant.
You may also like:
How to Record Live Stream on Computer
Top Game Recording Software for Windows
How to Record PC Games
How to Record Gameplay on PS4