All gamers know Twitch – a place they can not only watch live eSports competitions of any kinds, but also are able to participate in this video contest by displaying their own gaming shows or creative content easily. Absolutely, Twitch TV, as the world's leading live streaming platform (especially for video game) from Amazon, has a solid streamer base and stable viewer increase year after year. Even YouTube, the king of video hosting sites worldwide, is putting its efforts on earning a piece of the gaming market. However, it still has a long way to go to, although a few influential game broadcasters were won over from Twitch recently.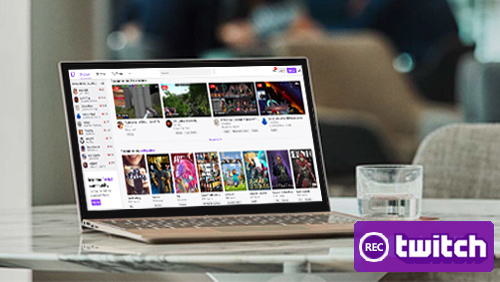 Then how long have you been addicted to Twitch? Years or months, you are seeking for a way to record Twitch stream here, maybe for sharing online, saving locally or generating some revenues. Here RecMaster is a recommended Twitch screen recorder thanks to its ease-of-use, full-featured capture modes and settings. With it, you can capture any online streams, live broadcast or video-on-demand, effortlessly with (1080p @60fps) high quality. Below is the how-to instruction.
How to Record Twitch Stream on Windows PC or Mac
1. The first thing you need to do is get the recorder downloaded and installed on your Windows or Mac based computer.
2. Then open it up and select a proper recording mode. For Windows users, both Game Mode and Full Screen are good choices. And for Mac users, since Game Mode is now unavailable, Full Screen is the one to go. The difference between Game Mode and Full Screen is that Game Mode is compatible better with on-going gameplay than Full Mode. That's to say, if you're not a streamer and want to recording while real-time streaming, they two have no obviously distinction.

3. Game Mode or Full Screen, setting options are the same. You are free to record Twitch streams at MP4, AVI or FLV at a fps value between 20 to 60. Three quality levels are also provided as standard, high and original. You must know that with the same recording lengths, the higher fps and quality level you pick, the larger file size the recorded file will be. Besides, do remember turn on the system sound if you don't want to get a silence video. Microphone and webcam are usually unnecessary if your role is a viewer, a subscriber or a follower.

Another useful feature we must mention here is Task schedule. For filming any living event you can't be here to watch or record, you can create and enable a scheduled screencast mission on RecMaster. Once you open the streaming window and run the software in background, it will start the Twitch capture automatically and timely.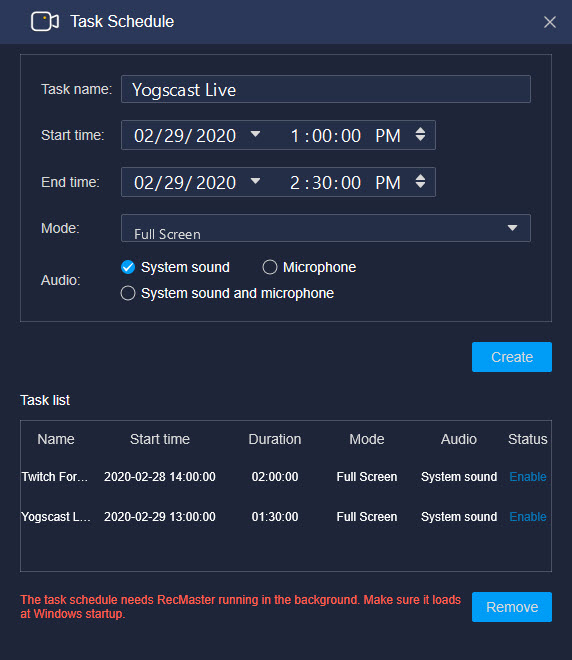 4. Press REC button to get the work started. And you are allowed to pause and resume, and stop it at any time. Note that if you are leveraging the Task schedule tool, you don't need to do any operation like tap the start icon. Just keep it running all the time.
5. When the Twitch stream capture is over, you can cut unwanted parts off video with RecMaster's built-in editor. Proven you are taking your own streaming piece, you can share the clip straightforward into YouTube from RecMaster in clicks. However, if you are a common audience and have no permission of the streamer to share, don't do this because you will violate the copyright of the content owner.
This is how RecMaster captures Twitch streams on computer or laptop. As a multi-functional screencasting program, RecMaster is not only a Twitch screen recorder, but also a live stream recorder that's capable of recording Mixer streams, Facebook/YouTube Lives, Skype/WhatsApp calls and so forth.
More About Recording Twitch Streams
By default, Twitch's VOD (Video on Demand) feature records all previously streamed lives and allows both streamers and fans to watch the content at a certain period of time via a link. But the normal users can only enjoy a 14-day happy time and affiliates and partners are offered with an expanded watching time of 60 days. After that, the archive file will be deleted forever. So take your time to transmit the streams you like to hard disk or other perpetual place.