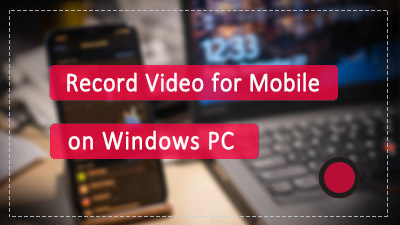 Don't know how to screen record horizontal video on PC? Obtain a screen recorder app with ready-made Mobile Phone Mode.
From online marketing to mobile product plan, web design to mobile friendly content like video clip, "Mobile First" is becoming a key strategy for all online-related work. Being connected with screen recording, mobile-friendly is also pursuit by many computer users. That's because on one hand, some PC users only create screencast files on PC for uploading onto mobile apps like Instagram, TikTok and so forth, or sending to other people to enjoy on the smart phone. On the other hand, as a video nerd, when watching and wanting to save some undownloadable mobile video, obtaining an one-click recording method makes everything simple.
How to Record Horizontal Video for Mobile on Windows 10/8 etc.
In order to help those PC customers to work out 100% mobile-sized horizontal video recording, RecMaster, as one of the best screen recorder for Windows, delivers them a handy tool called "Mobile Phone Recording Mode" to make 9: 16 video to fit for mobile playback perfectly. Now let's get together to check how RecMaster produce such video.
Step 1 – Free download RecMaster and finish the installation
Without getting a license, you can free download and try RecMaster's main features including Mobile Recording Mode in minutes. It's enough for you to check its performance and whether it's what you want.

Step 2 – Prepare your content to recorder and launch RecMaster
No matter you are a video creator or a common audience who wants to save some online horizontal streaming to local hard disk, after you are ready to capture, open up RecMaster to go ahead.

Step 3 – Click Mobile Phone Mode and define the target area to record
Mobile Phone Mode, with a mobile icon, is located on the top left corner of the middle Custom Area button. Click it to pop up a 9:16 fixed dashed box overlay and the Custom Area's main window.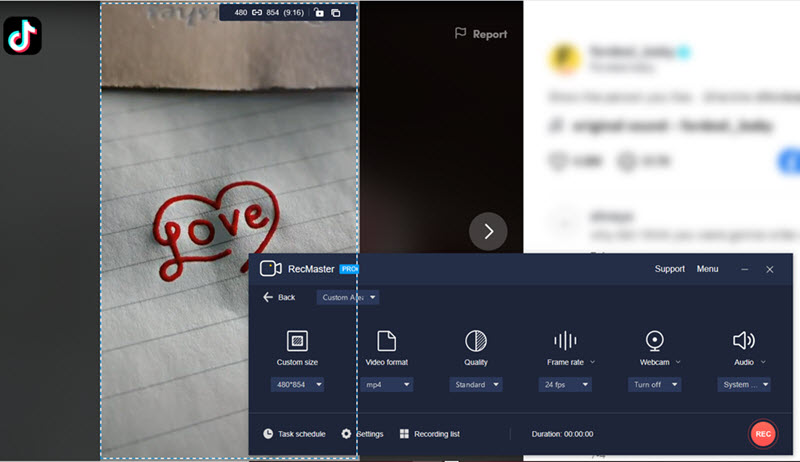 Time to customize the recording area by dragging the dashed box location or size at the same aspect ratio. You can see the precise resolution of video, lock the area and minimum the box on the black floating bar.
On the software interface, you can see two preset sizes for mobile: 480*854 (9:16) and 360*640 (9:16). Another at least two PC-friendly sizes – vertical 720p and 1080p are listed too for potential needs. Besides, you are also enabled to choose video format, quality, frame rate, webcam and sound source/volume at will.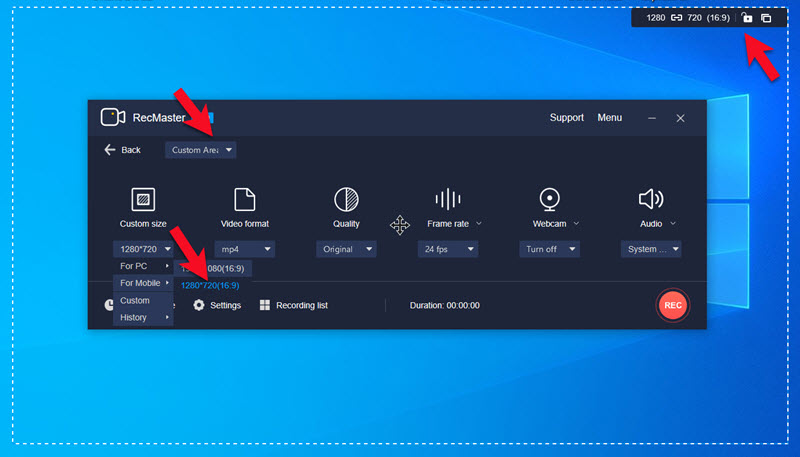 You can get familiar with software hotkeys or other details for quick capture under Settings. In addition, you are suggested to utilize the Task schedule to keep a recording of any future on-time streaming what you won't be here for manual recording.
Step 4 – Start and stop the recording
Tap the red round button or type hotkey to begin and end the personalized recording effortlessly. If you've created and enabled a scheduled task, then you can leave it alone to accomplish that recording by itself.
Step 5 – Rename, preview, edit and share (optional)
All recorded file will be put into the Recording list when it's done, from which you can directly change it name, play it, access to RecMaster's internal editor for cutting or trimming, as well as share the clip onto YouTube/Google Drive immediately. A word of notice: if you're making your "copyrighted" video tutorial, software demo or something else, feel free to share it to YouTube and alike sites. While if you're naturally move some online sources to local space, you shouldn't share them again, because it infringes the copyright of the content owner.
Related: How to Record 720p Video on PC, How to Create 1080p Screencast
Why PC Recording is More Favorable than Mobile Recording?
Portable gadgets are convenient indeed. But their limited power may get screen recording a challenge, leaving users a laggy and stutter recording in many cases. So those veterans get used to passing such source-intensive mission to PC who is this more competent for it. With more powerful hardware like CPU/GPU, motherboard, and larger RAM, general computers could take screen recording a piece of cake.
Record Horizontal Video for Mobile or Vertical, Which's More Popular for Mobile Entertainment?
Horizontal format seems superior to vertical one in our daily life, even standard movie or TV shows are make as horizontal video. Therefore, unless you'd like to grab more scenes vertically, 9:16, 3:4 and similar is suggested to choose. No matter what, RecMaster's Custom Area recording mode gives both vertical and horizontal profiles for one-click recording.
As a versatile desktop screen recorder, RecMaster is also a good bet to record PC games, save any on-screen activities, capture webcam video, and document audio only that's coming from system sound card or/and microphont.
Related:
How to Record Screen at 16:9 Aspect Ratio
How to Record Instagram Story/IGTV
How to Do TikTok Screen Recording
How to Record Android on PC