HD 720 (also called HD ready) is a universally progressive video resolution. Thanks to its popularity and high compatibility, it is applied in multi-area including live streaming, gameplay, online videos etc. Although there are subsequently higher video resolutions like 1080i, 1080p, 2160p, it's still the final preference for some users with different reasons.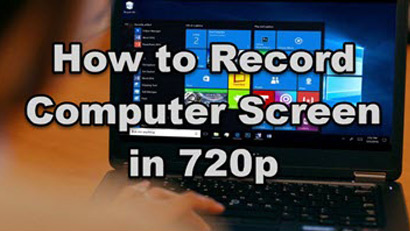 As a computer user who has screen recording needs, you are suggested to record video in 720p for causes below. Firstly, 720p is the ideal choice for low-end computer users because it reduces the possibility to meet broke-down problem during screen recording. Secondly, the size of video in 720p is relatively smaller than other resolutions, which is convenient and efficient for uploading and sharing. Here this article will talk about how to capture screen in 720p.
1. Record Computer Screen in 720p with RecMaster
RecMaster, as one of the best reliable HD screen recorders for computer users, enables you to record screen movements either in 1080p or 720p. It features an easy-to-use interface and rich functions, which makes it convenient for you to capture screen in 720p. No matter you want to capture high-paced moments of gameplay, high quality live streaming or how to tutorials, you can always record these activities in 720p with RecMaster. Here's how to do that with RecMaster.
How to capture screen in 720p with RecMaster
Step 1: Download and launch RecMaster on your computer. It supports both Windows and Mac screen recording.
Step 2: Choose 720p as your recording are.
If the screen resolution parameter of your computer is exactly 1280*720, then you can directly apply the Full screen mode to produce video in 720p. Since most computer screens are larger than 1280*720, Custom Area mode is the right choice for you. In this mode, you can drag your mouse to circle a recording section in 1280*720 or click Custom Size>>PC>>1280*720 (16:9) as your choice.

Step 3: Do settings
RecMaster provides a bountiful of features to assist your recording. Webcam is for you to create picture-in-picture effect video which is vastly used in gameplay demos. System and microphone buttons help to capture video with background music as well as your real-time narration. Frame rate, quality, format are for diverse video requirements. Moreover, it also embeds mouse cursor feature to trace cursor track. Pick these functions according to your actual demand.

Step 4: Launch recording
Release recording with REC icon. Feel free to annotate with pen, brush and text during the recording process. If you want to end the task, you can press Stop menu or use the hotkey combination Alt+2 or Command+1 to over.
Step 5: Edit and share
Note that users have basic editing function for recorded video, RecMaster comes with a bundled editor to cut and merge unwanted clips. When it talks about video-sharing, RecMaster offers two workable solutions: one is direct-upload to YouTube/ Google Drive and the other is for locally storage and then share with ease.
Relevant questions to record screen in 720p
Question 1: What the difference between 720p and other screen resolutions?
720p is one form of screen dimensions which shows how many pixels on your screen at the same time. Compared with video in 1080p, the video resolution of video in 720p will be lower and the file size will be smaller accordingly. If you have strict demand on the video sharpness, simply change the video quality to original or move to record screen in 1080p as long as your screen dimension supported.
Questions 2: Why the recorded video only demonstrates a small section of my computer instead of the whole screen?
This results from different screen resolutions. If your default screen resolution is 1280*720, then you can get the desired video in full screen otherwise it is only shown in the rectangle area. If your computer screen is larger than 1280*720 but you still want to record in whole screen, you can change as steps below: Settings>>System>>Display>>Display resolution>> Choose 1280*720. One thing to mention is that changing your default screen resolution to smaller ones may cause blurry problem which makes your video unclear.
Question 3: How to automatically start recording in 720p?
There is a task schedule tool to carry out any scheduled recording. To launch a fixed-time screen recording in 720p, go to Task schedule interface where you need to insert the beginning and ending time. Remember to change the mode to Custom Area (manually drag the mouse to form a 1280*720 rectangle) and then click Create to launch the screen recording. When it completes recording task, you can find the file in Recording List. For Mac user, you can use the Duration tool as an alternative to create an auto-stop recording for expected duration.
Question 4: Why I get a voiceless video?
If you happen to get a voiceless video, you need to check step-by-step. Firstly, make sure you that you've chosen system sound or microphone options. Secondly, if that is not workable, you need to check whether you mute the volume. If you turn off the system sound icon on your computer, you can't record system sound even if you toggle the system sound icon of RecMaster. Thirdly, check whether RecMaster is given the privilege to capture sound. If it's forbidden to capture sound, you need to reset the default settings. If all the mentioned solutions are useless, you can refer to the article about how to fix screen recording with no sound problem.
Bottom line
Recording screen in 720p with RecMaster is extremely easy. If you prefer a video with clearer definition, we still suggest you to produce screen video in 1080p or higher.
Related articles: How to Record Screen at 4K Video