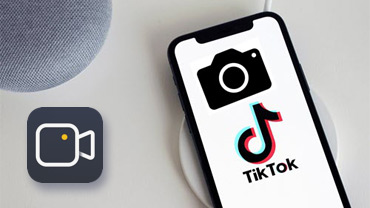 TikTok is a popular short-video form application that has surpassed 1 billion users worldwide in less than four years since it's released in September 2016. As a video-sharing platform, it provides instant and convenient entertainment service for people all over the world, which blows away the pressure and boredom during the epidemic lockdown.
However, with the executive order issued by President Donald Trump, TikTok may be prohibited for the US users allowing for security concern. Once the news released, influencers with millions of followers in TikTok are in droves to bid farewell to their fans and the popular video-sharing app.
Is it true that you have to say goodbye to valuable moments on TikTok? The answer is uncertain. However, no matter how the result will be, you can save these TikTok videos on local drive for permanent storage. So this post will talk about how to save TikTok videos through TikTok screen recording.
How to save TikTok videos on your computer
Method 1: Record TikTok videos with screen recorder
TikTok offers a website platform for desktop user to enjoy videos. Press the TikTok official website address on the Google browser and then you can watch TikTok videos online. It brings convenience for you since you don't need to install this application on your mobile phone. All you need is to click Watch Now icon and then you can observe at ease.
To save TikTok videos on your computer, we would like to illustrate with the desktop screen recorder RecMaster to help you record in the easiest way. RecMaster stands out for the simple operation and flexible features for screen capture, which is competent for screen recording with audio. You don't need to read the instruction to get started because the following part is enough for you.
Step 1: Download and install RecMaster on your computer.
Step 2: Decide recording mode. Since the TikTok video aims for mobile phone users the video resolution equips with the mobile phone screen dimension, here Custom Area is suggested to make TikTok screen recording.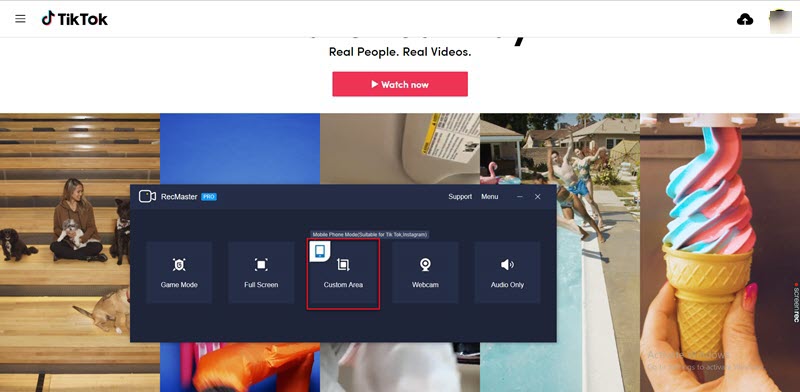 Step 3: You can select the format among MP4, FLV, AVI for Windows user and MOV, M4V, MP4 for Mac user. There are other settings like frame rate, quality, audio source for you to choose.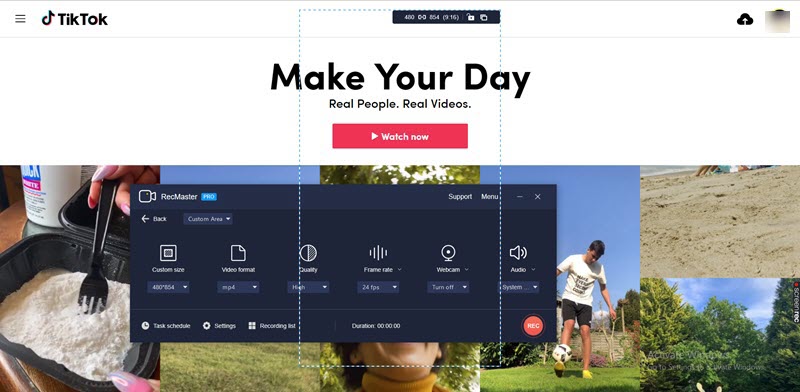 Step 4: Start with REC button and after a few seconds the screen recording is completed.
This method helps you save TikTok video without downloading. However, you are restricted for the recording content because you are not allowed to search the TikTok videos. If you don't mind the complex process, you can follow TikTok influencers on your mobile phone and then sign in with the same account on the computer. In this way you can watch his video and save in the same way.
Method 2: Save TikTok video with an online downloader
There are some online downloaders for you to save TikTok videos. They promise to save TikTok videos without watermark and you can do this in a few clicks. Here we recommend snaptik TikTok Downloader as an example.
Step 1: Open up snaptik TikTok Downloader web page on your computer: https://snaptik.app/
Step 2: Turn on TikTok official website and find out your following.
Step 3: Click the Share button and choose CopyLink.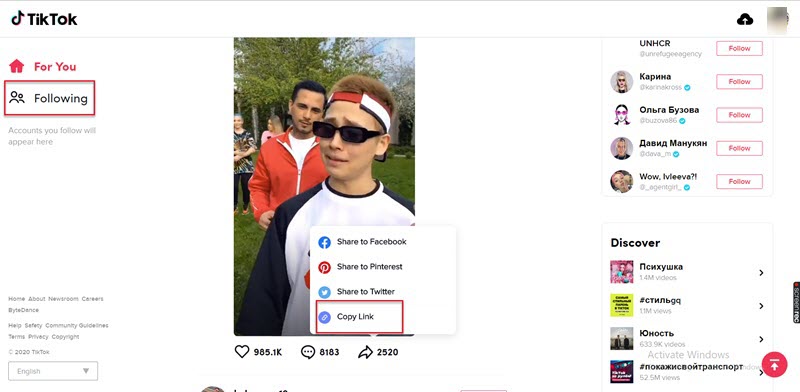 Step 4: Paste the link in the search dialog and click download button.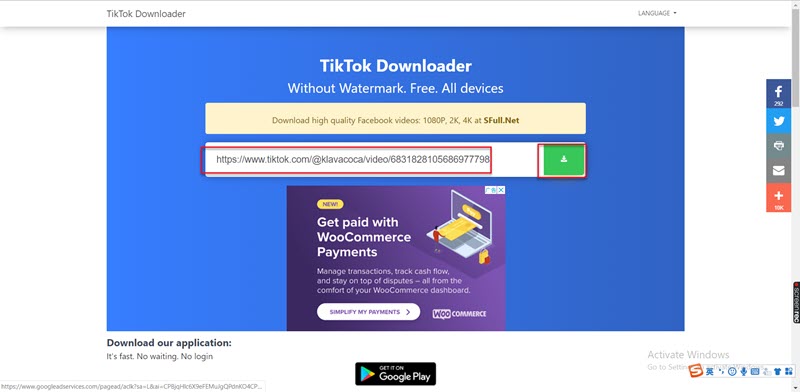 Step 5: Choose Download Server 01 or 02 to save this TikTok video on desktop.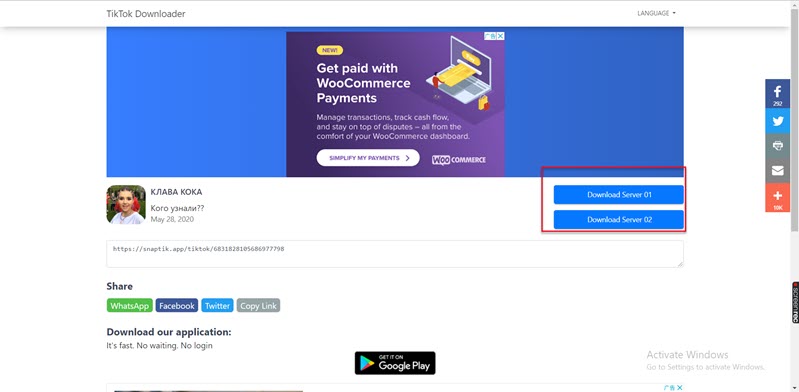 It's efficient but these tools contain possible security danger. This website is unstable and you're likely to download video with virus simultaneously. So you need to think twice before taking actions.
How to save TikTok videos on your phone
As a video-sharing software launched for mobile phone users, TikTok initially embeds the save function. Launch the TikTok app and play the video you want to save>>Tap the Share button>>  Save video to download TikTok videos >>Find your video in the same-name album for quick access.
It's quite easy right? But it's not perfect for multiple video saving since it's likely to cause a slow performance of your device or unable to support sufficient storage to save these TikTok videos. So the alternative way is mirroring your phone screen to the PC (Windows or Mac) and then save these videos on your computer storage by tiktok screen recording. Here we use Android phones and Windows computer as an example.
To connect your phone with computer, you need to download a mirror app. Here we recommend Scrcpy which enables Android owner to move mobile screen to computer with only a cable. More importantly, it's totally free for you to use. Here is how to work.
Step 1: Set up this software both on your Android and computer.
Step 2: Then you need to enable USB debugging for successful connection. You can find this on your Settings> System & Updates.

Step 3: Download and install RecMaster on your computer for the recording.
Step 4: Connect Android and computer with the official USB cable.
Step 5: Run scrcpy by clicking "scrcpy.exe" file from its folder. If it has other instructions, do as it say.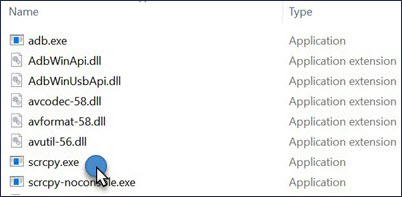 Step 6: When your Android desktop appears on scrcpy's window, you can turn on RecMaster to make TikTok screen recording. For better watching experience, you're suggested to record under the Custom area mode.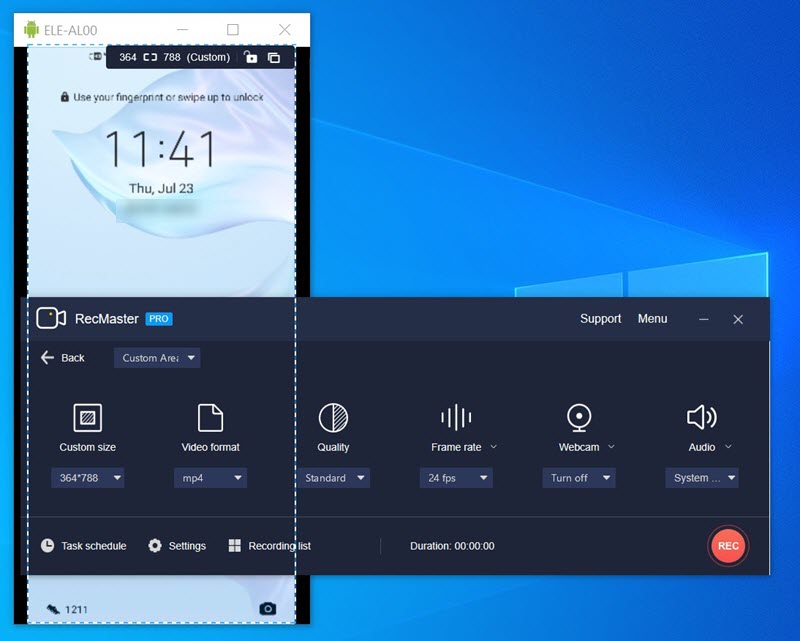 Step 6: Stop TikTok video recording when the process is over. You can set up a relevant file folder to manage the recorded TikTok videos.
You can also use this method to record mobile phone tutorials on your computer and then upload to YouTube, TikTok, Vimeo…
Final Word
TikTok is a good place to release our pressure and share our happiness. Do as mentioned methods to make TikTok screen recording for storage.
Related articles:
How to screen record Instagram story
How to record iPhone screen on PC
Fix screen recording with no sound on iPhone