Can you screen record your favorite Instagram Stories video, IGTV video or other common video feed without them knowing you are doing so? Find the answer from this INS-focused post.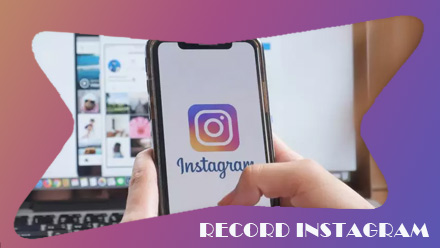 Some predicts that Instagram, one of the leading social media apps, will soon overtake its parent Facebook in the total usage for its better stories integration and popularity among the young generation. How do you think about it? Actually only until 2018 did its monthly active users reach 1 billion, a milestone that Facebook surpassed in early 2012. Maybe to catch up with FB, at least for the user numbers, Instagram still has a long way to go. But we can't deny that Instagram offers better content sharing experience and has better engagement. With various filter effects and simple yet super user-friendly workflow, customers tend to publish or discover more positive surprises on Instagram.
Online sharing makes local saving a potential need, and Instagram is not an exception. From time to time, when your eyes are lighted up by some photos, movies, or live moments, you'd like to transmit them to your phone or PC. Exactly, you can screen capture them with ease. (Related: How to Record Facebook Live, How to Record Facebook Messager Call )
Will your screen capture behavior on Instagram be seen by the photo/video owner?
Currently, anyone is able to take screenshots or screencasts on Instagram with no message being sent to the content publisher. Then why are there still so many topics showing how to screen record Instagram (story/IGTV) without notification?
Things should draw back to 2016, the year when Instagram added a feature to send notification to user if any other one made a screen capture on his or her story, in order to keep IG media files to local space without getting caught by the person who posted them, many people seek for workarounds to get it through. Running the mobile phone in airplane mode to make the detection impossible, doing the capture in web browser rather than the app, taking the recording with external camera but, just to name a few.
The follow-up is, 2 years later in 2018, Instagram gave an end to this feature. So at present, you don't need to worry about your capturing operation will be told to the image or video poster.
How to Screen Record Instagram Stories Content?
From photo to video sharing, Instagram social app offers its users an easy and free way to share their love, gratitude and something else. In Instagram ecosystem, users are given two publishing forms to share their work pieces: via common post or via special story. The difference is common posts are displayed on the profile forever (as long as you don't hide or delete it) while Instagram Stories contents are only available here for 24 hours. Absolutely, that's why many followers are looking for method to screen record Instagram stories.
Take screennaps of Instagram picture is simple, because all smart devices like iOS/Android/Windows phones & computers have internal one-type screen-shorting ability. But as to grabbing screen video, that will be more complicated. Therefore, 3 independent guides are involved in the following part. Note that these guides are also workable for recording general IG post videos and live broadcasts.
How to Record Video off Instagram Stories on iOS/Android Mobile?
Firstly, you are suggested to check whether your gadget has internal screen recording feature, because many modern models do have such functionality to document Instagram video with your voice, for example the screne recording tool of iPhone in iOS 11 or later, the Game Launcher app of Samsung Galaxy S10, double-knock screen recording mode of Huawei…
If your mobile has such native tool and goes well with your Instagram capture, no such "screen recording has no sound" problem, congratulations, you won't have to ask help from third-party program. Or else, standalone video recording application is badly needed. Here some mobile (Instagram) screen recorder names are shared for your reference: AZ Screen Recorder, DU Screen Recorder, and TechSmith /dr.fone iOS Screen Recorder. The steps of using these apps are really easy, so we won't put paragraph on detailed instruction.
How to Record Video off Instagram Stories on PC/Mac?
Instagram has its website and PC versions to enable users enjoy a far more comfortable big-screen discovering. They may seem feature-limited. However, it doesn't have influence on the capture work. On the contrast, screen recording Instagram stories on computer would be a better choice if your phone has so poor configuration that the background capture will influence the smoothness of (live) video streaming. Now let's get together to have a look at how to work the screencast out on desktop.
Step 1. Open and login your Instagram from browser or app and navigate to the video story or live show on Instagram web page or app window.
Step 2. Free download certain Instagram computer screen recorder like RecMaster, install and launch it.
Step 3. Generally speaking, an entry-level or say newbie-friendly screen recorder would straightforward offer you different capture modes to realize hassle-free operation. So does RecMaster here.

You need to choose a proper recording mode, Full Screen or Custom Area, and then do pre-settings on video format, quality and audio sources. Webcam option is also given to work out picture-in-picture reaction film. If you only need to rip the video sound, please turn to RecMaster's "Audio Only".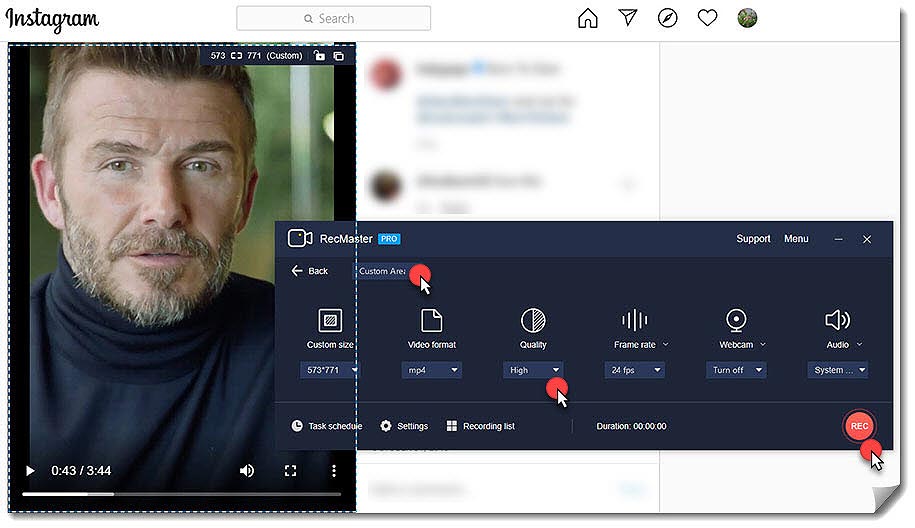 Step 4. Start and stop the recording with red buttons or hotkeys.
Step 5 (Optional). Check the recording video, cut unwanted parts off or share the video to Google Drive or YouTube as you like.
Known by you or not, you can also upload photos or videos on computer browser once you have mastered the tricks connected with developer window. That's to say, if you are gonna to hold a live performance and would like to keep a real-time recording of it, it's workable on your more powerful computer machine.
Ending Marks
This is all about how to screen record Instagram video on both mobile and computer anonymously. No matter for common live-forever posts or Instagram Stories media with only 24-hour life, you can utilize either of the methods to move the interesting, inspiring, attracting videos to your own storage without notifying at all.